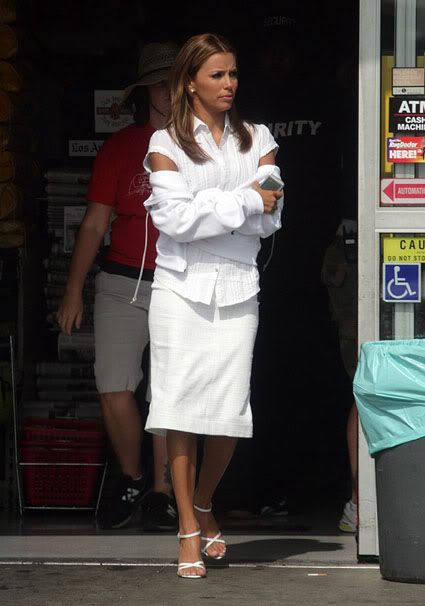 No matter how well she knows how to use a gun, Eva Longoria usually manages to shoot herself in the foot. She opened her big 'ol mouth again and completely ruled out acting in any other television roles after "Desperate Housewives" wraps. She's going to be sticking that wounded foot in her mouth when she crawls back to TV as a longterm character on a soap opera:
Eva Longoria says she's done with television after Desperate Housewives ends.
The 31-year-old actress said she loves the medium of television and the routine it provides, but that Housewives will be her last series.
"I would never leave Desperate Housewives, " Longoria told The Associated Press. "I love doing both (TV and film), but I would never do another TV show after Desperate Housewives. No."
While most actors would be grateful for any kind of consistent acting gig on television, Eva's arrogance is going to screw her out of future roles.Here is Eva shooting a new movie, "How I met my Boyfriend's Dead Fiance." Jason Biggs is in it, so you know it's going to be a hit with the critics. Who is she kidding, thinking that she has a movie career now? [via]