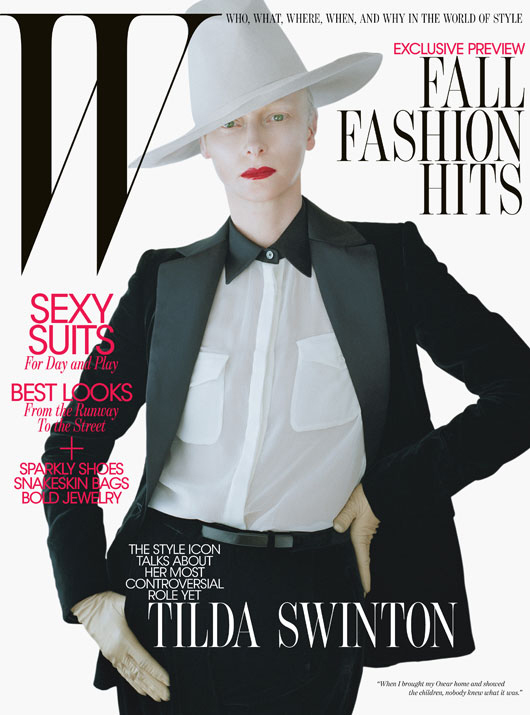 Seriously: Tilda Swinton is an alien. She's just in this world, not really "of" this world. She's studying us, playing with us, attempting to blend. I can see the wheels turning in her magnificent alien brain… she's processing, collecting data. Tilda is the August cover alien of W Magazine, to promote her film We Need To Talk About Kevin, a film which I previewed when Tilda was in Cannes – it's the one where she plays the mother of a teenage boy who goes on a Columbine-style rampage. Tilda is pretty much a shoo-in for Best Actress nominations all over the place, so I guess her management team was like, "Eh, what could it hurt if we let this crazy alien talk to a fashion magazine?" I'm not sure they're make this mistake again. Tilda is interviewed in two pieces – one about fashion (here), and one about acting and Kevin (here). Here are some highlights from both pieces:
The Alien on style: "I follow my nose," she says. "It's as simple as that."

On the Lanvin dress she wore to the 2008 Oscars, when she won: She had advised Lanvin's Alber Elbaz that she wanted "to attract as little attention as possible and to feel as comfortable as if I were wearing pajamas," she recalls. "Little did I know that the really simple, chic dress one might have worn in Paris or Berlin would stick out like a sore thumb in Los Angeles."

On androgyny: "People talk about androgyny in all sorts of dull ways," says Swinton. Ultimately, though, her starting and ending points are always her own style icons: David Bowie—whom she says she's been orbiting ever since she saw The Man Who Fell to Earth (1976)—and her father, Maj. Gen. Sir John Swinton. "My aesthetic North Stars," she calls them. "The individuals with whom I share the same planetary DNA."

On her military father, and childhood memories: "From childhood, I remember more about his black patent, gold livery, scarlet-striped legs, and medal ribbons than I do of my mother's evening dresses," she says. "I would rather be handsome, as he is, for an hour than pretty for a week."

On playing a less-than-perfect mother in Kevin: "I don't think I'm courageous. One man's courage is another man's comfort zone. The movie, which is based on a novel by Lionel Shriver, explored a taboo subject: the idea of a less than perfect mother. I knew that, when an audience watched the film, there would be a gag reflex at some point. But I was fascinated by the subject—it scared me, and that interested me. When we were trying to finance this movie, we would reference Rosemary's Baby. It's every pregnant woman's nightmare to give birth to the devil. And every mother worries that she won't connect to her children. When I had my children, my manager asked me what project I wanted to work on next. I said, "Something Greek, perhaps Medea." Nobody quite understood what I meant, what I was feeling."

On being a mom to 13-year-old twins: "When I first saw the twins, I really liked them. And, at the same time, there was a ghost over my shoulder saying, What if I hadn't liked them? Kevin spoke to that feeling. It is that nightmare scenario: What if you don't feel that connection to your children? There's no preparation for having children. In Kevin, the woman I play is in mourning for her past life, and yet she looks at this dark, nihilistic kid and knows exactly where he comes from. He isn't foreign to her; she sees herself. And that is, quite literally, revolting to her."

The story of mother and son in Kevin: "It is a love story: They understand each other. He doesn't kill her, and in one version of the movie, she asks him, "Why didn't you shoot me, too?" He says, "If you're putting on a show, you don't shoot the audience." In that way, Kevin is a classic Oedipal drama—taboo, but not exotic. It's just one of those things that's never spoken about."

On Michael Clayton, and winning an Oscar: "A "Hollywood" movie like Michael Clayton is a holiday for me. [Winning the Oscar] was lovely, but I have to admit that I'd never seen the Oscars on television and really had no idea that it was so important. It was a very long show, but it did move me up from the children's table, professionally, in Hollywood."

How her kids react to her career: "The only movie of mine that my children have seen is The Lion, the Witch, and the Wardrobe, where I played the evil White Witch. My daughter said it was too loud. They're just not Disney kids: They live in Scotland and don't have a television. When I brought my Oscar home and showed the children, nobody knew what it was. The thing sat on the kitchen table for two weeks. It was kind of meaningless to them."

Does her Oscar mean anything to her? "Not really [Laughs]. After winning, I went straight to Milan and started I Am Love. Since then, I haven't done another Hollywood film."
[From W Magazine – two articles]
I'll admit, the only reason I want to see We Need To Talk About Kevin is because of Tilda, and because of all of the remarkable things I've heard about her performance. As for the interview… my favorite quote: "I would rather be handsome, as he is, for an hour than pretty for a week." OMG. Tilda is magnificently odd. I also enjoyed the part where she talks about Madea and how glad she was when she "liked" her babies. I wish more women would discuss motherhood and children like Tilda – which is to say, I wish there were a few more aliens around, failing to blend in successfully.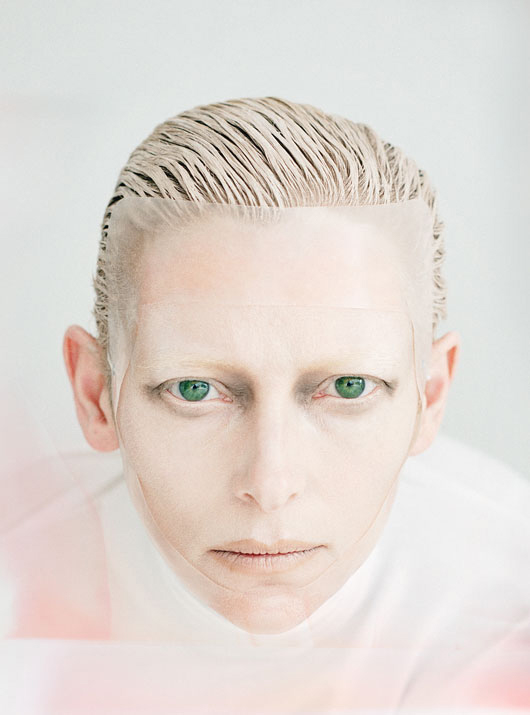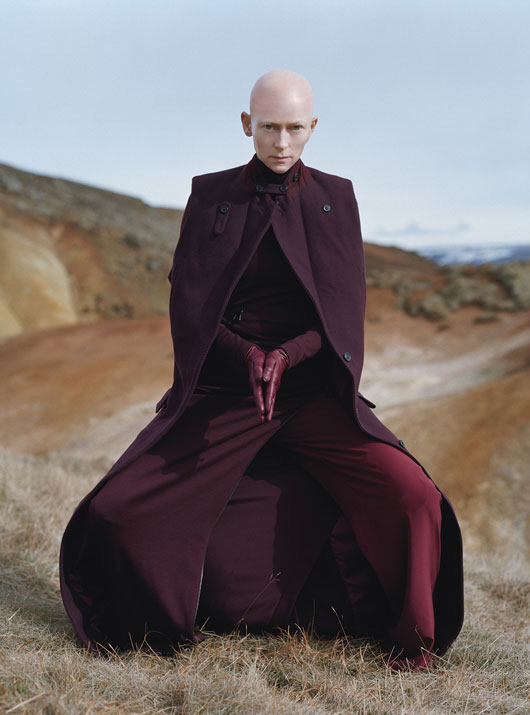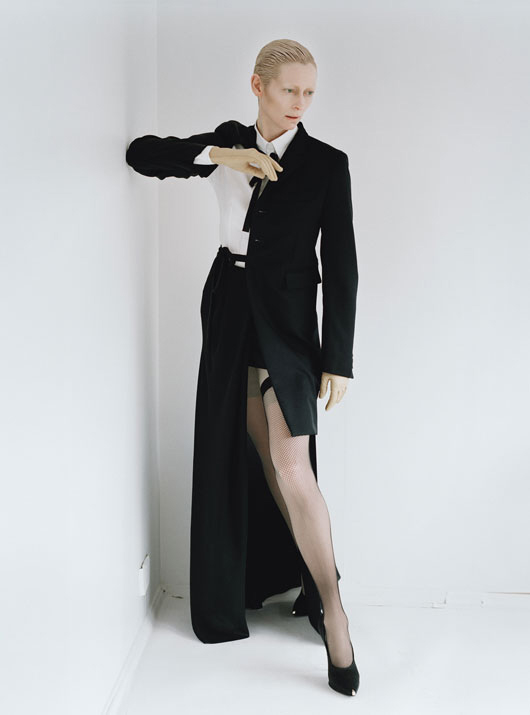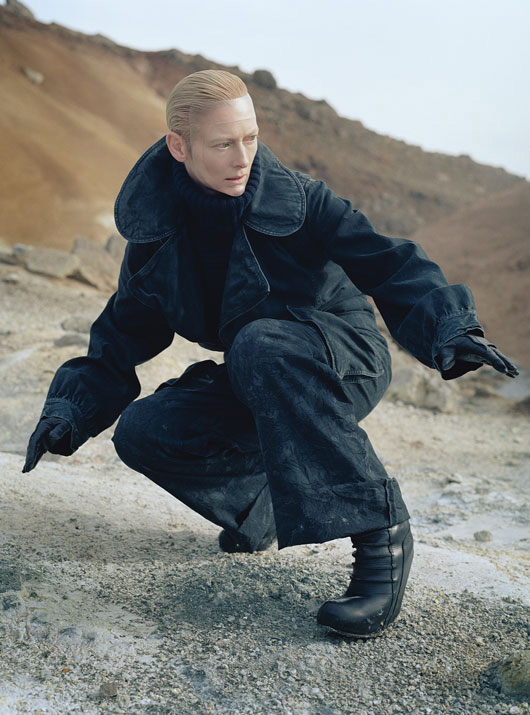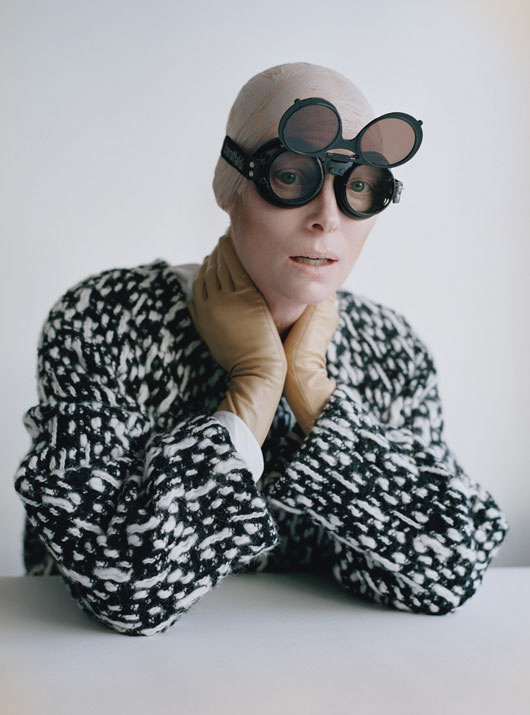 Photos courtesy of Tim Walker/W Magazine, slideshow here.