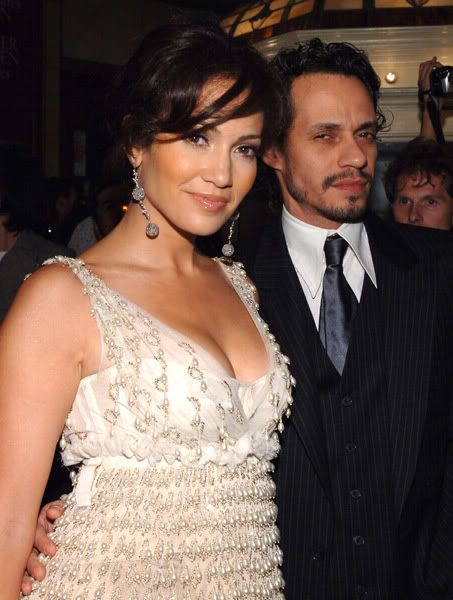 The last time J.Lo revealed her hair in public it was a pretty shade of dirty blonde. Now she's gone brunette, and it really flatters her. It's a lot better than that polyester silver do-rag she covered her head with at the VMAs.
She's also shown with brown hair in the ad for her new perfume, Luxe, so it's likely she was just hiding it at the VMAs.
J.Lo and Marc Anthony are shown in Toronto at the premiere of their new film, "El Catante":
El Cantante is based on the life of Hector Lavoe (Anthony), a Puerto Rican singer who heads to America to find fame.
Lavoe gains a crowd of followers in New York and falls in love with beauty queen Puchi (Lopez), who helps him develop his signature sound by combining Puerto Rican and American influences. The result is the infamous salsa music.
Lavoe is eventually drawn into the drug scene, which threatens to destroy his career and his relationship Puchi…
[Lopez] said: "We work in a very professional manner. We always have. We met working so it has never been anything that we really think about. We just do it."
Anthony also says working on the film with Lopez brought the two closer together.
He said: "It ended up being the best experience we have ever had together. We laughed a lot, we had a lot and fun because we were so different than the characters.
"We realised how special our relationship was actually because theirs was so dysfunctional."
Pictures [via]