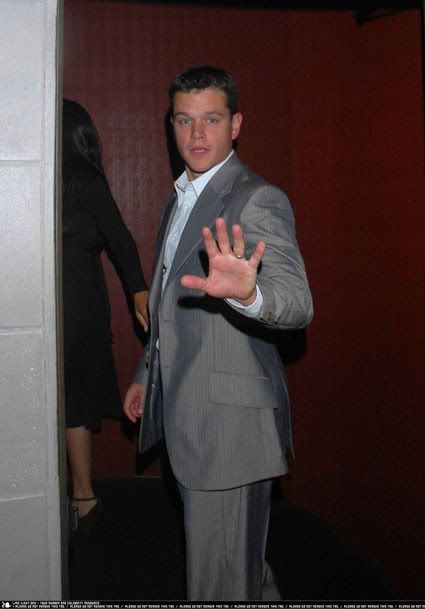 Matt Damon and his wife, former bartender Luciana Barroso, enjoyed a rare date night out at celebrity hotspot Hyde last week. They were photographed entering and leaving the club, and Matt looks like he's enjoying himself. The two have been photographed only occasionally since the birth of their daughter, Isabella, three months ago. Luciana also has an eight year-old daughter, Alexia, from her last marriage.
The International Herald Tribune has an excellent article about Damon's career. They say he's a quiet, unassuming actor who blends so well into a film that it's hard to tell he's acting. That sounds like a high compliment to me. They also say he challenged Harvey Weinstein over his choice of a director for "Good Will Hunting," most likely saving the gem of a film:
Matt Damon does what few stars with his kind of billing do: he disappears. A character actor who rates multimillion-dollar paychecks, he has an Oscar, a lucrative blockbuster franchise, a wife you have probably never heard of and a résumé that includes Steven Spielberg, Francis Ford Coppola and Steven Soderbergh. This autumn he stars in films from Martin Scorsese ("The Departed") and Robert De Niro ("The Good Shepherd"), for a reunion by proxy for the two directors. In the first Damon plays a gangster who goes under cover as a cop; in the second he plays a Yale graduate present at the birth of the CIA.
Damon tends to win respect, not swoons, from film critics, but great directors can't stay away. His boyish looks have certainly helped him land roles, and remain essential to his appeal even at 35. But it is his ability to recede into a film while also being fully present, a recessed intensity, that distinguishes how he holds the screen. When Brad Pitt and Johnny Depp, two other character actors masquerading as stars, take the screen, they tend to make noise. Their beauty creates its own distractions, and their forays into brooding intensity set off flares. Damon eases into roles so quietly you rarely see him acting.
It's the type of quiet that can be mistaken for no acting at all and that, much like his trademark smile, can prove deceptive…
It's this Janus-like quality – the boy next door who turns out to be the killer, the thief and the spy among us – that makes Damon a consistently surprising screen presence…
There's a juicy story about the making of "Good Will Hunting" in Peter Biskind's history of American independent film, "Down and Dirty Pictures." In their attempt to make the film and in their dealings with Miramax's Harvey Weinstein, who finally got the project off the page and into theaters, Damon comes across as tough, if not as savvy about money as Affleck. In one memorable exchange, Damon faced down Weinstein over who would direct. The writers wanted Gus Van Sant. Weinstein had offered the film to Chris Columbus, then best known for "Home Alone." Damon protested Weinstein's choice and, in between expletives, the executive shouted: "How … dare you talk to me like that? You're a nobody!" "I'm a nobody," Damon said, "but I'm a nobody with director approval."
Damon has also lent his celebrity to Bono's "One" charity to bring awareness to addressing poverty in Africa. He says he's not doing it for the recognition, and emphasizes that there are easy ways that everyday people can help solve poverty in our lifetime.
Swoon – he's one of my favorite actors.
Here are Damon and Luciana on their date night out. [via]