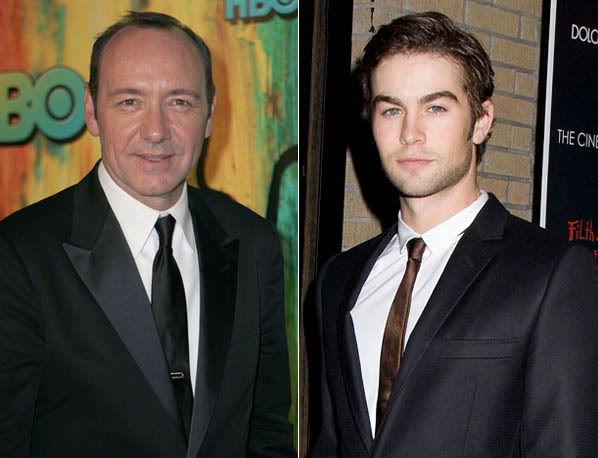 When the celebrity-chasing press have made more than a covert speculation you're gay and you're trying to disspell the rumor, making a public statement that you would love to "pull off a Kevin Spacey" isn't going to help your argument. Gossip Girl star Chace Crawford, though, means it in the best way, saying that Spacey is one of the most versatile actors today.
Chace Crawford wants to be the next Kevin Spacey.

The 'Gossip Girl' actor – who plays spoilt schoolboy Nate Archibald in the US TV show – is determined not to be typecast because of his role in the hit series, and believes he has what it takes to follow in the footsteps of Hollywood's top stars.

He said: "I want to do the edgy independent movies, like Leonardo DiCaprio did, but you have to balance it out. It's about carving out your leading-man role. 'Fight Club'? Yes! 'X-Men'? Yes! All sorts of different films. 'American Beauty'? Yes! I don't know if I could pull off a Kevin Spacey, but I'll try!"
[From FemaleFirst]
Crawford admits his pretty-boy image can limit him but he wants to rise above it and play meatier roles, and you can't blame him for that. I don't think Chase has the kind of leading-boy looks that will translate to leading-30 something man looks, so he would do well to concentrate of the art of acting. For the time being, he's got the girls, and boys in alot of cases, swooning, so at least he can make some money on that before he has to worry about just how good his acting chops are. His healthly dose of confidence certainly won't hurt, either.
He told VMAN magazine: "There are a lot of adverse effects of being a certain type, which I am. Look, I wouldn't be in the business if I didn't feel I had what it takes to have longevity.

"Everyone has a certain castability, or quality they're always going to have to fight. I think the best remedy is to reinvent yourself. I'm not going to take the same type of role in the future."
[From FemaleFirst]
I actually find it refreshing to hear an actor from an all-the-pretty-people, teen geared show like Gossip Girl talking about looking forward to something more than playing the hottie in a slew of teen movies. Zac Efron doesn't seem to be worried about much more than what his next musical for Disney will be, which is what we're used to hearing out of these pretty young things. Having the ambition to reach for better roles and the ability to play them the way that Kevin Spacey has done is admirable. Just steer clear of spanking club-boy's bare asses in eastern European countries and you should be fine, Chase.
Chase Crawford is shown below on the set of "Gossip Girl" on 10/14/08. Kevin Spacey is shown on the set of Shrink on 6/19/08. Credit: Fame. Chace is also shown at the Filth and Wisdom premiere on 10/14/08. Credit: WENN