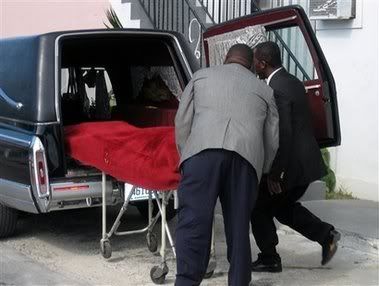 20 year-old Daniel Smith didn't die from suicide or murder, and the pathologist Anna Nicole hired suggests that it was a simple drug interaction:
Wecht, who was hired to perform a follow-up autopsy by Anna Nicole Smith, said Daniel had been taking a "quite low" dosage of prescription anti-depression medication.
"It is possible we might be dealing with one of those tragic and cumulative and drug-related deaths where somebody inadvertently takes two or three different kinds of drugs, each of which has a central nervous system effect," he said Monday night on CNN's "Larry King Live."
Years ago when I was sick with this autoimmune disorder I saw several different specialists and they all prescribed me something different. I would give them a list of what drugs I was on, and they usually glanced at it and wrote me another prescription. I ended up in the emergency room with severe slurred speech due to a drug interaction. The hospital couldn't figure out what was wrong, though, and just sent me home. The next day, when the same thing happened at the exact same time, I googled the drugs I was on and figured out what happened myself. I called the doctor who prescribed the last medication, and he said "Oh, yeah, you're not supposed to take those two together" even though he should have known exactly what I was taking.
What's more, I filled my prescriptions at Walgreens under the same account, and they're supposed to have a system that catches drug interactions. I simply took two drugs at the same time at low recommended dosages that had cumulative CNS effects. One of them was a low-dose antidepressant and the other was Neurontin. I'm not sure why the last doctor gave me Neurontin except for the fact that he had samples of it at the time. My speech was so screwed up that the hospital initially thought I had a stroke. After that I discontinued most everything, and am now a lot healthier.
The moral is that this kind of thing happens all the time, and sometimes it's deadly. Drugs can be quite useful, but they usually don't cure you and you have to watch out for yourself because it's rare that doctors will. Daniel Smith was a healthy 20 year-old guy, and unfortunately his death may end up being a warning about the dangers of prescription drugs.
Update: Thanks to Celebrity Smack for running this story about Daniel's medical problems. He lost 28 pounds recently, was experiencing severe stomach pains, and had to be placed under intensive care. If he did die from a deadly drug combination, his health problems would explain why he was on several medications.