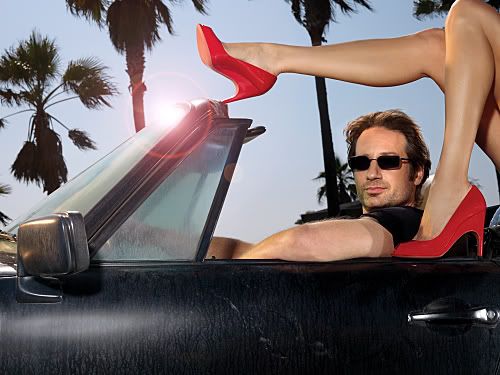 David Duchovny is categorically denying that he has had an affair with his tennis instructor as was reported in the UK Daily Mail on Monday and is suing them for defamation and invasion of privacy. I'm no lawyer, but the article in the Daily Mail I read never outright said that Duchovny and the tennis instructer had an affair. In fact, I believe the title of the story just said she didn't deny it and the story at no time said they were actually anything more than "very, very close". It barely even insinuated it.
The lawsuit, filed in Los Angeles Superior Court, alleges defamation and invasion of privacy. Duchovny is seeking $1 million in damages.

In his lawsuit, Duchovny accused the Daily Mail of posting a story online on Saturday that said he cheated on Leoni with a tennis instructor named Edit Pakay.

"This is false. It never happened," the lawsuit stated.

A representative for the Daily Mail could not immediately be reached for comment.

Duchovny's lawsuit said the Daily Mail story was taken down from the paper's Web site on Tuesday. But other news outlets picked up on the story and posted versions on their Web sites, which caused "additional and further damage to David Duchovny," the lawsuit said.

The lawsuit also stated that Duchovny never hired Pakay to be his tennis coach. Pakay says she is a friend of Duchovny, and that they played tennis a few times, according to the lawsuit.
[From Reuters]
We reported on the story on Monday and no one seemed surprised or overtly upset about it. I'm still completely incredulous that someone who announced to the world that he is addicted to porn and released a press statement that he was going into sex rehab would complain about defamation and invasion of privacy. Was the door to his privacy not left wide open when he invited the world in?
Ok, maybe I'm getting off topic here. I'm sure there's some sort of merit to the suit, even if I can't see what it is. Maybe Duchovny is trying to discourage anyone from digging any deeper into his addictions than what he's already acknowledged. Suing for a story that barely asks the question is probably a good way to keep anyone else from printing further speculation. Or, it could cause the tabs to be even more interested in whatever it is David Duchovny is hiding.
David Duchovny is shown in press stills for his show "Californication"