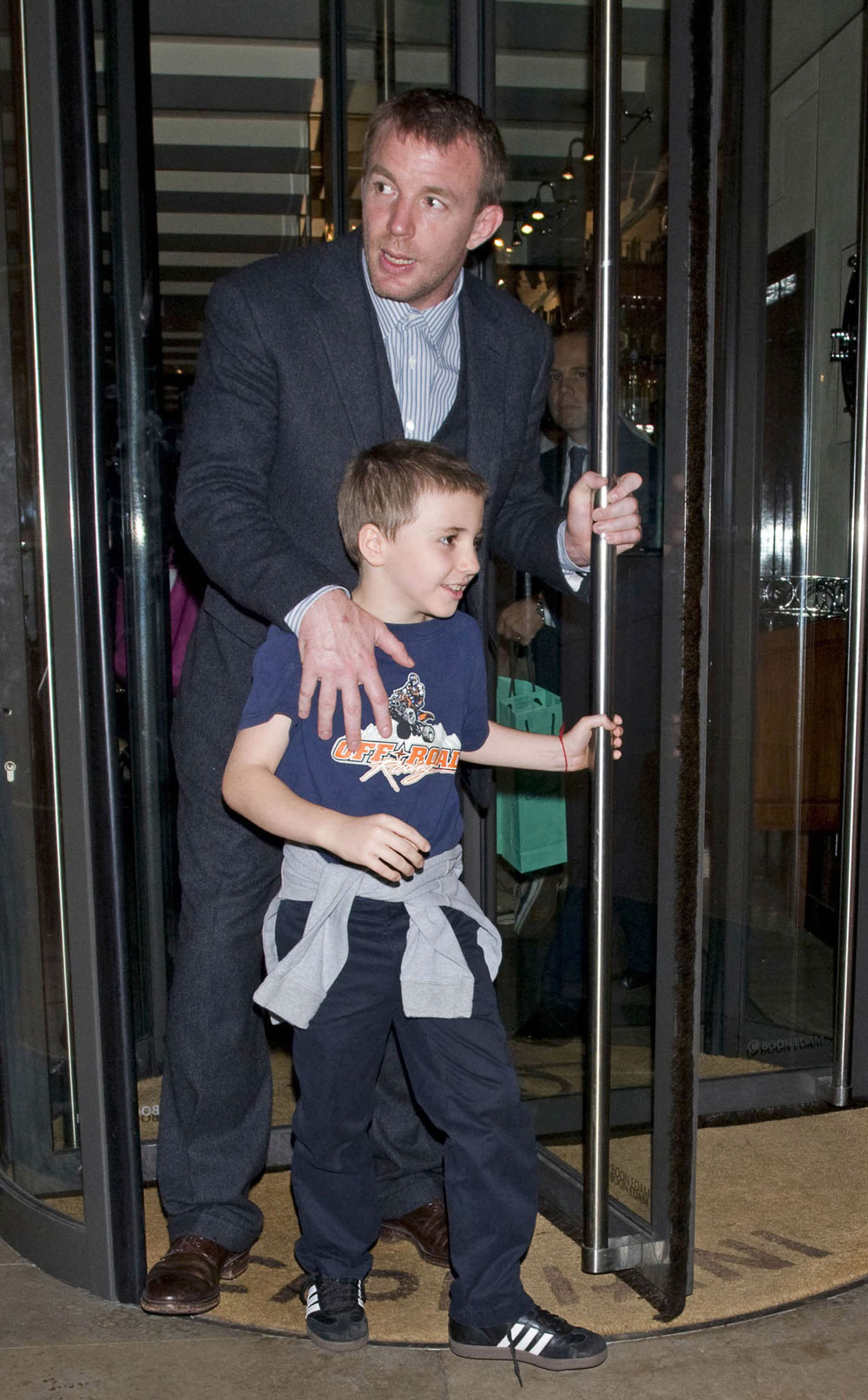 Guy Ritchie and his son Rocco out on 9/30/08. Credit: Big Pictures/Bauergriffin
In case you haven't heard, Madonna is divorcing Guy Ritchie, her husband of over seven years. One of the many issues contributing to the divorce is Madonna's alleged affair with New York Yankee Alex Rodriguez. While there's no doubt the demise of the marriage started long before Madonna's late night "meetings" with A-Rod, there's no way it's not a sore spot for Ritchie.
Madonna lives for attention, it sustains her sense of self-worth. She didn't argue with Warren Beatty in Truth or Dare when he said that she doesn't want to live off camera and that there's nothing she wants to say if she's not being filmed. It's the driving force in her life, and it doesn't matter whom she hurts, or how badly she hurts them. So, in the midst of a divorce that few believe has more important things at stake to Guy Ritchie than his kids, Madonna decided to hit him where it would hurt the most. Rocco Ritchie was photgraphed dressed in a New York Yankees shirt on Monday, and the the blatant use of his son to get to him drove the otherwise macho Guy to tears.
"He's actually been crying over it," says the source on the set of Ritchie's upcoming drama Sherlock Holmes. "He's in a terrible state but is doing his best to be on form at work."

The insider tells Us Ritchie "cannot believe" Madonna would let their son wear the shirt, given the fact that her close relationship with the slugger played a role in their contentious divorce.

"Madonna has hit the wrong button," adds the insider. "He won't sink to her level, but she better watch out because it seems he has a lot on her."
[From Us Magazine]
It doesn't even matter if, in his innocence, that was the shirt Rocco wanted to wear that day. A decent woman would have made sure it didn't happen. But Madonna is proving anything but decent in this unfortunate situation, doing things daily to get herself in the papers with ugly words and actions. Madonna put the little guy in that shirt and then made sure he was somewhere where there was a camera. There's very little someone can do in a divorce that's more dispicable than using the children to hurt the other party.
I'm starting to worry about those kids because I'm wondering how low Madonna is willing to go in this and how much further she plans to take things. She's not scoring any public points, but maybe this is the new incarnation of Madonna shocking the world.