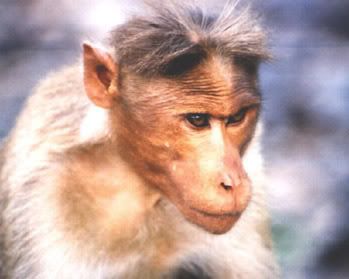 Showing that celebrity worship isn't limited to our species, a team of neurobiologists at Duke University Medical Center found that male rhesus macaque monkeys would willingly give up treats to view pictures of a dominant "celebrity" monkey. The monkeys designated as celebrities were also obsessed with other celebrity monkeys:
It's official: monkeys are as obsessed with celebrity and pay-per-view porn as the next man.
A team from Duke University Medical Centre, led by neurobiologist Dr Michael Platt, offered 12 thirsty adult male rhesus macaque monkeys a choice between their favourite drink (Juicy Juice cherry juice, ABC News notes), and the chance to view pictures of their pack's dominant, "celebrity" monkey.
Surprisingly, the monkeys eschewed the juice in favour of a bit of celeb-watching, but had to bribed with extra refreshment to look at ordinary "rhesus riffraff". They were also willing to "pay" juice to cop an eyeful of female monkeys' hind quarters, something the team dubbed "Monkey Pay-Per-View".
And on the question of whether Paris Hilton would give up her Juicy Juice for a shufti at Angelina Jolie's hind quarters, the Duke University scientists confirmed that "celebrity" monkeys were just as interested in fellow celebs as the hoi polloi.
It's just, uh, primate nature to want to look at celebrities, so don't feel guilty. Even monkeys do it.