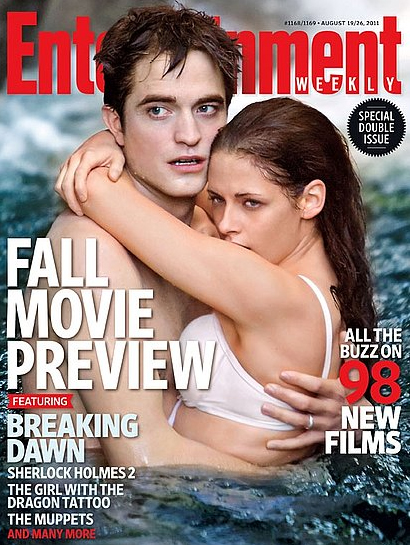 Here's the new cover of Entertainment Weekly, featuring a still from the much-anticipated Twilight Finale, Breaking Dawn. The movie is out in two parts (of course), the first of which will be released on November 18th. Both parts will clock in at about two hours, making the finale a total of four hours long.
Kristen looks kind of stoned in this picture and Pattinson looks scared, like someone has seen him sparkling in the daylight, or like he's afraid of vadge. (To quote Kaiser. And that may be technically accurate given the plot.) I put on my Twilight tin cap and skimmed through the last book to see what their characters could be responding to. (I had to get it from the back of the shelf where it was hidden. Yes I read all the books but I'm not proud of it.) I couldn't find a scene from their honeymoon where they get surprised in the water, but spoilers from book they do have some minor conflict with a maid coming to the house who knows that Edward is a vampire and gets afraid for mortal Bella. Re-reading those sex-lite scenes reminded me of how cheesy those books are, and how ridiculous the dynamic between the characters can be. Edward tries not to have sex with Bella again after he "hurt" her during their first session, and he tells her he's not going to screw her again until she's "changed," but then she "seduces" him. It's obnoxious, and of course they were both virgins when they did it.
Pattinson seems to realize that his character is less than ideal, because he says as much in the accompanying EW interview. His last statement here is kind of awesome:
Kristen on the end of Twilight: "It's just so strange, I can't get over it."
Kristen on the wedding scenes: "It's a trip to watch the wedding scenes especially. It was so volatile and emotional — I was being such a crazy person."

Robert on how Edward rips apart a pillow in a passionate moment: "I wanted to have it as a line so much, 'I bit through all the pillows. Every. Single. One.' And then [Edward would] start crying. By the way, that's what he should be ashamed of in the morning. All those beautiful pillows! Egyptian cotton! 'I ruined this bed!'"

Robert on how Edward and Bella discover her pregnancy: "They shock each other. For a saga which is about eternal, undying love that nothing can touch, suddenly…

Kristen interjects: "There's one thing that can. That was fun to play. Bella's always liked him and liked everything he said and thought; everything he did was right. This is something that she clearly disagrees with. She doesn't mindlessly and blindly follow him. She was always kind of defiant. I like that."

Robert frankly assessing Edward's character: "Look, there are a lot of moments when Edward sort of acts like a p*ssy. I mean, throughout the whole series."
Well at least Pattinson knows that his character can be a manipulative whiny jerk. I imagine that it must get old focusing on this one series and the same wooden characters for years on end, but all those millions must make the work much more tolerable.
In terms of this cover image it's really goofy, but that's pretty much what this show is about. Here are a bunch of other stills that have already been released. My favorite is of all the vampire chicks at the wedding in their nice dresses and creepy contact lenses. [via Collider]