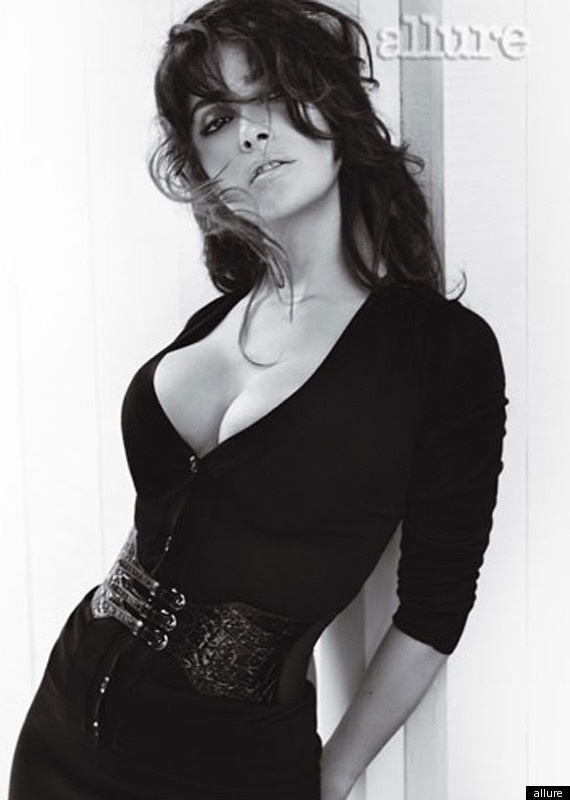 Oooh, Salma! Salma covers the September issue of Allure Magazine, likely to promote her voice work in Puss in Boots (the Shrek spinoff with Antonio Banderas) and her new skincare line. But Salma has another agenda too – to make Linda Evangelista sorry that she ever looked at Salma's billionaire husband, Francois-Henri Pinault. Salma gets some subtle digs in, especially when she's talking about how her daughter is growing up wealthy. Allegedly, Pinault puts $50,000 a MONTH in Valentina's trust, plus, you know, he's actually a hands-on father with Valentina, where his son Augie, with Linda, has gotten nothing. I also think Salma is making a dig at Linda, who famously does Botox, when Salma talks about how she's all-natural. The Allure slideshow is here, and here are some excerpts:
Salma on her skin: Hayek has worked for her astonishingly young-looking skin. "My career has given me a lot of experience to be under pressure of having to be beautiful, and having to look for tricks to make it work," says the actress.

She's all natural: Hayek believes in fighting aging—up to a point. "I believe that every woman is entitled to fight to preserve her youth," she says. But not by becoming overly surgified by celebrity dermatologists. "It's like the uniform of a generation," Hayek says. "And it's not necessarily beautiful. It's not wrinkled-looking, but it's not beautiful. I've never had anything done on my face," Hayek insists. "I've never had dermabrasion or peels or injections of any kind, nothing."

Salma on her boobs: Ask Hayek whether any part of her body looked better ten years ago, and she'll tell you. "My boobs," she says with a laugh. "They're not bad, by the way. I'm not complaining about them." She famously breast-fed a hungry infant in Sierra Leone, where she was promoting a UNICEF initiative to eradicate tetanus. "If you have milk, you have milk, and if they're hungry, they're hungry," she says. "I think it's a beautiful thing, because motherhood is a very strong place for women to connect and understand each other."

Confidence: "As a woman, you should be more at ease with your sexuality when you are in your 40s," she says. "You are more self-assured about that part. And that's the way it should be. If you are a girl who cannot walk in heels, it doesn't matter how beautiful you are," she says. "If you look like a chicken that's been spiked in the feet, it's not going to be sexy."

Bullied at an early age: "I got teased because I was too short, or I was too brown," she says. (Her complexion is the legacy of her father, a businessman of Lebanese descent.) "You would think in Mexico that would be something normal, but I did get teased," she says.

Filming love scenes: Hayek first became known in America with Desperado, an action movie starring Antonio Banderas. A love scene between them took eight hours to film rather than the scheduled one hour because of Hayek's reluctance. "I'm not an exhibitionist," she says. "It was the first time, so it was very difficult."

Hayek on her daughter, being rich: Hayek says of her daughter, who speaks English, Spanish, and French: "I never understood the point of being privileged if you don't get to have the privileges. Like, people who won't take their kids to an expensive restaurant, or won't travel with them, or make them pay for everything at a really young age. I think it's important that kids have responsibilities and understand the value of things, but I think it's great that my daughter gets to travel the world."

On her beauty line: Hayek's beauty line is in many ways a tribute to her grandmother, who studied to be a beautician and made potions for government officials and their wives. "She started working on my skin when I was 12 or 13," Hayek says. "I never used soap on my face. Once, she shaved our heads and put egg on it and all these things. But I have to give her credit—my hair is great." Hayek believes that it's possible to offer beauty products that will encourage women's strengths rather than make them anxious about their weaknesses. "I'm [creating this line] with the philosophy that within you there is beauty, and you have to learn how to find it and enhance it in a natural way…. One thing that is exciting about being a woman is that you can rediscover your beauty over and over and over."
[From Allure]
I actually do like Salma quite a bit, and I always have, but I think her perspective is very narrow. That's fine – lots of people only see the world through their own narrow point of view, but with Salma, speaking aloft her cushion of wealth and privilege, it does seem like she's out of touch. She was blessed with a great face, great skin, a great body, and she worked hard in Hollywood and then married a billionaire… none of this is particularly inspiring. Which is fine – some people are born with a head start, and do great things with that head start. But Salma puts herself out there like she's relating to every woman, like her experiences have been like everyone else's.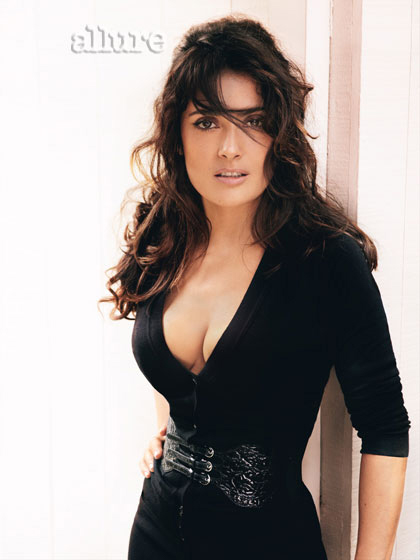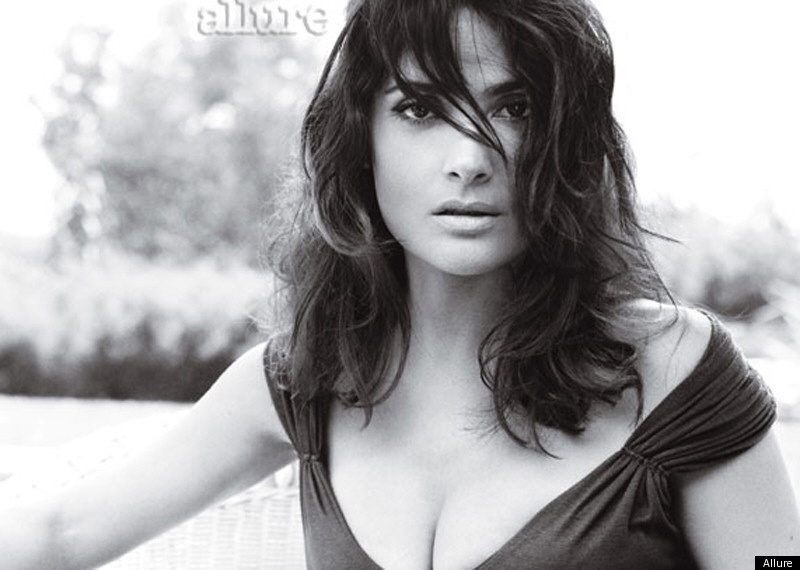 Photos courtesy of Allure.