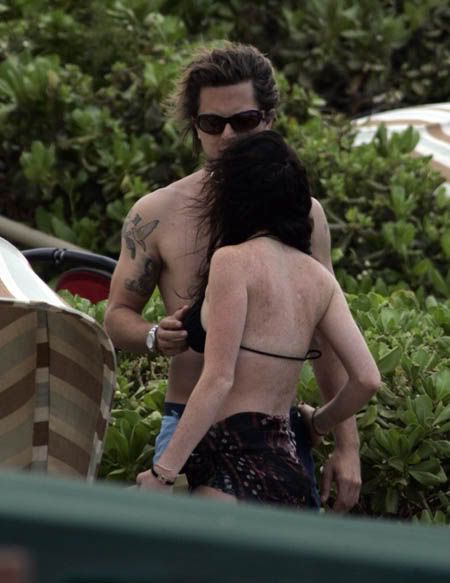 Lindsay's publicist is denying reports that her client was dumped by Pink Taco founder Harry Morton on Thursday night. Morton was said to done the old "break up in a public place so they don't cause a scene" trick by giving her the news after dinner at Chateau Marmont. A friend of Lindsay's is quoted as saying that that on-again off-again relationships are just par for the course for 20-somethings, and that they're still together:
Lindsay Lohan and Harry Morton split up Thursday, multiple sources confirmed to PEOPLE – but now they seem to be speaking again.
"They are together now," Lohan's rep tells PEOPLE.
A source close to the actress adds: "They argue, they don't argue." At the moment, "They're communicating. They're hanging out. Whatever's going to transpire there is going to transpire."
The outlook for the couple was more dire on Thursday. "Harry broke up with Lindsay yesterday at Chateau Marmont after they had dinner on the courtyard patio," a source tells PEOPLE. "Nothing happened at dinner, but shortly afterward, he broke up with her."
Why the split? "She was too much drama," says a source close to Harry. "Lindsay did cut down on the partying, but with her it's all relative. Harry is sober. It wasn't the partying that broke them up. Harry's more low-key and not into the same stuff she's into."
However, the Lohan pal says, "No one 'dumped' anyone. You don't dump people when you're 20 and 25. You have a mature relationship, and you take a break and you see what happens. Everyone does that."
Indeed, Lohan, 20, was spotted at Hollywood's Chateau Marmont on Thursday, running onto the patio where four of her friends were sitting – and weeping, a wad of tissues on one hand, her cell phone in the other.
Even if Harry took her back or recanted or whatever, once one of the parties tells the other that they want time off or that they want a split, the relationship is usually doomed.
It looks like Lohan's summer romance is over. Maybe she should try to go to college now before she gets too old. There are plenty of single guys there.