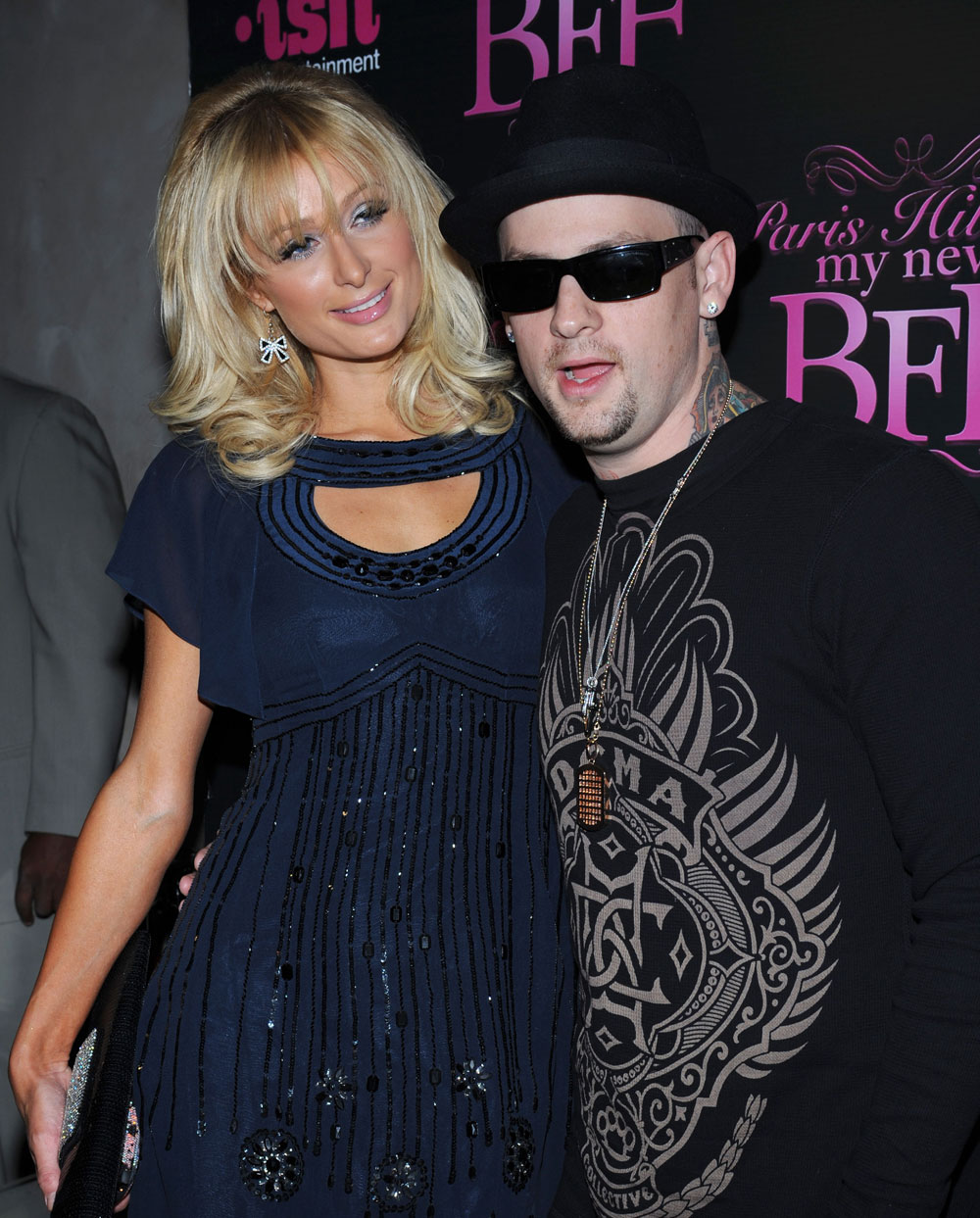 Paris Hilton and Benji Madden are still going strong, even after 8 whole months. Paris continues to dress like I can only presume is her idea of what a rock star's girlfriend should dress like (she's probably watched every episode of Rock of Love) and despite the fact that's she's been wandering around London, they're still in love. Nauseatingly so.
Benji Madden would like to set the record straight about those tabloid reports that he has been unfaithful to new love Paris Hilton. "Paris is the love of my life," he tells Life & Style. "She's the most beautiful woman in the world. These rumors are not only hurtful but completely false and absurd. She is my life and the woman I want to spend the rest of my life with.

Everything they printed is a complete lie. I never give off any impression other than that I am madly in love with Paris. I am disgusted that people would make up such malicious lies. She is my life, my heart and my soul and is the most important thing in my life. No one exists but her. I am the most loyal guy in the world and would never even look at anyone else."

And Paris? "Benji and I have an amazing relationship and I trust him with my life," she tells Life & Style. "I don't ever believe rumors regarding my love. I know he would never hurt me and he knows the same about me."
I actually believe in true love and people changing and rainbows and butterflies, but I just can't buy the idea that these are deeply in love. I also think it is a big deal for Benji to say he wants to spend the rest of his life with Paris, and it's a statement that could come back to haunt him.
My theory is that Paris has used her alien powers to take over Benji Madden, and through her mind control tactics has convinced him he's in love. She probably inserted some kind of device in his body to make him follow her around like a real boyfriend.
Paris has just released a music clip, although I'm confused as to whether it's a new single or just something to continue to promote the Paris Hilton brand. It's called 'Paris for President', and she offers to be your commander in bikini. Frankly, I'd be more impressed to see her in a suit, the bikini's been done.
Paris Hilton is shown arriving at her hotel in London last night. Credit: Will Alexander/WENN. Benji Madden is shown out at a recording studio in LA on 10/16/08. Credit: Bauergriffinonline. He is also shown with Paris at the premiere party for her reality show on 9/30/08. Credit: Bauergriffinonline