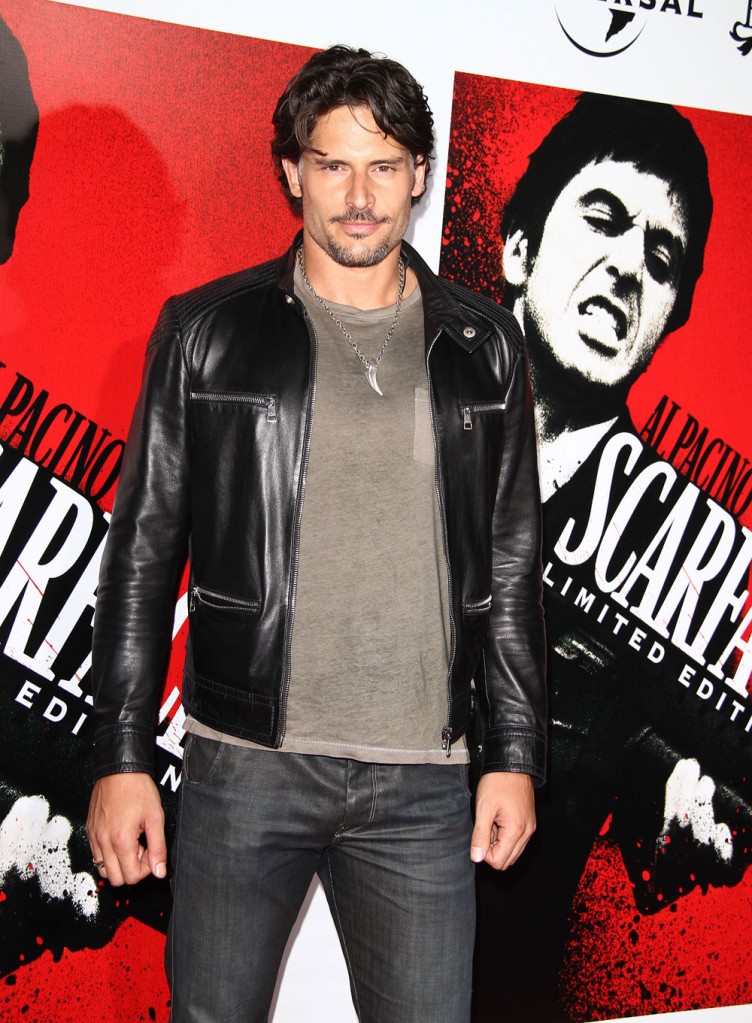 Back when I was dating, I had a rule to avoid guys who were so into Ayn Rand that they mentioned it on the first date. Like it was fine if they read some of her books, but if they read them and ascribed to her philosophy so thoroughly that they were preaching to me about it, that was a deal breaker. This was after a hot guy tried to pick me up at a bar and then proceeded to spend the next 40 minutes telling me about Objectivism like he was doing me a favor. From then on, I considered a strong interest in Rand a warning sign that the guy was annoying, and that rule served me well a couple of times afterwards.
(Disclosure: I read half of Atlas Shrugged at one point, but found it interminable. This was years ago, and maybe I didn't "get" it.) So it's disappointing to me that "True Blood" hottie Joe Manganiello just has to mention in his "25 Things You Don't Know About Me" profile that The Fountainhead is his absolute favorite book. Really? He's never read a better book than that? I don't care what kind of abs he has, I'm getting a flashback to my 21 year-old self, stuck in the bar with that dude who looked promising until he tried to convert me to Rand's "amazing" philosophy. I think I was so bored my mouth was hanging open. Mangy's other 24 things seem to be about his various accomplishments, and it's less interesting than boasting. Is he one of those guys who talks endlessly about himself? Maybe that's unfair given that he's supposed to do that here. Still, I'm not impressed.
1. I am excellent at knife-throwing.
2. My eyes are so bad, they can't be corrected by laser surgery.
3. I made the junior Olympic volleyball team when I was 16.
4. I worked as a roadie for the rock band Goldfinger.
5. I was an altar boy.
6. I once planned on playing college basketball and joining the FBI.
7. I love Disneyland.
8. I was asked to skip two grades in elementary school but chose not to.
9. I shaved my head twice and got my front teeth pulled out for stage roles in college.
10. I sang backup on one of The Used's albums.
11. I love karaoke.
12. My favorite city is Venice, Italy.
13. My favorite movie is Fight Club.
14. My first concert was Pantera.
15. I won third place in a chess tournament when I was 6.
16. I got a 750 on the mat portion of the SATs.
17. I am a die-hard Pittsburgh Steelers fan.
18. I trained as a boxer and was a sparring partner for an NHL player.
19. At age 16 I got paid to dress up like Captain Morgan at abrs.
20. My favorite play is A Streetcar Named Desire by Tennesse Williams.
21. Last summer, I caught a touchdown pass from Joe Montana in a charity game.
22. My favorite book is The Fountainhead by Ayn Rand.
23. I appeared full frontal nude in an off-Broadway play.
24. I have a bachelor of fine arts degree in classical theater.
25. When I was young, I prayed that God would turn me into a werewolf.
[From US Weekly, print edition, September 5, 2011]
The rest of the "25 Things" are mildly interesting. Like he seems like he's had various interesting experiences. They sound braggy though, and I know that's the nature of these lists but the posturing seems obvious to me. Maybe it's the Rand connection, which that one guy ruined for me that fateful night. I hope he grew out of it. It strikes me that Manganiello hasn't read much if that's his favorite book of all time. Maybe Kaiser is right about him. Hot but dumb. I'm so team Eric now. I would still like to see full frontal pictures of the guy on stage though, if they exist.
Photo above is from from 8/23/11. He's just not doing it for me anymore! (credit: Fame) He's also show strategically trying to remove his sunglasses in London on 8/3/11. (credit: WENN) And shirtless from GQ