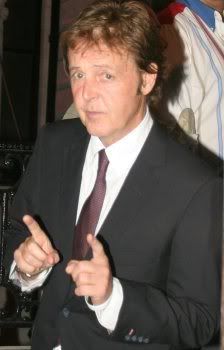 In a classy ever-so-subtle dig at the harpie he's divorcing, Heather Mills, Paul McCartney has dedicated his new album to the memory of his dear wife, Linda, who succumbed to breast cancer in 1998. He held a press conference for his new classical album, Ecce Cor Meum (Behold My Heart). He spoke of how he poured his pain into the new album and used it as a way to work though his sadness. He ended the press conference good-naturedly when a reporter asked about his divorce:
McCartney, 64, spoke at a press conference in London for his new classical album, Ecce Cor Meum (Behold My Heart). Asked how he's faring these days, he said, "I'm doing fine. It's okay. I am enjoying music. It's something I love to do. It's something that sustains me."
The new album was inspired by McCartney's late wife, Linda, who died of breast cancer in 1998. "It was started when Linda was alive," he said. "It has a lot of my feelings for her in it.
"When she died it stalled me and it took a year or so to before I could get back into it," he continued. "And the interlude in the middle, the sad melody, is what got me back into it. So her spirit is very much in this. It would have been her birthday yesterday, so it's very appropriate.
The press conference came to an end when a reporter asked about a story that had appeared in the morning's newspapers, apparently quoting McCartney as saying he found it hard to cope with his split from Mills.
McCartney said, "Now wait a minute. You're a little renegade, coming out of the corner here. I haven't read the Daily Mirror today. Have we someone breaking away from the script? I think we have."
Paul had such a bond with Linda, and it's sad and bittersweet that he is dedicating this album to her.
There was a report that Heather Mills was banned from a supermarket this weekend after being recognized for shoplifting there as a teenager, but that was undoubtedly a story made up by the British press, who are now free to make fun of her openly. (I may not believe that story, but I do think she was a high-paid hooker in the 80s. NSFW)
Heather and Paul's divorce is said to be moving along amicably, with people speculating she could receive up to 200 million of his 800 million pound fortune as a settlement. Paul and Heather did not have a prenuptual agreement.
Thanks to Best Week Ever for the header picture of Paul showing us his real worth.