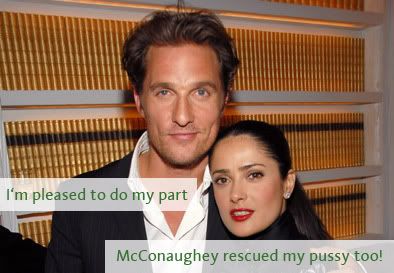 Matthew McConaughey pulled his car over and stopped a bunch of kids from setting a cat on fire in California. He saved the poor cat and gave the kids a verbal lashing:
The 36-year-old was driving past a group of kids in Sherman Oaks, California, and saw they'd doused the poor feline with hairspray and were trying to light it. He screeched to a halt, grabbed the cat and hairspray, yelled at the kids and stormed off to an animal shelter. "He was so angry he went on about it for days afterwards," says a pal.
As if being hot wasn't enough, this is not the first time McConaughey has acted the hero. He scared off a coyote from a toddler last year, and once performed mouth-to-mouth resusitation on a woman who had fainted.
McConaughy's two year relationship with Penelope Cruz may be in trouble. The two are said to have possibly split after spending a good deal of time apart.