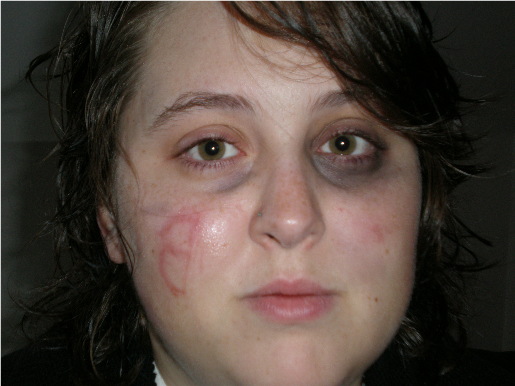 A McCain campaign worker who claimed she was attacked in a suburb of Pittsburgh by an Obama supporter who tried to convert her by supposedly carving a "B" on her face and beating her up, has confessed to fabricating her story, claim police. 20 year-old Ashley Todd is now facing charges for making up a false report.
There were all sorts of inconsistencies in Todd's story from the beginning, and it seems like she was just trying to get attention – albeit in a dramatic and bizarre fashion.
In her initial account, Richard said, Todd attempted to use the ATM when the man approached her from behind, put a knife with a 4- to 5-inch blade to her throat and demanded money. She told police she handed the assailant $60 and walked away.

Todd told investigators that she suspected the man then noticed a John McCain sticker on her car, became angry and punched her in the back of the head, knocking her to the ground and telling her "you are going to be a Barack supporter," police said in a statement.

She said he continued to punch and kick her while threatening "to teach her a lesson for being a McCain supporter," police said. She said he then sat on her chest, pinned her hands down with his knees and scratched a backward letter "B" into her face using what she believed to be a dull knife.

The woman told police she didn't seek medical attention, but instead went to a friend's apartment nearby and called police about 45 minutes later. Police have reinterviewed Todd at least once since her initial statement, Richard said.

In the subsequent discussions with investigators, according to the police statement, Todd said she was accosted as she approached the bank and fled her attacker, fell to the ground and the assailant began beating and fondling her.

Police Cmdr. Larry Ross, who is in charge of the police precinct where the attack was first reported, said Todd's story has continued to change.

"I guess she elaborated more when she went down to the bureau headquarters. She added other things to it that we didn't have at first, that she didn't tell the initial officer," Ross said.
[From the Associated Press via the Huffington Post]
Due to the obvious inconsistencies in her story, Todd was given a polygraph. While the results haven't been released, it's believe that she failed, since she's recanted the whole story.
Police say a campaign volunteer confessed to making up a story that a mugger attacked her and cut the letter B in her face after seeing her McCain bumper sticker. At a news conference this afternoon, officials said they believe that Ashley Todd's injuries were self-inflicted. Todd, 20, of Texas, is now facing charges for filing a false report to police.

Todd initially told police that she was robbed at an ATM in Bloomfield and that the suspect became enraged and started beating her after seeing her GOP sticker on her car. Police investigating the alleged attack, however, began to notice some inconsistencies in her story and administered a polygraph test. Authorities, however, declined to release the results of that test.

Investigators did say that they received photos from the ATM machine and "the photographs were verified as not being the victim making the transaction." This afternoon, a Pittsburgh police commander told KDKA Investigator Marty Griffin that Todd confessed to making up the story. Todd told investigators that she didn't remember what happened.
[From KDKA in Pittsburgh via the Huffington Post]
This sounds like a girl with some mental health issues who was trying to get some attention. I can only guess why she chose such an inflammatory way of going about it. Perhaps she thought she'd get sympathy at work or something if it looked like she was harmed because of her job or her beliefs. Obviously she needs not just to be punished but also some psychotherapy as well. People will do a lot of strange things for attention, and 20-year-olds are certainly less likely to understand the consequences of their actions. But if she had been believed, someone else could have been charged with a crime they had nothing to do with.
I'm not even going to touch the backwards "B" except to say that clearly this woman is not very bright.