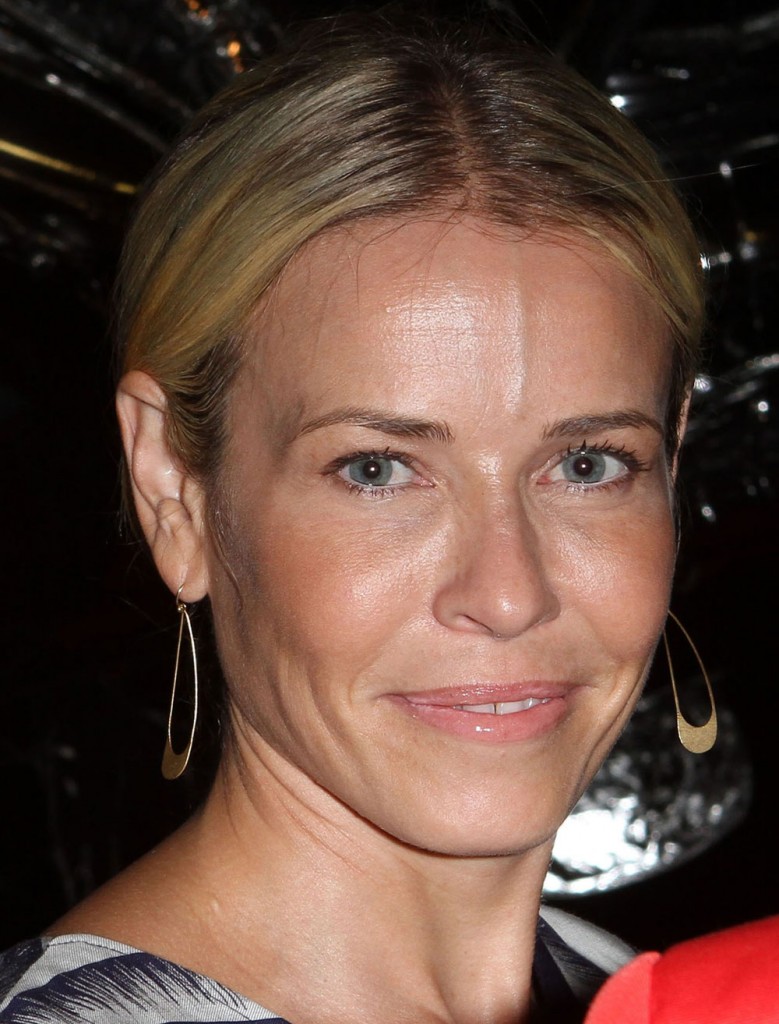 Yesterday we heard that Chaz Bono's mom, Cher, had defended him against some critics who were going overboard in trashing Dancing with The Stars, and Chaz, for the fact that he is transgendered and has been named as a new competitor. Cher promised us that Chaz would win us over, and I think she's right. In the interviews I've seen with him, he's come across as very down-to-earth, likable and in fact a little shy about speaking to the press. So it must be very brave of him to not only come out as a transgender person but to compete on this very popular show.
Enter comedian Chelsea Handler and her dumb-ass minions, mocking Chaz and making all sorts of ignorant comments about him. GLAAD has asked for an apology and that Chelsea invite Chaz or another transgender person to appear:
Last night's episode of Chelsea Lately repeatedly made a mockery of Chaz Bono's transgender identity when discussing the transgender advocate's upcoming appearance on Dancing With the Stars. Host Chelsea Handler herself started the discussion off with a joke about Chaz Bono's identity and anatomy, but was joined a few moments later by two members of her all-comedian panel in using transphobic humor to mock him.

Handler's introduction:

Chelsea Handler: The Dancing with the Stars cast has been announced and, this is season 13, it includes Chaz Bono, otherwise known as Chastity Bono [laughs] before she got her penis [laughs]….

Out comedian Fortune Feimster soon said that she was personally most looking forward to watching Bono on the program, saying:

Fortune Feimster: I'm, I'm like you, I'm excited about Chaz Bono. Cause I used to watch the show…

CH: I wonder why. [laughs]

FF: It's like reality gold, he's like four reality shows in one, like who doesn't love that?

This was immediately followed by jokes from comedians Bill Bellamy and Jo Koy, who has previously apologized for using anti-gay language:

BB: I mean who do you vote off? Him or her? I don't know which one you want to do. [laughs]

JK: Does, does he/she have both parts? Like, like he's like 'I don't want to use my penis, let's use the vagina tonight.' Like [laughs] I don't know.

Of the four people onstage, Feimster was the only one to make a joke about Bono that didn't simply mock his transgender identity. The "humor" utilized by the others hinged solely on using both male and female pronouns to describe Bono and reducing his identity down to anatomy in order to ridicule him. In doing so, they are effectively making a mockery of anyone who identifies as transgender and contributing to the already dangerous and hostile climate many transgender people face.

This is especially disheartening coming from a show whose host has made a point of being publicly supportive of the LGBT community, though the content of her show has skirted with crossing the line on more than one occasion. After learning of the incident earlier today, GLAAD reached out to the show, which has yet to respond.

GLAAD calls on Handler and the show to apologize for the jokes, and asks them to invite Bono, or another transgender celebrity like Top Model's Isis King, to make an appearance and offer viewers the chance to get to know them beyond a few hurtful punch-lines.
[From GLAAD's blog, via Instinct Magazine, ONTD]
I don't know much about transgender people apart from reading Middlesex (which was fiction) and seeing a documentary on HBO called Southern Comfort. (I saw part of Chaz's documentary on OWN but it was kind of slow so I didn't watch the whole thing.) I also used to work with a transgender person, although I didn't know him well apart from work. It just seems like we should treat and address people by their preferred gender. The way I make sense of it is to think of it like a medical issue. It's not someone's fault they were born in the wrong body and it's wrong of me to judge them or tell them how to live, just as I would expect the same. It's hard to look at this issue logically and with compassion, though, when it's the first time that someone semi-famous has really come out as transgender in America. I think it's important that we try, though. It's not like jokes about Chaz should be off limits, but there are ways to make jokes that are actually funny and don't mock his gender identity. The dude's mom is Cher for God's sake and let's face it, he's huge.
Here's Chaz outside DWTS rehearsals on 8/31/11. Chelsea and her Botox forehead vein are shown on 8/26/11. Credit: WENN.com