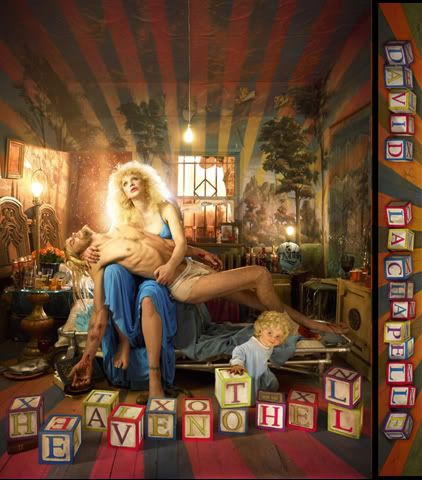 Courtney Love appears on the cover of celebrity photographer Dave LaChapelle's new coffee table book, Heaven To Hell, cradling a skinny look-alike of her late husband, Kurt Cobain, in an image that mimics Mary holding Jesus after his crucifixion. Love's blue dress is gathered to suggest Mary's robes and Cobain lies limp on his back with track marks in his arms that are suggestive of Jesus' wounds. The picture is typical of LaChapelle, who uses sets, costumes, and perfect lighting to achieve provocative and highly stylized images.
Cobain died in suspicious circumstances in 1994. He was found with what was ruled a self-inflicted gunshot wound to the head, but also had more heroin in his system than it is believed he could have self-injected. Some claim that the details of Kurt's death suggest that Courtney conspired to murder him with the help of Michael Dewitt, the Cobain's male nanny. (See, all mannies aren't benevolent. Here's Kurt Cobain's suicide letter vs. Google Adsense.) [via]
This image is gorgeous and is meant to invite controversy. I don't find it offensive so much as in poor taste. Assuming that Cobain committed suicide, would you pose with a look-alike of your dead husband – in a pose that suggests he's dying? Then again, Courtney doesn't really give a shit because she does a lot of things that people would find offensive. At least she's somewhat sober now.
David LaChappelle's book is "coming soon," according to his website.