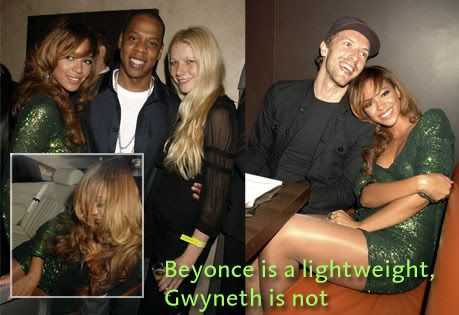 Beyonce and Gwyneth are new BFFs, and hung out together and partied in London for Gwyneth's 34th birthday. They shopped, went to dinner, saw Jay-Z perform, and then hit a club afterwards. Gwyneth's husband Chris Martin even joined Jay-Z on stage during his performance at Royal Albert Hall while Gwyneth let loose and sung backup.
Beyonce – in town with boyfriend Jay-Z – teamed up for a day of shopping and partying with Gwyneth (aka Mrs Chris Martin) to mark the blonde actress's 34th birthday. The Destiny's Child star's latest solo album might well have made a suitable present, as its title B'Day would suggest. The pair shared a meal at Knightsbridge Japanese restaurant Zuma. Then it was a night at Movida for the aftershow party to mark the end of Jay-Z's UK tour, which climaxed with a sell-out at the Royal Albert Hall. It was a relatively rare night out for mother-of-two Paltrow, but it was not the first for Beyonce, 25, whose stay in London has seen her clubbing and partying with her boyfriend.
[from Beyonceworld.net]
London's The Mirror said that Beyonce and Gwyneth talked about music and babies at the after party, but they're making that shit up and running a story based on the photographs:
Superstar Bey and Oscar-winner Gwynnie made unlikely showbiz pals but they appeared to be getting on famously as they nattered about everything from music to babies while they sat in the corner of the VIP room. Bizarrely, Gwyn refused to have her picture taken with husband Chris Martin, saying it would "make him angry" if they were snapped together.
Throwing caution to the wind, Gwyn then ditched her macrobiotic diet and tucked into one of her two strawberry birthday cakes.
But considering the number of singers in the room – Bey, Kelis, Martin, Pussycat Dolls – the Happy Birthday song was a bit poor.
But there was a lot of love in the house – proved by England defender Sol Campbell and Jimmy Choo owner Tamara Mellon smooching all night. Earlier in the evening, Jay-Z put on a jaw-droppingly good show as he took to the stage at the Royal Albert Hall. The historic venue was packed with fans loving the king of rap's storming two-and-a-half hour gig, complete with orchestra.
He drove the crowd wild with hits including Hard Knock Life, Izzo and Fiesta, with side-kick Memphis Bleak.
Now a regular fixture at his shows, Beyonce got up on stage to perform their duets Bonnie And Clyde, Crazy In Love and Deja Vu.
And just when you thought the show couldn't get any better – New York rapper Nas joined Jay on stage.
Later Coldplay's Chris got in on the act and played piano while Jay sang Dead Presidents and Heart Of The City. But it was the impromptu appearance of Chris's missus that got one of the biggest cheers of the night.
Grabbing the mic, Gwyn provided the backing vocals to Song Cry – and happily for the audience she managed not to blub her way through it this time…
They all obviously had a great time and enjoyed themselves on Gwyneth's birthday.
Thanks to BeyonceWorld.net for these pictures.
Update: Jay-Z was the first hip hop artist to headline at Albert Hall. He will play Paris tonight and Milan tomorrow.
"Lightweight" in the image caption above is not a literal reference to either Beyonce or Gwyneth's weight, and just refers to the fact that Beyonce is visibly drunk in the pictures, while Gwyneth just looks tipsy.