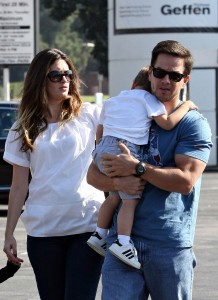 Mark Wahlberg with his daughter Ella and a soccer coach on 9/13/08
Mark Wahlberg is a dad to three children with his fiancé Rhea Durham, Ella Rae, five, Michael, two and a half, and newborn Brendan Joseph, six weeks. The proud father and devout Catholic talked to In Touch Magazine about how he's very closely involved with his children's lives. He said that he's lucky to be able to be around during the day as someone with a flexible work schedule and that he monitors his kids closely. As for how he helps Rhea with the newborn, Mark admits that he's intimidated holding tiny babies and says he takes care of the older children for her. He also confirmed their wedding plans for August, and has previously said that he's planning a small Catholic ceremony with no press or photos permitted for the public:
You're planning a wedding?
Yes, in August?

Why now?
We're adamant about keeping our family together and have spent a lot of time working on our relationship. But that doesn't guarantee 110-percent success. All we can do is put in the work.

Has fatherhood changed you?
In every way possible. And only for the better.

Are you a hands-on parent to [your children]?
Yes, being financially secure gives me the opportunity to be around 24/7 and monitor everything that they do. I'm not going to leave it up to chance that they'll figure things out.

Do you worry about them growing up too privileged?
It is hard, but my main goal in life is to make sure they are raised the right way.

Has the new baby compromised your sleep schedules?
I'm getting a little bit more sleep than Mommy is. She's taking care of the newborn because I'm terrified of babies until they're like 6 months old.

Why is that?
They're so fragile looking.

So how do you help out?
I keep the other kids busy.

Any plans to add to the family?
I'm the youngest of nine kids, so I'll have as many as Rhea can handle.

Without your past troubles, would you be where you are today?
Probably not. It was a crazy path and I wish I'd never taken it, but I wouldn't be able to look myself in the mirror if I forgot where I came from. Very few people get a second chance, and I feel very fortunate.
[From In Touch, print edition, November 3, 2008]
Last week Wahlberg parodied his supposed feud with Andy Samberg on Saturday Night Live. Samberg mimicked Wahlberg a few weeks ago in a skit in which he talked to animals Entourage-style. Wahlberg told the NY Post afterwards that the skit wasn't funny and that SNL "hasn't been funny for a long time." He then told Jimmy Kimmel that he wanted to punch Samberg in "that big f'cking nose of his." MSat reported that Wahlberg was setting us up for his SNL appearance, in which he confronted Samberg and talked to a donkey. It looked to me like Wahlberg was dead serious about not being amused when he first talked to the NY Post and only ramped up the criticism once he decided to get in on the joke and go on SNL himself.
You can tell from this interview that Wahlberg is a strict "take no prisoners" kind of dad, and that he cherishes his kids and just wants to be there for them. His own father, a Korean war veteran, passed away this February. Wahlberg is one of nine children. He told Jimmy Kimmel that his dad had even more kids from a relationship before he married his mom. He said he had at least two half brothers and that there were "a couple of other ones floating around somewhere."
Mark Wahlberg is shown with his daughter, Ella, who was crying while playing soccer, on 9/13/08. He is also shown getting takeout at Il Sole on 10/24/08. Credit: Fame Pictures.
Photo Update Here's Wahlberg with his wife and his two older children going to see "Madagascar Escape 2 Africa" on 1-/26/08. Credit: Fame