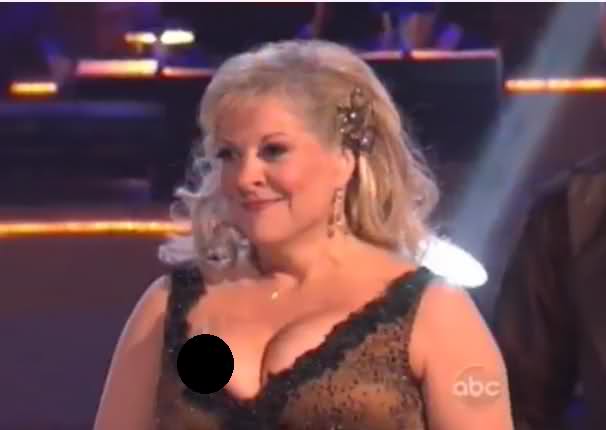 Uncensored version is here
Update: Here's the video. I'm so sorry I forgot it! The incident is at :30 in.

Nancy Grace showed Nicki Minaj level nip during last night's appearance on DWTS. Her chest was so precariously stuffed into her dress that after her dip at the end of the dance the right one popped out. For about a second you could see half of her saucer sized areola (at :30 into the clip above). The camera panned to the audience to cover up for it, and then Nancy recovered and adjusted herself. Host Tom Bergeron laughed and said "That's all right, on the European version that would be perfectly fine." Only this isn't the European version and won't someone please think of the children? They're already traumatized and confused by a transgender dude dancing who somehow has the agenda of "tearing down traditional families." It's not gratuitous violence we should be shielding them from, it's boobs!
In terms of the other performances last night (spoiler warning if you're waiting to watch) the high scorer was none other than Ricki Lake! JR Martinez and Kristin Cavallari were next. We shouldn't count limp noodle Elisabetta Canalis out yet, she could be a contender after tying for fourth with Chynna Phillips. Chaz is hanging in there, but was affected by swollen knee joints and scored the lowest. E! Online has a great recap if you're interested.
ABC is also putting all the dances online, on their official YouTube Channel, this season. It's great that they're doing this, but they do cut them right after the dance and before the judges comment. So on their "official version," we weren't treated to Nancy's minor wardrobe malfunction.
Here are more clips.
Ricky Lake & Derek Hough: 23 points for the jive. This is so much fun, but I think JR Martinez's dance was better.

J.R. Martinez & Karina Smirnoff: 22 points for the jive. He's got serious moves

Kristin Cavallari & Mark Ballas: 22 points for the cha cha. Her Marilyn styling and this whole concept is so played out.

Chynna Phillips & Tony Dovolani: 21 points for the jive. She still bugs me.

Elisabetta Canalis & Val Chmerkovskiy: 21 points for the quick step. She improved but she really needs to be led around.

Chaz Bono & Lacey Schwimmer: 17 points for the quick step. Chaz will hang on a couple more weeks, then he'll be off.

There are more videos on ABC's YouTube Channel
This photo is from last week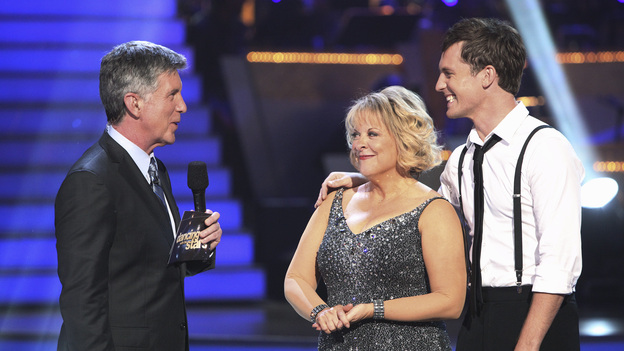 images via ONTD, ABC