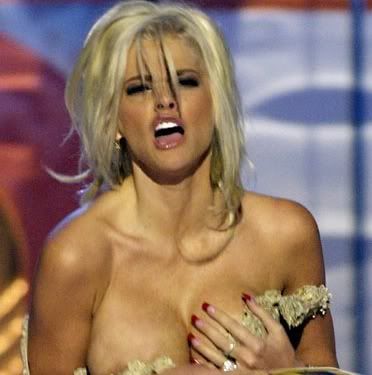 Anna Nicole's quick weight loss and loopy public appearances make a lot more sense in light of the lawsuit filed by the man who claims he's her baby's daddy. Photographer Larry Birkhead says Anna is addicted to the heroin substitute methadone and that her lawyer Howard K. Stern is her dealer. In a lawsuit asking for custody of Anna's newborn, Danilynne, Birkhead claims that Anna escaped to the Bahamas right before she was due to give birth in order to avoid drug testing, with the added benefit of denying him paternity rights.
He also says that not only is Howard K. Stern not the father of the baby, but that Anna initially shopped around for another man to pose as her baby's daddy:
Photojournalist Larry Birkhead, an ex-boyfriend of Smith's who claims he fathered the newborn Dannie Lynn Hope, has filed suit in a Los Angeles court demanding Smith return to the United States and submit the baby to a paternity test.
Smith was served with court papers Monday in the Bahamas, Birkhead's lawyer, Debra Opri, told The Associated Press.
The lawsuit contains allegations, untested in a court of law, that Smith is a methadone addict and that her lawyer and boyfriend, Howard K. Stern, has been enabling her habit.
Methadone was one of three drugs in the bloodstream of Smith's late son, Daniel, 20, who died of a heart attack in his mother's Bahamian hospital room on Sept. 10, three days after Dannie Lynn's birth. Three people were reportedly in the room when he died: Smith, her baby, and Stern.

Birkhead accuses Smith of holing up in the Bahamas to keep Dannie Lynn from being subjected to drug testing. His petition demands that both Smith and her daughter undergo blood tests.
Opri says Birkhead is seeking full legal and physical custody of the child.
"The public will be very surprised when they learn the details of the lifestyle this baby is going to be faced with if she remains in the current situation," she said.
If this is true it sheds light onto why Anna was overheard screaming "You did this!" when she first found her son Daniel's lifeless body. Daniel died from a lethal combination of methadone, Zoloft, and Lexapro. He only had a prescription for Lexapro. Howard might have slipped him a little something extra to help him relax after his long journey to meet his new baby sister.
That's incredibly sad. Anna and Howard need to be taken into custody soon and questioned about Daniel's death.