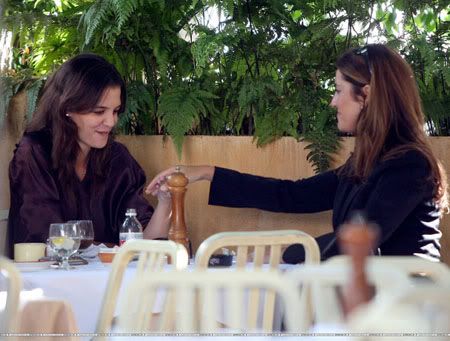 Katie Holmes was spotted out at a high-profile lunch with what many people assume was a wedding planner this Tuesday. The woman gestured as she spoke at length, and from the expressions Katie is making she seems to be talking about something important. X17 has a video of the lunch, and there were clearly plenty of photographers on hand to capture the moment.
Katie has lost all of her baby weight and then some, sparking people to speculate that Tom somehow made her shape up quickly. There was a report that Tom was "very concerned" about her weight, but I call bullshit on this story. It's an old rumor based on false stories earlier in the year that Tom was overseeing Katie's fitness plan from Buff Brides. As I mentioned at that time, I e-mailed with the owner of Buff Brides and she assured me that Katie was not working with her personally and that all quotes from here were fabricated, as was reported at the time.
Tom and Katie are said to be on "PR Offensive" since they released pictures of Suri in Vanity Fair. They've gone to several of Isabella's soccer matches and have taken care to be seen out at dinner. Suri certainly has never been seen out with them – not even in a stroller, so I'm still saying there's something strange going on there, even if the baby is being kept at home for religious reasons.
A wedding would be the next logical step for Tom and Katie. They've managed to raise themselves in the public estimation by getting out a lot more, and a fairytale wedding would do wonders for their image.
Whatever motivated Katie to shape up, she looks great. Let's hope she's not too influenced by her friend Victoria Beckham's waif-thin look. Katie is said to be jetting off to Paris to attend fashion week with Victoria this weekend. Earlier reports that Katie was slated to play Posh in a movie about her life were false.
Here are the pictures of Katie's day out, courtesy of KatieHolmes.com