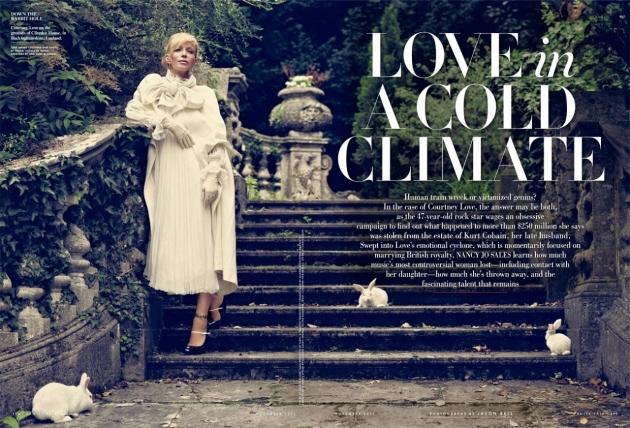 In the new issue of Vanity Fair (the one with "rape victim" Johnny Depp on the cover), Courtney Love sits down for another exhaustive tell-all interview. To give C-Love credit, she's a great interview, and she works hard to give good quotes. Now, Courtney gives these great interviews to everyone. She doesn't play games like most celebrities, like, "I'll only give my exclusive to Vanity Fair or Vogue." Just a few months ago, Courtney gave a massive, exhaustive, hilarious and frightening interview to The Fix – which I read almost all of, so pardon me if I don't think VF managed to get some elusive C-Love quotes. Anyway, here's what VF has released thus far:
"Mad? Ya think?! If he came back right now I'd have to kill him, for what he did to us. I'd f–king kill him. I'd f–k him, and then I'd kill him," 47-year-old Courtney Love shouted at Vanity Fair contributing editor Nancy Jo Sales, asked if she was angry with her husband, Kurt Cobain, for killing himself. "He tried to kill himself three times!" And then there were the drugs. "He OD'd at least five times. I was the f–king E.M.S. I was always sticking pins in his balls. I carried around Narcan!"—a drug used to jolt OD-ing heroin users back to life.

At the singer's rented West Village town house, Love shows Sales a book from her estranged daughter Frances Bean's "hope chest." "This is her diary," Love explains. "I just want you to look at this one page," which contains a list titled, "Things That Make Me Smile." Love, distraught, asks Sales, "Why am I not on it? Why doesn't she put 'watching old movies with my mom'?" Frances Bean emancipated herself from her mother two years ago, a decision that is clearly still bewildering and hurtful to Love. "All I can feel is how much I love her," Love tells Sales. "I'd give anything to hear the sound of her heels walking down the hall past my bedroom."

The relationship between Love and her daughter has been rough from the start, as Frances was placed in protective custody when she was born. "There were no drugs in my urine, no drugs in her urine when she was born," Love says. She laments a number of her parenting failures, such as Frances's inability to read until she was seven: "It was my fault! I never read to her! … Why didn't I ever take her to a Broadway show? She f–king loved those Broadway musicals!"

There were times when, Love says, her daughter was teased by other children; "They called her 'crack baby.'" Love also says Frances's disappointments in show business came early, not just when she didn't get the part of Sandy in a theater-camp production of Grease, but when agents and producers Love had contacted wanted Frances to do only racy roles. "That's not who she is. It freaked her out. She wanted a Zoey 101 [the canceled Nickelodeon tween show] or something."

Frances's lawyer, Bryan Freedman, said in an e-mail to Vanity Fair that "the statements about [Frances's] schooling are inaccurate…. The statements about her career desires, theater camp, show business, Nickelodeon, and the scripts are not accurate."

The "hope chest" sits in Love's room, among stacks of papers related to "the fraud," a matter that consumes her attention whenever she isn't talking about her daughter. Love contacted Sales after reading her January Vanity Fair story on the actor Randy Quaid and his wife, Evi, who allege that they have been defrauded and targeted for murder. "They make me look sane," says Love. She hoped Sales might help her figure out what had become of her lost Nirvana money (more than $250 million, she claims).

"What's heartbreaking to me," says Jonathan Daniel, Love's music manager, who grows impatient at any mention of "the fraud," "is that she's very capable of earning seven figures easy without any help from Nirvana right now, but it's hard for her to work or for others to want to work with her when she's so consumed with fraud." Love's home, Sales discovers, is command central for research on "the fraud." Miscellaneous assistants make copies and send faxes related to "the fraud."

According to Love, the money problems existed even when Kurt Cobain was alive. "We could never find our money!" she says. "We had $135,000 in our bank account. They said that if he would go do Lollapalooza he would make $11 million… Do you think Kurt would have killed himself if he had known he had $54 million?" That figure is based on research done by Love's Twitter Army, her online fans and believers who are determined to get to the bottom of "the fraud."

"They won't be happy till I'm dead!" exclaims Love, of no one in particular.
[From Vanity Fair]
So… is it sad? I think VF is trying to evoke sympathy over the pathetic state of Courtney Love and her damaged mind and body, a mind consumed by imagined conspiracies, a body hurt by addictions and surgeries and abuse. But I don't feel sad. Mostly because Courtney is a survivor, in the best and worst ways. And she's too crazy to die, you know? Some people can live on crazy for years, decades even.
The Frances Bean thing is always interesting, because whenever Courtney starts ranting about her daughter, you start to realize just why Frances got the hell out of there. Hopefully, the Bean ends up being a lot healthier than the sum of her parts (her parents).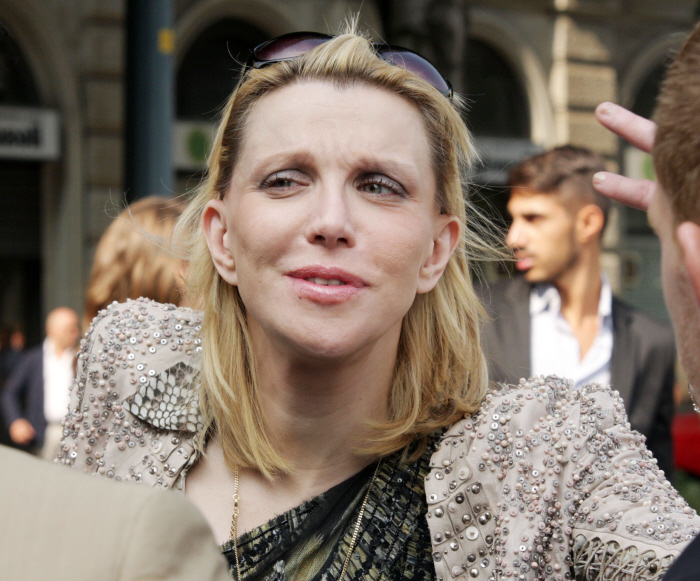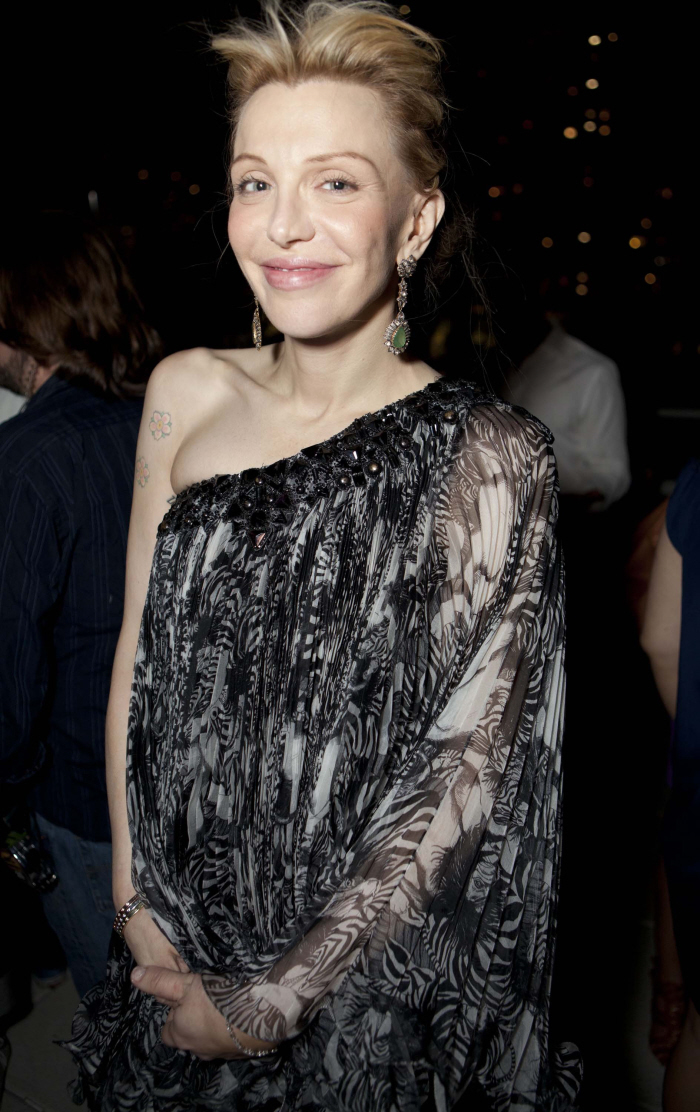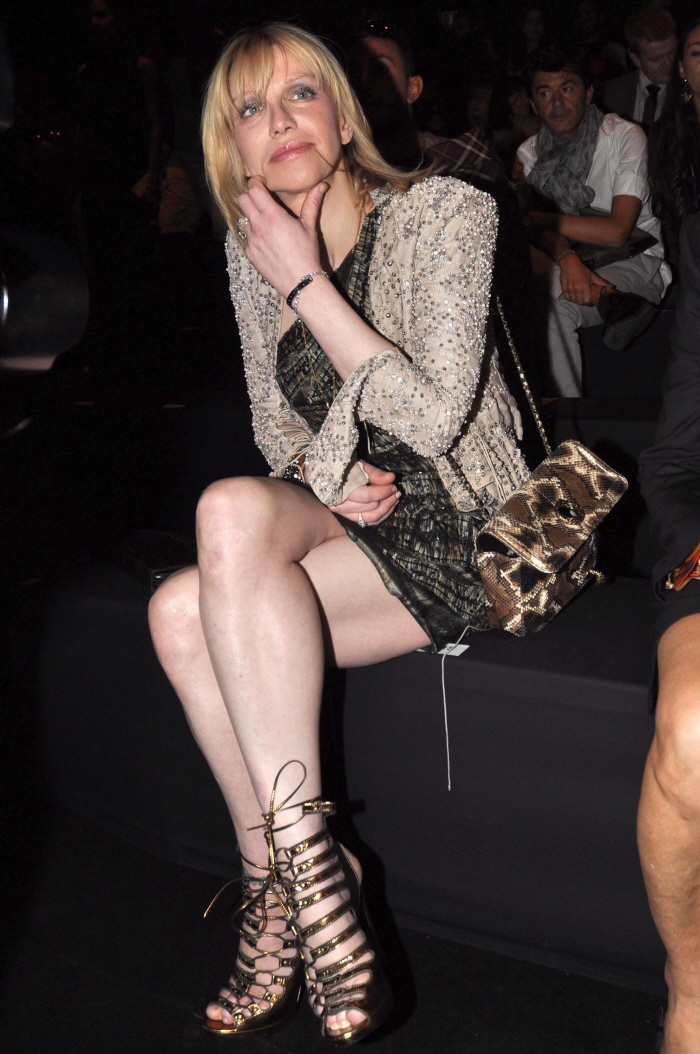 Photos courtesy of VF and WENN.