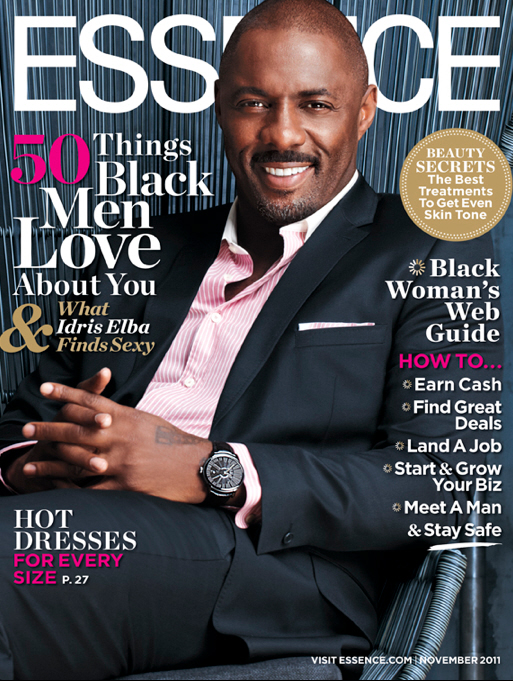 I have stories piling up and I know you really, really want to hear about Ashton Kutcher's wandering dong (yeah right), but don't you really feel like having a little Idris Elba break? Idris covers the new issue of Essence Magazine. You know why? Because the man is FINE. Oh, can I just mention something that made my panties explode? Idris worked with Michael Fassbender over the summer on Ridley Scott's Prometheus. Meaning that IDRIS and FASSBENDER will be on screen together, in the absolutely best, sexiest, biscuit-tingling version of "Ebony and Ivory" out there. Yay! Anyway, here are some highlights from Idris's cover profile:
Idris on what he finds sexy: "Skin, I love beautiful skin. I'm tactile, very tactile. A woman who has really nice, looked-after skin is such a turn-on for me. It's always sexy."

On his daughter, Isan: "My daughter's with me now for three weeks and I love it; I absolutely love it," Elba tells the magazine. "I don't know how I'd manage to be on seven flights a month and still get her to school." Isan, born in 2002, is Elba's daughter with ex-wife Dormowa Sherma. Both parents live in Atlanta, so Elba splits his time between that city and his native Britain.

On his ex-wife: "I'm grateful to my ex-wife, [Isan's] mother, and I'm grateful I get to live my dream. At the same time, I miss things, which I regret," he adds.

On being a sexy black man: "In general the word 'sexy' isn't applied to Black men. That word has been thrown at me a few times so I have to say I own it. If it gives me and other Black men another definition, then great. I can live with that."
[From People and Global Grind]
Idris also recently discussed the constant rumors that he might take over for Daniel Craig in the James Bond franchise. Previously, in 2009, Idris said that it wouldn't happen but if he was asked, he would definitely consider it and probably take it. In a new interview, Idris was asked about 007 again, and he said: "It's a very old rumor. My dad and I were talking about this the other day. I would do it, but I don't want to be called the first Black James Bond. Do you understand what I'm saying? Sean Connery wasn't the Scottish James Bond and Daniel Craig wasn't the blue-eyed James Bond. So if I played him, I don't want to be called the Black James Bond." He's right. And I still want him to be James Bond. And Michael Fassbender can be the Bond villain. And I can be the Bond Girl, Mocha Vagina, who seduces both Bond and the villain in the name of Queen and country. Please?
Oh, and Idris is the new "face" of SmartWater. YES.