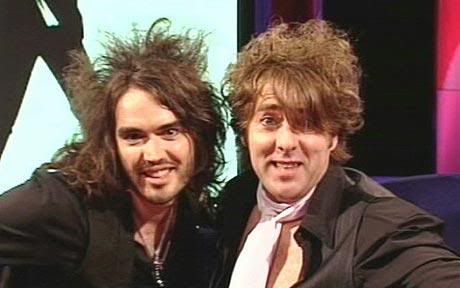 Russell Brand has finally crossed the line. Brand and TV presenter Jonathan Ross made four phone calls to Fawlty Towers' star Andrew Sachs' answering machine on a Radio 2 broadcast that got more and more offensive as they progressed. It began with Ross blurting out that Brand had slept with Sachs' granddaughter, Satanic Sluts' performer Georgina Baillie, 23, and continued with repeated calls to apologize that went in completely the opposite direction. Ofcom, the watchdog of British broadcasting, has received over 10,000 complaints, which is an extraordinary number for a radio show.
The BBC, which produces the show, is in danger of being fined £250,000 for allowing the show to air. There's been a public demand for the firing of Jonathan Ross, who earns £6million a year from the BBC for his various hosting duties.
I've listened to the entire broadcast, which can be found below, and even as a Brand fan there were a number of times I cringed. My first inclination was to think that Jonathan Ross was peer pressured into this lapse in judgement, but after hearing it out, it simply appears that these two dumbasses shouldn't be anywhere near a mic, or other people for that matter, when they're together. It was like listening to high school boys egg each other on.
So, it was offensive, they more than crossed the line many times, and they embarrassed and humiliated a gentleman and his not so genteel granddaughter, and disciplinary action should be taken by the BBC, Ofcom, the listening public, whomever. But seriously, doesn't the Prime Minister have more important things to do?
Mr Brown startled observers by breaking into an emergency economic meeting with French president Nicolas Sarkozy to comment on the BBC scandal.

He said in a statement: 'This is clearly inappropriate and unacceptable behaviour, as is now widely recognised.'

Tory leader David Cameron asked how the BBC had ever allowed the programme to be broadcast. In the Commons, Tory MP Nigel Evans and Labour's Andrew Mackinlay tabled an early-day motion condemning the abusive calls as 'base, vulgar' and likely to diminish the reputation of the BBC.

Mr Evans suggested that the police should launch an investigation. 'I would sack both comedians,' he said. 'Who do they have to offend, and in what manner do they have to offend people, before the BBC takes action?'

Scotland Yard said later it could not act unless it received a complaint from an injured party.
In an act of belated contrition, both Ross and Brand sent flowers to Mr Sachs's house. Ross was said to have delivered them personally.
[From Daily Mail]
It's hard for me to imagine President Bush, or any President, stopping an economic meeting of all things, at this worldwide financially threatening time, to comment on the shenanigans of a couple of morons on the radio! And a motion in the Commons condemning the pair and calling on Scotland Yard? The silliest part of this political inclusion is that Gordon Brown is making them both even more famous, across the globe, than they ever were before. Jonathan Ross is thanking all of you in his head, and Russell Brand, well, he probably still doesn't see the problem.
Andrew Sachs has been quietly dignified through this, saying that he only wanted an apology from the duo for his granddaughter. His granndaughter, Georgina Baillie, also know as Voluptua of the burlesque group the Satanic Sluts, had admitted to a sexual relationship, but has rightly asked for an apology for the disrespect shown to both her and her grandfather.
Here's the video, which is definitely not for work.

Header image thanks to Telegraph.co.uk.