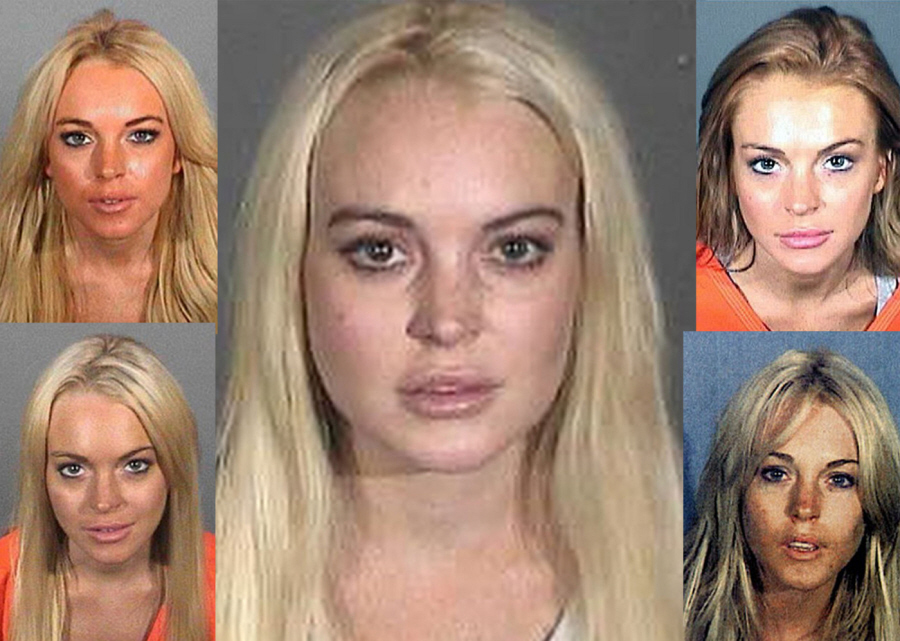 So Linnocent showed up 85 minutes early for her morgue duty on Friday. That came after she was 40 minutes late on Thursday, and she got turned away for being an unreliable crackhead. Within hours of her arrival at the morgue, TMZ had already gotten hilarious "exclusives" about Linnocent dealing with the dead and their assorted body fluids, which allegedly grossed out LL. As many of us theorized, Linnocent probably hadn't even slept – she had probably been tweaking and snorting all night long (more on that in a moment), and I would imagine that she was desperate for a hit of something, anything, several hours into her morgue duty. Thus, someone ("someone") tried to smuggle some crackie "cupcakes" into the morgue:
The L.A. County Coroner… turned away a dude who was delivering 36 fancy cupcakes to Lindsay Lohan and 35 of her closest friends at the morgue.

We found out about it and called Assistant Chief Coroner Ed Winter to inquire, and he said, "WHAT!" — and then went to the front door and turned the delivery guy away
Winter told TMZ, "It's unacceptable. We're not here to accept food," adding there are not 36 people in Lindsay's program, so some of the cupcakes were apparently earmarked for the Coroner's staff.

We found out the order was placed this morning at the fancy, Magnolia Bakery by someone Lindsay knows.

The bakery owner would not tell TMZ whether the order was placed at Lindsay's behest, but Winter told TMZ he spoke with Lindsay and she said she had nothing to do with the order.
[From TMZ]
Note that last part – "Winter told TMZ he spoke with Lindsay and she said she had nothing to do with the order." Than TMZ reported this:
Lindsay Lohan didn't want to be a stiff during her first day at the morgue …so she went in and washed soiled linens, scrubbed toilets and seemed to enjoy her time with the other volunteers … sources tell TMZ.

We're told LiLo said she felt "terrible" about showing up late and being such a distraction on Thursday, so she went to bed early to avoid a repeat performance.

Lindsay, we're told, didn't act like a spoiled brat. Like so many of her friends, she got down on her hands and knees …. and cleaned floors. She even socialized with some of the other volunteers.

As for the whole burger and cupcake thing … Lindsay told friends she wasn't trying to bribe anyone … but the gesture was just another way to show the staff how sorry she was for being late the day before.
[From TMZ]
So did she order the cupcakes or not? Did she lie about it to Mr. Winter? Did Mother Crackhead order the cupcakes for Linnocent, figuring that 'who would say "no" to crack cupcakes'? Was there a little something-something "hidden" in some of the special cupcakes? I do not know the answers to any of these questions, but I can make a good guess.
Alright, now back to Linnocent tweaking and snorting and partying before her community service hours. The NY Post got this "exclusive" report about The State of The Cracken at this point. I feel like we're supposed to be sympathetic to this portrayal of a dumb crackie who always finds herself in the center of various crack dramas, but I just can't feel it. Mostly, I just think she's pathetic and she's brought this all on herself:
Slumped on the sofa at a private house party in Malibu, Lindsay Lohan reaches clumsily for her bag. Her artificially plumped lips parted company with their last cigarette several minutes ago, and she's clearly in need of a nicotine fix. Fumbling among the detritus in her designer tote, she pulls out a box of Parliament Lights and a tattered notebook, and begins scribbling pensively.

"I write absolutely everything down," she tells a partygoer after asking him for a light. "It's the only way I can make sense of everything that happens in my life."

While the ramblings of the child star-turned-absentee morgue cleaner would no doubt make for fascinating reading, many would find her thought processes harder to decipher than the Dead Sea Scrolls.

"To say she's delusional would be a major understatement," one former associate tells The Post. "She genuinely seems clueless as to why these things keep happening to her. There is always something, or someone, else to blame."

Just Wednesday, Lindsay was led from the Los Angeles County Superior Court in handcuffs and ordered to post $100,000 bail after Judge Stephanie Sautner angrily stated that Lohan had violated the terms of probation in her misdemeanor shoplifting case by failing to show up for community service at a women's shelter on no fewer than nine occasions.

The following day, Lohan showed up 40 minutes late for court-ordered morgue cleaning at the Los Angeles County coroner's office and was considered a no-show. Lindsay, 25, is due back in court on Nov. 2, when it will be decided if she should face time behind bars.

Dubbed "uninsurable" by the producers of "Inferno," who fired her from the Linda Lovelace biopic last year, Lindsay's latest venture — a $500,000 modeling gig for German designer Philipp Plein — is hanging in the balance. Reports last year claimed the actress was more than $600,000 in debt (her mom, Dina, denied the story), but "cutbacks" are not on Lindsay's agenda.

"Lindsay gets by on checks from club appearances, and from plugging firms on her Twitter account and Web site," a Lohan insider reveals. "The amounts are nothing like what she used to command, but she also gets a lot of things for free: She's not shy of clearing the shelves at a gifting suite. She doesn't really understand the value of money; she hoards hundreds of thousands of dollars worth of shoes and clothes in her apartment, but she won't sell anything to help clear her debts."

Lindsay's friend choices are questionable at best.

"If someone disagrees with her, or tells her she's out of line, she cuts them dead," the acquaintance says. "She is surrounded by sycophants who are hanging on the coattails of her notoriety; she is still very naive and trusting and she gets exploited a lot."

But how did the feted young actress plummet from A-list to "lost cause" status? One friend says it was all in her upbringing.

"She has been exploited for most of her life," the pal says, "so it's unsurprising she doesn't have much grip on reality."
[From The New York Post]
I mean… is this surprising? Nope – we've all known this crap for years. She's delusional. Check. She surrounds herself with enablers. Check. She has crappy parents. Check. She's a crack hoarder. Check. She's in crazy debt. Check. She's a taker and she demands loads of "free" crap. Check. She thinks everybody else is to blame for her problems. Check. Is any of this sad? Should I get all depressed at the state of Linnocent's sad life? I'm mostly sad that one of these days, she's really going to hurt someone, and then it will no longer be a "crack shenanigan".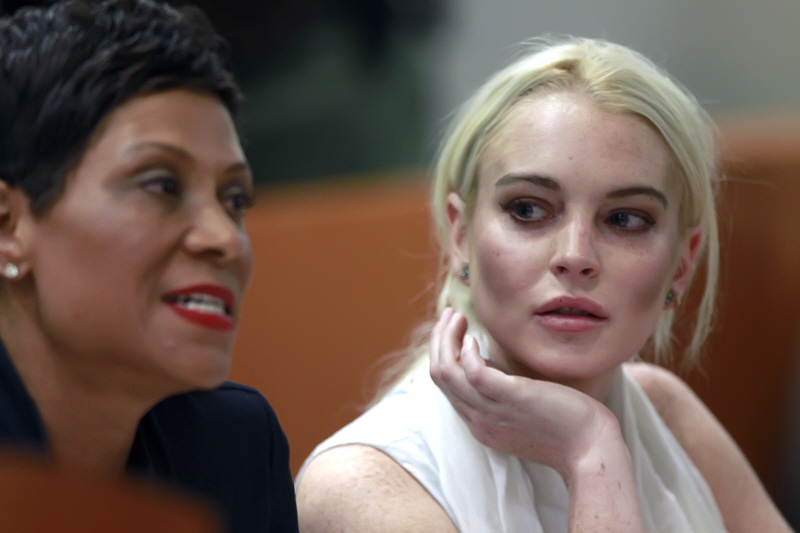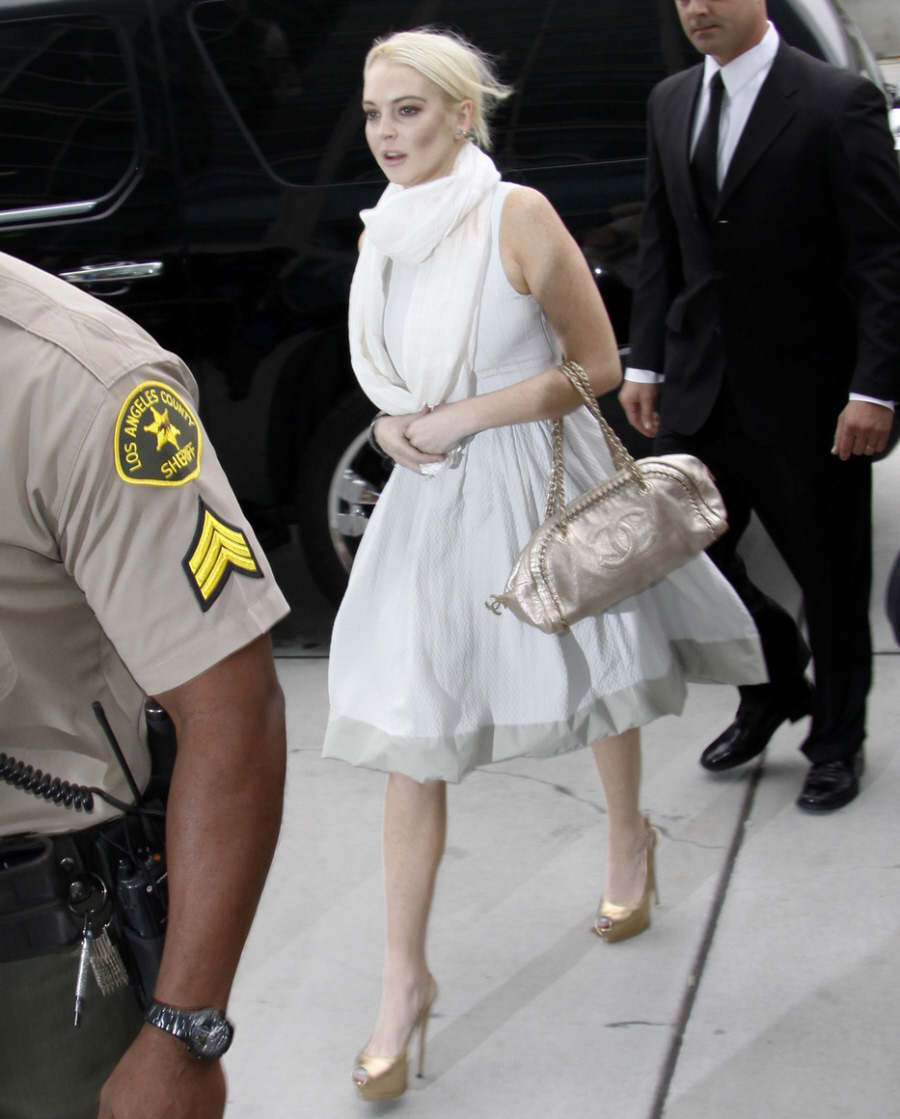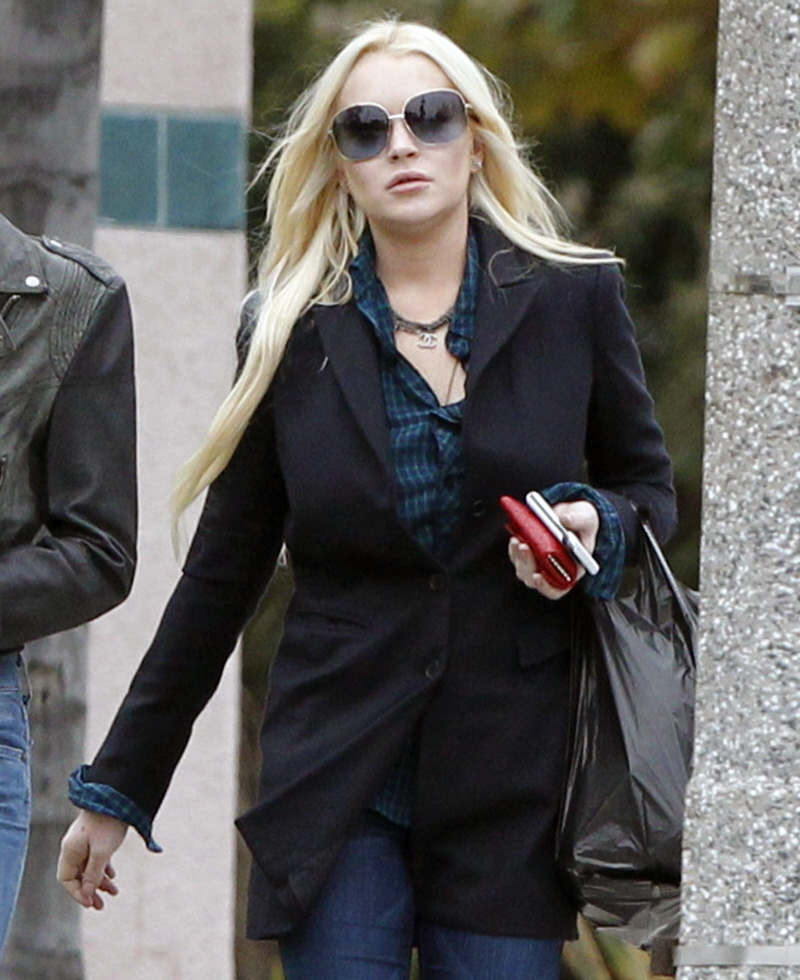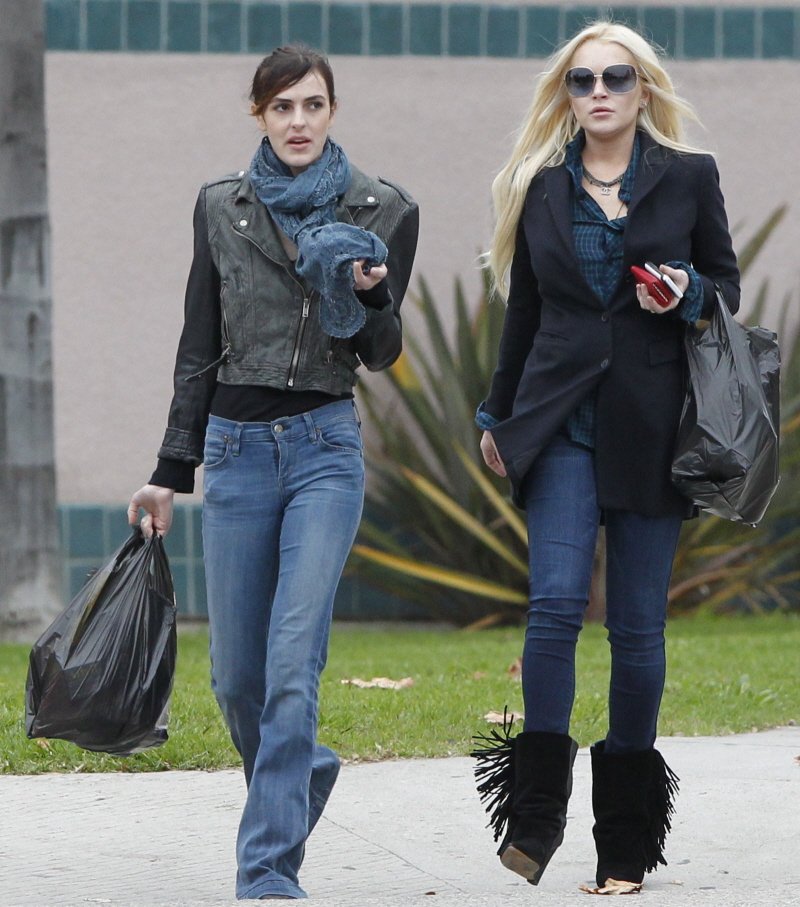 Photos courtesy of Fame, Pacific Coast News, WENN.