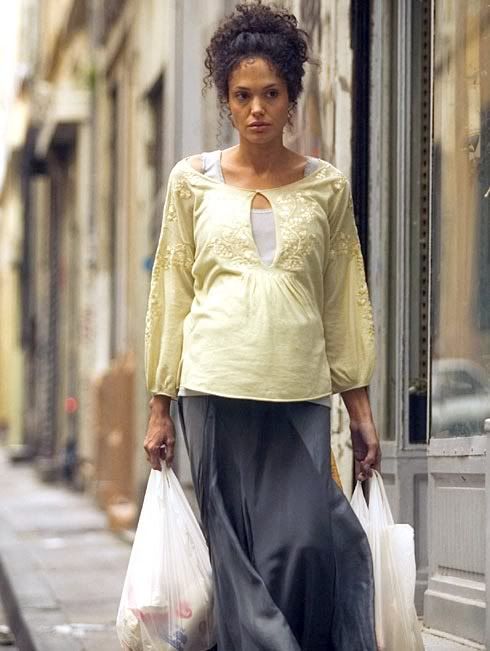 A picture of Angelina Jolie playing murdered journalist Daniel Pearl's wife in "A Mighty Heart" has come out. Seeing her in character makes it all the more obvious why African-American groups decried the casting of a caucasian actress in the role of a woman who is half Cuban and appears biracial. Angelina's skin has been darkened for the role and she looks nothing like herself.
Mariane Pearl was "delighted" that Angelina was picked to play her, but many people are not pleased:
Mariane Pearl might be delighted to have actress Angelina Jolie depict her in an upcoming movie, but some of you are outraged.
Pearl is the tan, biracial widow of slain Wall Street Journal reporter Daniel Pearl, whose memoir, "A Mighty Heart: The Brave Life and Death of My Husband Danny Pearl," will be adapted into a motion picture by Brad Pitt's production company.
Since the news came out a few weeks ago, message boards across the Internet have been on fire, expressing harsh criticism about Jolie playing the role of Pearl. On BET.com's own boards, user chantejoy calls the very idea a "new generation of Hollywood in blackface."
In case you were wondering how Angelina landed the part of a biracial woman, you need look no further than Brad Pitt. He's a producer of the film and made sure to hire her in the lead role.
I'm not touching this one, but it's easy to make the decision to report on it since Brangelina is getting on my last nerve lately.
Update: This is contentious topic. Check out the discussion thread on Concrete Loop for more opinions. Most of the people who commented are kind of neutral about it.
Picture from Empire Online via JJB.