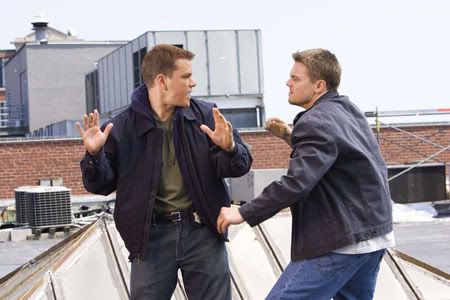 From The National Enquirer's Mike Walker comes the story of an hilarious prank Matt Damon and Leonardo DiCaprio played on player Jack Nicholson. Nicholson was in the hospital to get his salivary glands checked out and they posed as masked interns trying to give him a rectal exam!
The usually unflappable JACK NICHOLSON, at LA's Cedars-Sinai Medical Center to get a salivary gland problem checked out, waited patient-ly in an examining room until two men in medical garb and surgical masks walked in and brusquely informed him they were interns sent to perform his "initial workup." While one picked up Jack's chart and studied it, the other snapped on a rubber glove, brandished a tube of lubricant – and told the superstar, "Roll over, please, sir…we'll be doing a rectal exam." Turning pale, Jack immediately launched into non-stop protest, questioning the outrageous "overkill" of a radical probe for a problem at his opposite end…and was stunned speechless when the "interns" suddenly erupted in hysterical, howling laughter! Ripping off their masks, jokers MATT DAMON and LEONARDO DICAPRIO – costars of Jack's new flick, "The Departed" – giggled helplessly as Matt gasped at gob-smacked Jack: "Dude…just the look on your face was worth all the planning!"
That's a great story that would have been made better by news of an accompany Punk'd video, but I'll have settle for a mental image.
Matt, Leo and Jack star in Martin Scorsese's "The Departed," which according to Pajiba is a well-crafted and compelling crime drama with an amazing cast.
All I need to know is that Matt Damon and Leonardo DiCaprio are in it. Mark Wahlberg is just an added bonus.
Here's the trailer on YouTube.
And here are some pictures from the film, courtesy of All Movie Photo.