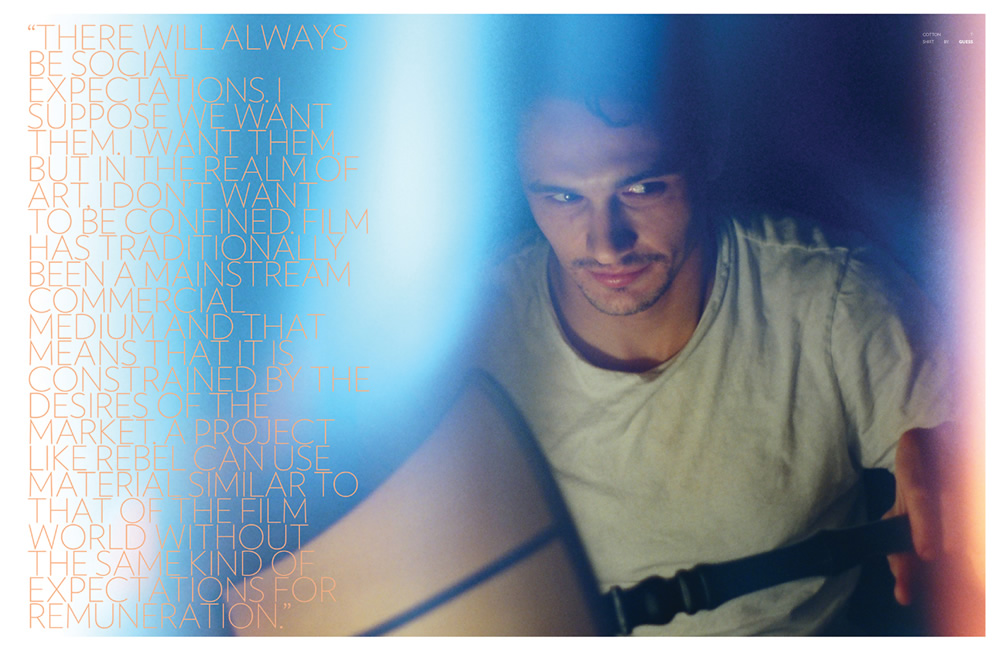 James Franco just doesn't know when to stop with this "art" nonsense; quite frankly, his shtick has grown beyond old by now. Regardless, James now believes that even his ass is "art," and his naked butt can be viewed on the cover of the latest issue of Flaunt magazine. No, we're not going to actually expose anyone here to that horror (you're welcome), but if you honestly want to witness James' hairy booty, you can see it here. Meanwhile, the journalist who interviewed James is either playing along or truly enamored with the Franco butt:
James Franco's ass stares at me from my desktop. it almost farts in my face. It feels like it wants to. Like it's wanted to for weeks. But alas, this two-dimensional ass can't blast any audible sass. It's simply a photo, intended for our art cover–its gassy desires aren't relevant. Of relevance is: how did we get here? How did Flaunt Magazine find itself a participant, throughout kept at an usual arm's length, in the multiplicitous James Franco off-the-backlot artistry–what some amidst the fray might call an egoistic cluster-f*ck.
Egoistic? Absolutely. Just check out these excerpts of the interview within the magazine:
On Vulnerability As An Artist: I want to pull back the curtain, because what goes on behind the scenes is often more interesting and informative. We are so used to presenting films and art that are polished and impenetrable–they are well-crafted to the point that there is no messiness, and in some senses, not quite human. In our digital age, anything can be accomplished with the computer. Anything can look good. I want to show the little humans with their little messy feelings underneath all the polish. I want to show the humans at work, f***ing up, trying, doing the best they can with their less than perfect abilities. I also like to feel the material of the work. I don't want the material to fade away. I am not trying to transport the viewer to a different place, and I want the viewer to be confronted by the form as well as the content. Because I come from the film world, I think a tighter connection is made between this work and my professional acting work. The commentary about the way we view mainstream film and art is stronger because of my place in the film business.

On The Shock Value Of "Art": We are post-shock in a sense, but it all depends on context. Anything can be found on the internet, but when you take something that is familiar in one context and manipulate it, and put it in a new context, it can be a shock because it defies its former categorization. That is the kind of shock that I'm interested in–not shocking content, but defamiliarizing juxtapositions and redefinitions. I want to look underneath things, to show things in new lighting, in order make new sense of them.

On Whether His "Art" Is Meant To Confuse: I don't think what I'm doing is confusing. It's no more confusing than what Mathew Barney does, or Mike Kelley, or Paul McCarthy, or Sacha Baron Cohen. What is confusing is that I'm an actor in mainstream film and the people that usually comment on mainstream film are idiots, and they don't try to think outside of their pop-culture commentaries. It's so easy to criticize contemporary art from the outside: 'Douglas Gordon slowed down Psycho so it's 24-hours long? That's easy! I can do that.' That's how the morons in the blogosphere try to critique my work. But the great thing about it is, is that their critiques are part of my work. I like that they are confused. I like that they make fun of what I'm doing. It's a beautiful reflection of where our culture is at the moment.

On His Favorite Movie: Rebel Without a Cause has been endlessly studied, but our project is not a study as much as it is an exploration and expansion. We didn't take an earnest look at the original film, and we didn't do it from a stance in the film world. We looked at it through the art world lens in order to break it up, to look at the forces underneath it, to create with those forces. This is not a scholarly study or a celebration. It is using the original film as material for inspiration and as a connection to the history of Hollywood, mass entertainment, and mainstream Freudian thought.
[From Flaunt]
Yes, not only is everything "art" to Franco, but it's also necessarily Freudian as well. Seriously, he doesn't get how nauseating that his level of pretention really is, and I didn't even get into the true nonsensical rants within the interview. The Franco-dictated photoshoot is even worse and features blow-up dolls, bongs, sex toys, and groups of scantily-clad hipsters gathered to imply both a schooling environment and a probable orgy. Juxtaposition, man. It's so complicated that we couldn't begin to understand it, right? Although I've featured a few images below, you'll have to visit Flaunt for the rest.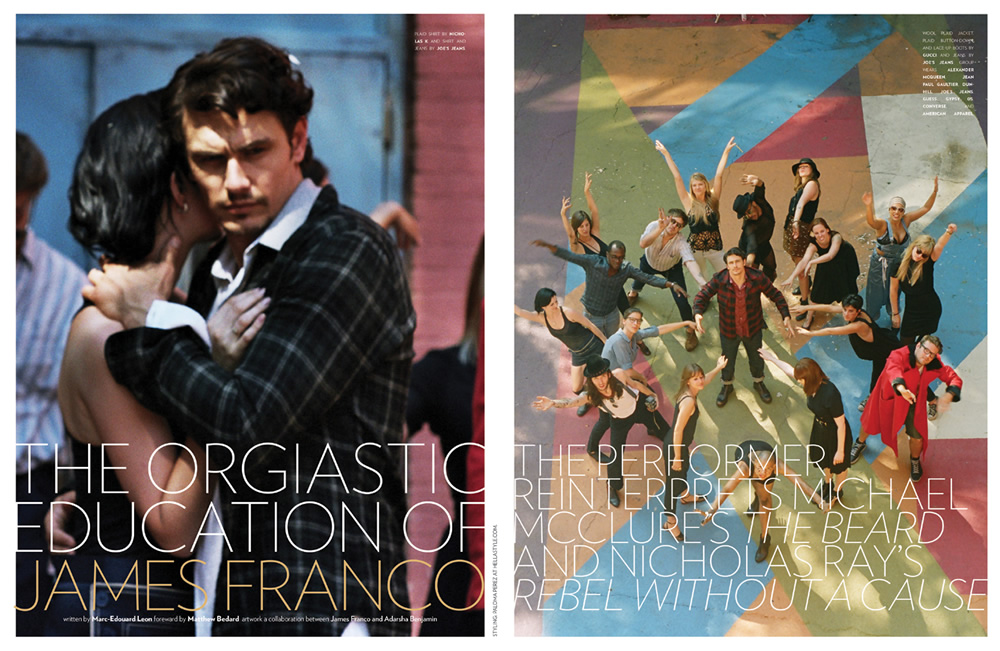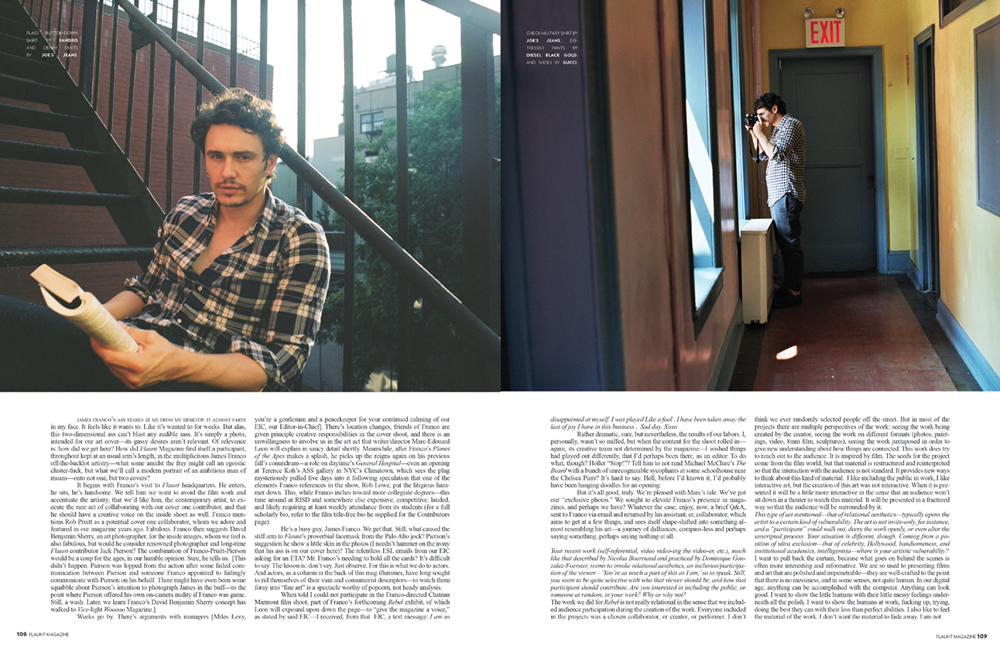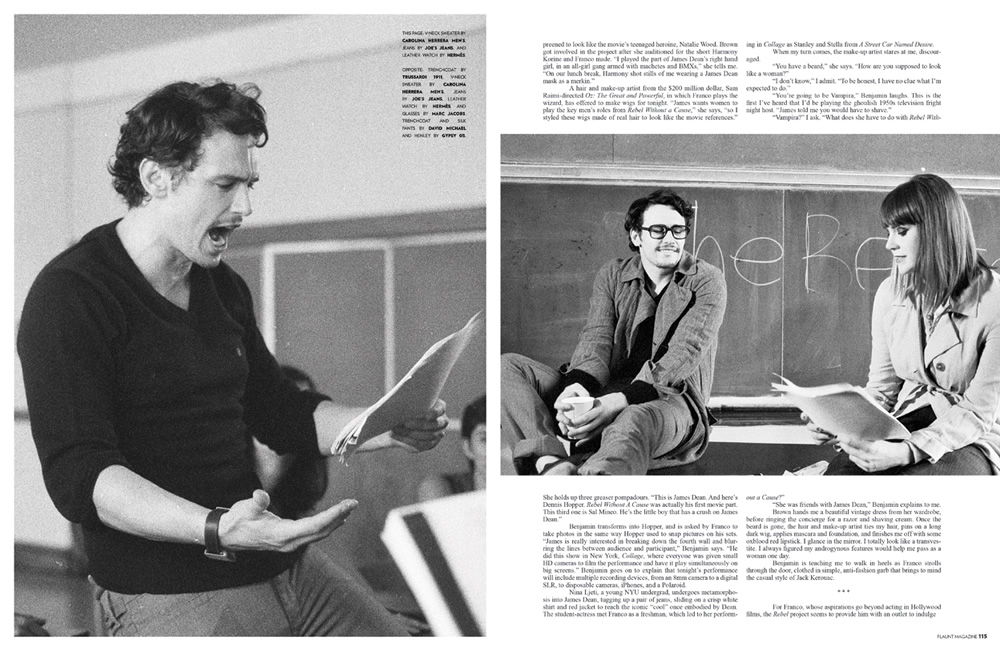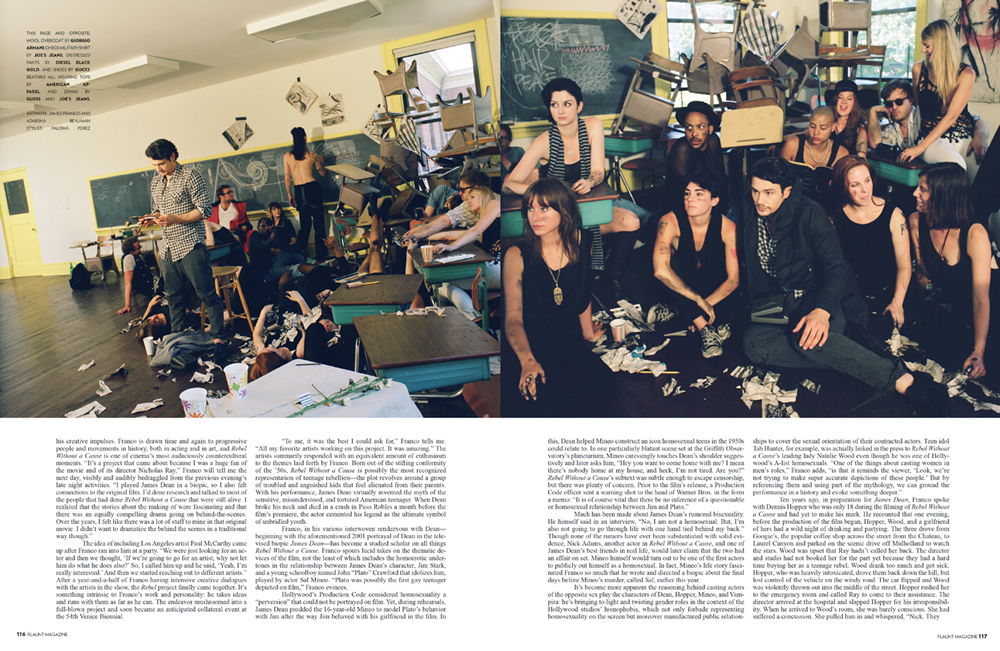 Photos courtesy of Flaunt