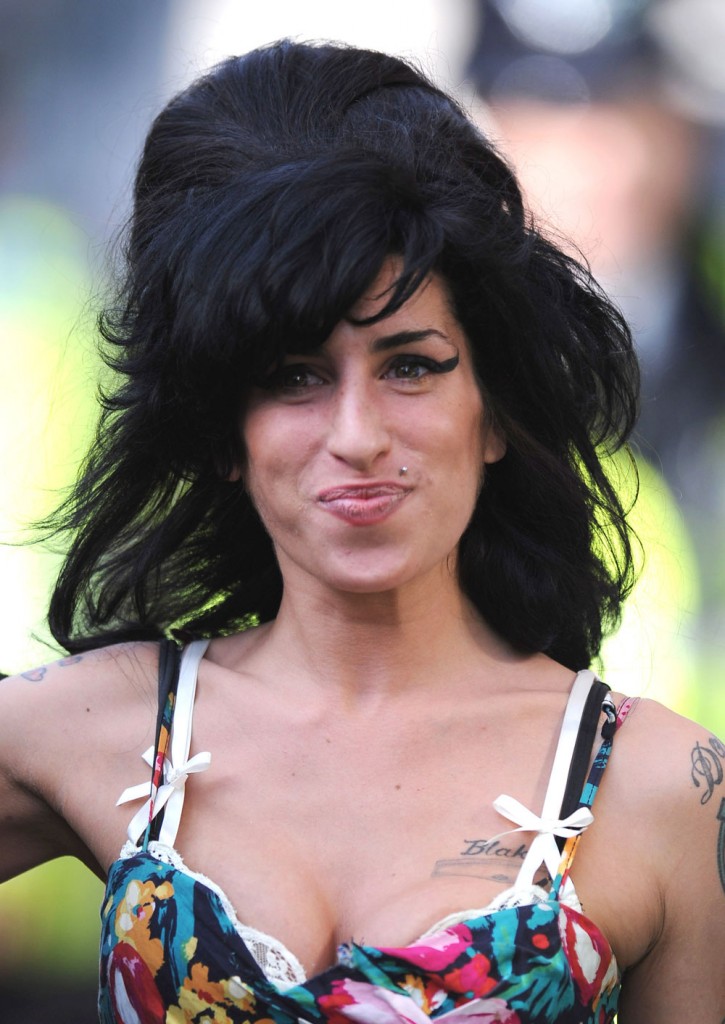 It makes me sad to report on Amy Winehouse at all. She passed away this July and initial reports said that she didn't have any drugs in her system at the time. I thought that the case was closed and that we might never know why and how Amy died. Her family said she had recently given up drugs and drinking cold turkey, and they speculated that she may have died from alcohol withdrawal. Sadly it looks like she died from alcohol poisoning. She had five times the legal limit in her system, according to the coroner.
Amy Winehouse's July 23 death was the "unintended consequence" of drinking too much alcohol, British coroner Suzanne Greenaway announced Wednesday.

Ruling that it was "death by misadventure," the coroner stated that Winehouse, 27, was more than five times over the legal limit, according to the inquest, and two large bottles and one small bottle of vodka were found in the bedroom of her London home.

Winehouse was an "intelligent, determined young woman who, at times, was able to successful abstain from alcohol," the coroner said while announcing the cause of death as "alcohol toxicity."

Winehouse's parents, Mitch and Janis, were in the court to hear the verdict. At the end, Mitch, a taxi driver and singer, embraced his daughter's doctor, Christina Romete.

Earlier, the physician had told the court that she last saw Winehouse on the evening before her death. The singer, who had successfully battled drugs problems, had started drinking again after a period of abstinence, Dr. Romete said.

Romete said Winehouse had been "tipsy" but "calm" and coherent and "able to hold a conversation" during the visit. "She didn't want to die, she was looking forward to the future," the doctor added.

Winehouse's family had suggested that stopping drinking might have caused Winehouse's sudden death. It earlier has been determined that no illegal drugs had been found in her system.

After learning of the cause of death, Winehouse's family issued a statement, saying, "It is some relief to finally find out what happened to Amy. We understand there was alcohol in her system when she passed away; it is likely a build up of alcohol in her system over a number of days. The court heard that Amy was battling hard to conquer her problems with alcohol and it is a source of great pain to us that she could not win in time."
[From People]
It bothers me that the news about the death has been released over several months. I understand that these tests take time and that it must take time to write up a report and schedule a court date to make the announcement. How hard must it be for the family, though, to finally hear the cause of death after three months? That's just when they're probably coming to terms with everything, and now this brings it all up again. It seemed like we already heard how she died. As the family said in their statement though, at least they know now. RIP Amy.
If you haven't read this interview with Amy's last boyfriend yet, you might want to see it. He says some lovely and heartbreaking things about her. Particularly "we were halfway through a conversation in our life together and then, suddenly, she disappeared."