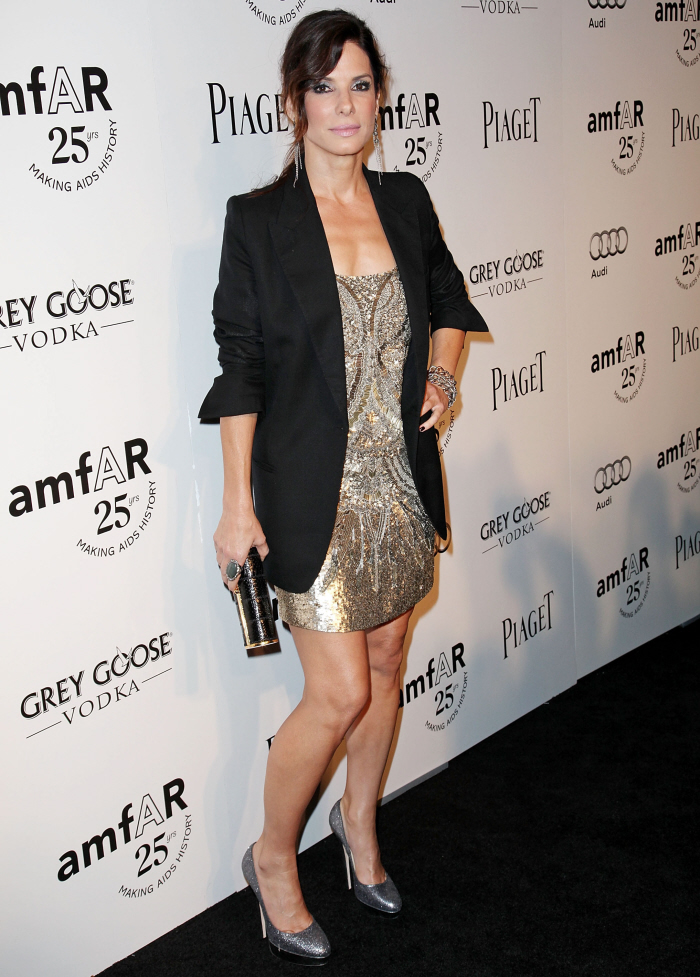 I feel like designers these days take the easy way out by making too many dresses that are either sleeveless or strapless. Whatever happened to the elegant sleeved gown or cocktail dress? Whatever happened to making weather-appropriate dresses for ladies, so they don't have to add layers to something cute, just so they won't freeze their asses off? That was my thought when I was looking through these photos of Sandra Bullock at last night's amfAR Inspiration Gala. I would love to see Sandra's little gold dress on its own, but I fear that it probably has spaghetti straps, so Sandra paired it with this tuxedo jacket. I don't hate the jacket-over-cocktail-dress trend, but I'm just saying, it's sad that there needs to be a trend for that. Designers should make more dresses with sleeves.
Sandra's date was Kevin Huvane, an agent with CAA (and brother of Stephen Huvane, who represents Aniston and the like). Huvane purchased a Warhol at the auction event – but he bought it for Sandra's son!
At this rate, Louis Bardo is going to become quite the art collector. During Thursday's amFAR Inspiration Gala at the Chateau Marmont in L.A., Andy Warhol's iconic "Peaches" print was auctioned off for $14,000. The lucky bidders happened to be Sandra Bullock's agents, who bought the artwork as a gift for the actress' 1-year-old son, Louis.

"I want to thank Kevin Huvane and Bryan Lourd for not being cheap f-cks and gifting my son with his first Warhol," a radiant Bullock joked.

The 47-year-old Oscar winner, who reunited with her Speed costar Keanu Reeves for dinner in New York City on Wednesday, was on hand to honor the late Elizabeth Taylor, who helped created amfAR in 1985.

"Earlier this year, the world lost a radiant woman of courage and compassion. She lives on in every person she touched," Bullock said of the actress and philanthropist, who passed away at age 79 in March.

"She never thought twice to put her arm around someone who was suffering, and that is the gift we have a human beings, the ability to reach out and touch another human being. Tonight we can honor this extraordinary woman and finish what she started."
[From Us Weekly]
That was nice of her agents. Baby's first Warhol! Must be nice. And it was great that Sandra was on hand to honor Elizabeth Taylor too! There were photos of Colin Farrell leaving the event as well – but I guess he didn't do the red carpet. He was probably just there for Elizabeth, his dear friend (he spoke at her funeral too).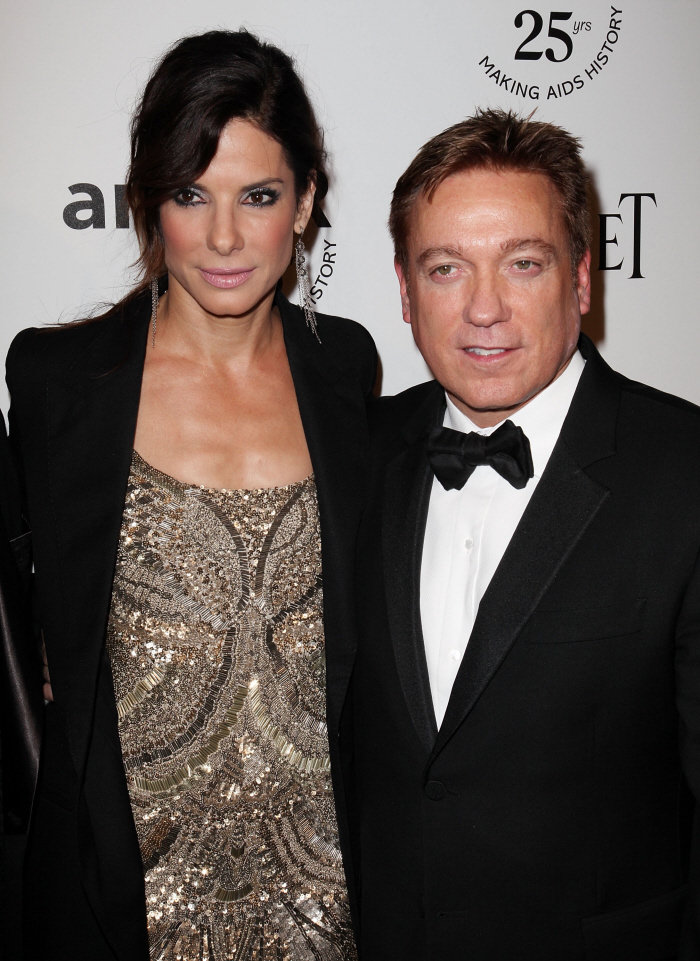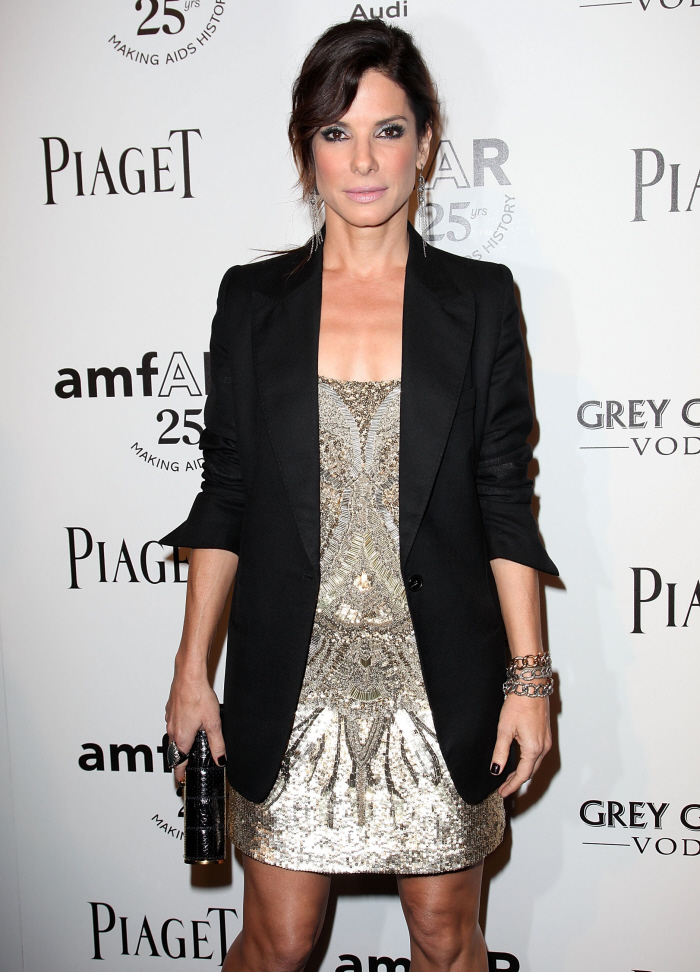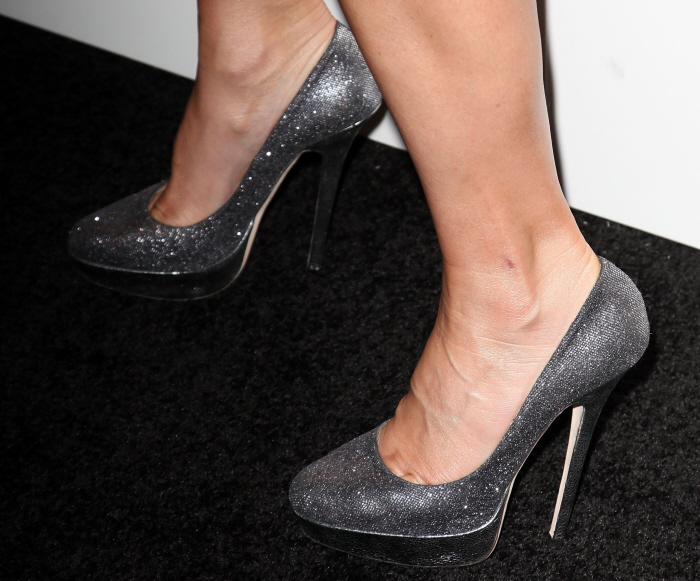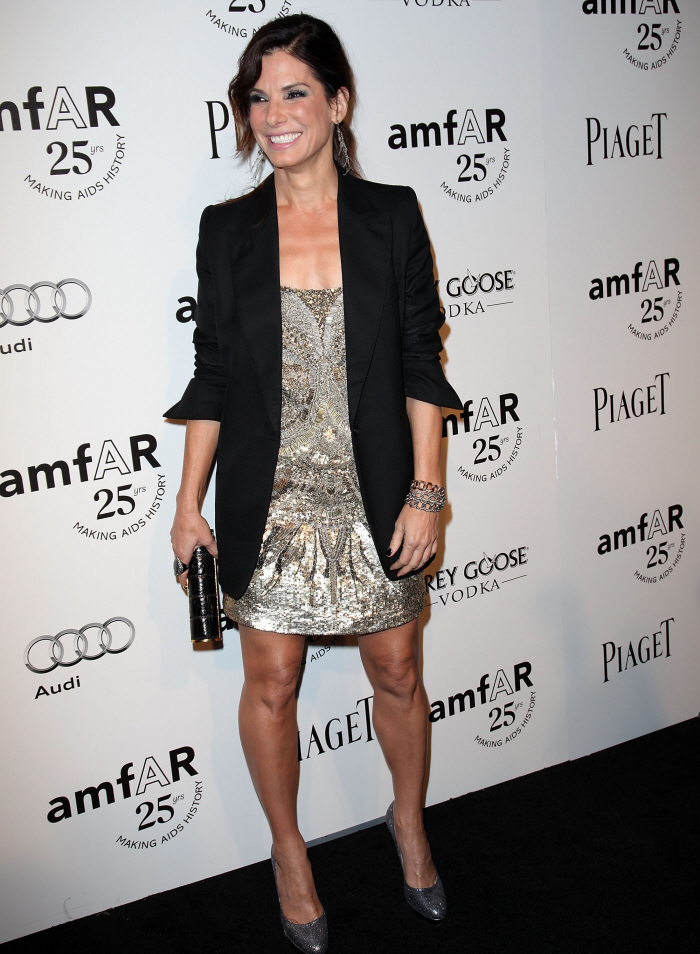 Photos courtesy of WENN.