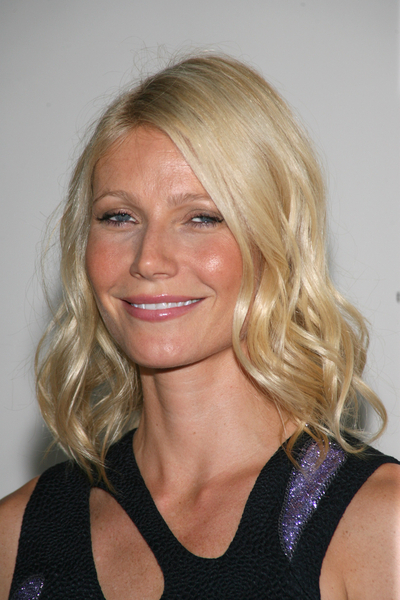 So Kaiser had the title saved for this story and I started sending her emails complaining about how I was offended by Gwyneth Paltrow's newsletter this week. Goop gave us a makeup "tutorial" that was basic stuff I learned when I first started applying makeup as a teen. There was honestly nothing useful at all in there for me. I have auburn hair and pale reddish skin and I do my makeup every day. I can't remember the last time I went out without makeup, and I don't feel like myself when I don't wear it. I don't wear a lot, and unlike Gwen Stefani I have no problem sitting at home with a bare face around my loved ones, but when I go out I wear it. I know makeup, I know how to apply it, and I know what looks good with my coloring. You can call me insecure or vain or whatever, but I like doing my hair and makeup every day.
Anyway, Goop used a "dear friend" as a model and wrote that she asked a London makeup artist to do her over and give us advice. It was so basic it annoyed me. I'll just include Goop's message here. You can go to Goop's site for the very simple tutorial:
Believe it or not, I am terrible at doing my own makeup. I'm decent at doing it for a friend, but when it comes to my own face, I never get it right. I have been wanting a step by step lesson for ages so I asked my London makeup artist, Emma Lovell, to show me how. One of my gorgeous school mum friends from my son Mosey's class agreed to be the model (thank you, Kate!), and I learned so much. I hope it's helpful for some of you!
[From Goop]
I guess if you have no clue how to apply makeup or what products are available the very basic advice may be useful to you. There was nothing new there or informative to me whatsoever. Doesn't every makeup tutorial tell you that you need to curl your eyelashes first?
This kind of illustrates for me why Goopy goes out without makeup and why she often looks like hell at events. I've seen her do that thing where she rims the membranes and lids of her eyes with thin black eyeliner, making her look squinty.
It bothers me that this woman assumes everyone else is as inept with makeup as she is. When I go looking for tutorials, I want to learn how to do a smoky eye, the right brushes to use to apply and blend blush with my face shape, and how to shape my eyebrows and fill them, not just that I should use an eyebrow pencil and a "cream blush on the apple of the cheek." Really, Gwyneth? You've been working red carpets for years and this makeup advice is news to you? It's like she really does think we need her guidance in all matters.
Update: I've been thinking about this, and the thing that bothers me the most is that Gwyneth assumes everyone is at the exact same level that she is, in everything. She shares gourmet recipes regularly. This makeup advice is the equivalent of telling us how to boil an egg or bake a potato. There are people who need to know how to do that, but that's not what she claims to be about.
These photos are from 2008 and 2009, when Gwyneth's makeup was particularly bad. She seems to have hired a makeup artist afterwards.