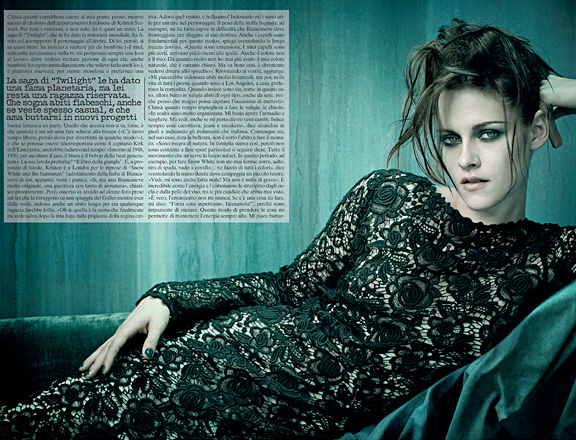 Kristen Stewart has done a photo shoot in the latest issue of Vogue Italia. Now… I'm always up for a good K-Stew photo shoot. She's an interesting magazine model because she's capable of looking very different with wildly different styling. I know you're shaking your head at me for that, but you'd be surprised at how few celebrity women really mix it up stylistically for photo shoots, and how often those women look pretty much the same in every photo. K-Stew isn't like that – I tend to not care for her pictorials where the style is "romantic" and someone tried to make her look "feminine". She's much prettier and more interesting, in my opinion, when the stylist makes her look "harder" and more rock n' roll. My favorite photo shoot from Kristen to this day is the one she did with Interview Magazine – go here to see.
It seems like Vogue Italia was trying to mix it up and make Kristen look like some dark, goth-glamour princess in this shoot. The problem? Her expressions are… not good. Since all of the little girls from the Kristen Fan Club come in and yell at me for even daring to mention that their heroine is a sullen, twitchy, lip-biting eye-roller, I'll let The Fashion Spot do the dirty work:
Kristen Stewart got into some Roberto Cavalli, Alexander McQueen, Giles Deacon, Giambattista Valli, Armani, Chanel, and Blumarine for Vogue Italia, and even though it's not like anyone could look bad in clothing that looks so good, the Twilight actress didn't knock it out of the park.

KStew is obviously gorgeous, but here she's sulking from photo to photo. She looks so stiff and sour she might as well be standing in an airport security line.

In the accompanying interview, she said that she "would love to wear more feminine clothes," but in these photos, the "feminine" gowns might as well be Dementors sucking out her soul.
[From The Fashion Spot]
*coughcoughCOSIGNcough*
Here are more excerpts from Vogue Italia:
On her favorite fashion: "I'd love to wear very feminine clothes, but then, in the everyday life, when I'm in Los Angeles, at home, I'd rather be comfortable. Whereas, when I'm away, like in this case, I pack all kinds of clothes, for the evening as well, because I think that maybe I'll get a chance to wear them."

On her figure: "I'm naturally skinny. We're all like this in my family, so I don't have to exercise a lot or go on a diet. I do all the exercise I need on set. Right now, for example, to play Snow White, I never stop: I run, jump, fight with swords, horseride… I do all kinds of stuff! You see, I've even injured myself! But it's nothing serious."

On her acting philosophy: "I'm not one of those actresses that maniacally prepare themselves for a role. On set, I do whatever I need to do, but day after the day. If I have to improvise, I improvise, if I have to learn my lines by heart, I do it. There are certain screenplays which are so beautiful, that they only need to be repeated as they are, without any changes. I live in the moment."
[From Vogue via The Hollywood Gossip]
She's "naturally skinny". NOW. Wait until her metabolism slows down in her late 20s. Then it will be a different story.
Meanwhile, in a new interview with MTV, K-Stew totally got ahead of herself when she discussed Snow White and the Huntsman, which won't be coming out until next year. She was asked what she would do if the Snow White film turned into yet another franchise for her, and she said, "Oh man, to be totally candid and honest with you, when I first signed on to this thing, the idea of doing another franchise was like, 'Wow, [we'll] cross that bridge when it comes.' It was something so far outside my realm of thinking. I was so focused on the first one, and I thought, 'Maybe, maybe,' but I've got stars in my eyes. I'm literally over the moon about what I'm doing right now. Yes, I would love to [do more 'Snow White' films]." Is it just me or is K-Stew worried about her career beyond Twilight? I think that's what we're seeing more and more as she promotes these two final films – she's worried she's going to sink post-Twilight.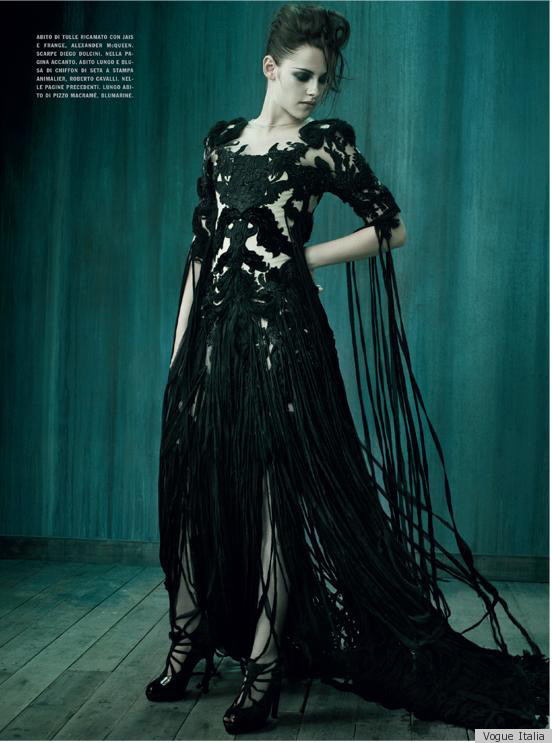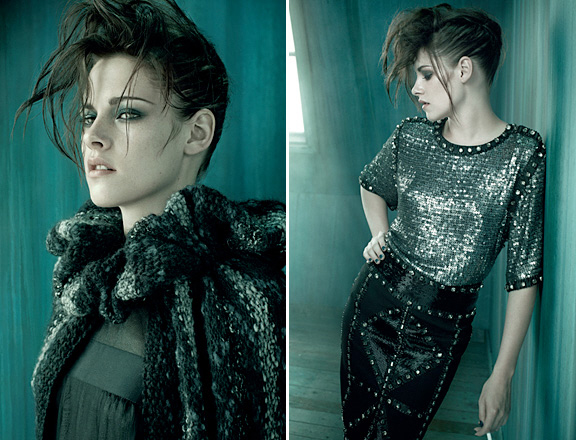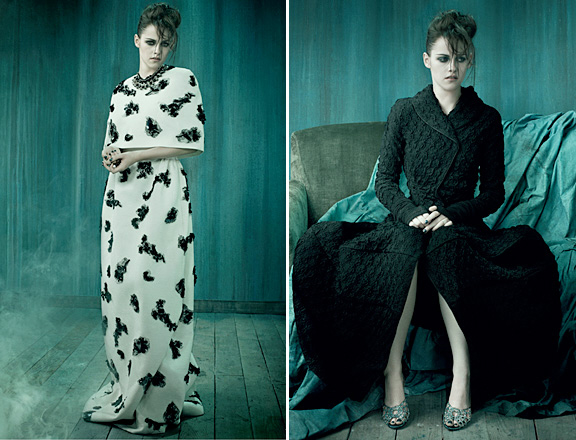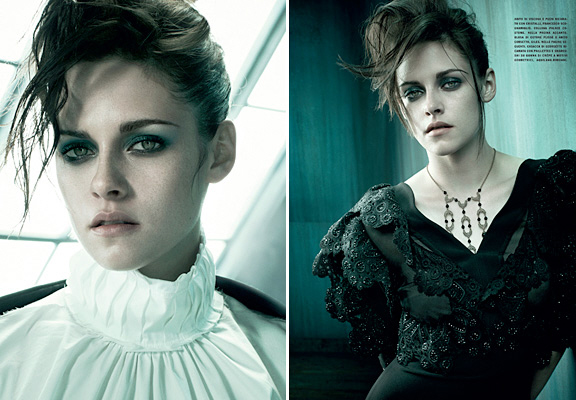 Vogue Italia photos courtesy of The Fashion Spot.