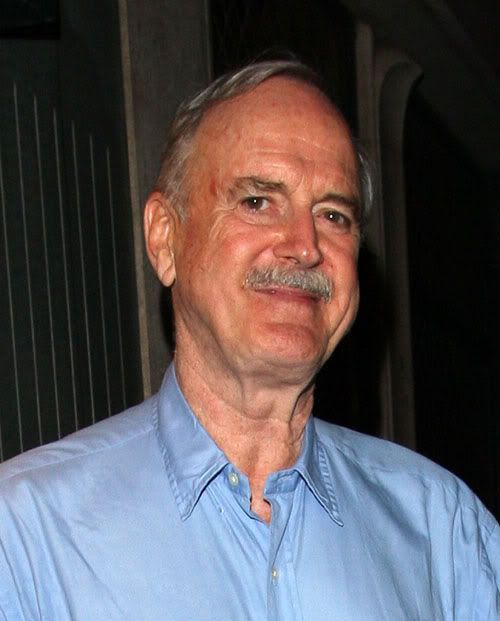 Divorces can obviously get very, very nasty. People are easily hurt by the ones they love(d), and it must be very hard to divide up your hard earned assets, as adjust to the life changes without a partner.
Madonna seems to have been quite nasty to Guy Ritchie, in a petty way, in concert. She needs to take lessons from John Cleese about how to really sling the mud. Andrew Billen asks 68-year-old Cleese when he can slow down on his entertainment work, and gets this response.
So when can he turn his back on this toil? "I don't know about that," he says. "People would think I'd have enough money, but I do have a very expensive, or comparatively expensive, divorce. When I divorced Barbara [Trentham, wife two] in about '88 that cost me £2.5 million then. And now this divorce with Alyce Faye – I mean, I'm paying more than £1 million a year right now. And we never had children."
Given that this is John Cleese's third marriage, you would think he might have been experienced enough in divorce to have considered a pre-nup. He claims it is because his previous wives, being less financially savvy then his latest, accepted his generous offers.
"When I got divorced from Connie [Booth, wife one], with whom I had dinner on Sunday, and when I got divorced from Barbara, I didn't need lawyers on either occasion, because I just sort of said, 'Why don't I give you this?' And they said, 'That's very fair, very generous. Thank you.' End of story.
Cleese continues to talk about his divorce, despite interviewer Andrew Billen being told not to mention it.
"I feel angry sometimes. But my anger is not so much about sharing the property but having to go on working hard to provide alimony for someone who's already going to have at least $10 million worth of property, and who's getting £1 million this year. At some point you say, 'Well, what did I do wrong? You know, I was the breadwinner.' The system is insane."

So, I check, his anger is not at the failure of the relationship? "It's about the fact that in my 70th year I will still be spending two months a year doing work that is of no interest to me and which is probably slightly spiritually depleting in order to feed the beast."
Read the full interview in the London Times
Despite the way the words sound bitter, the interviewer describes him as being like a man 'escaped from a life sentence', which after 16-year of marriage maybe he does feel a little that way.
Unlike Madonna, who called Guy names in convert, John actually comes across as reasonable, and we still wind up on his side. Even if he seems a little narcissistic, he doesn't seem bitter. Madonna, even if you're a fan of her music, just isn't likeable. Was she ever?
John has a simple solution to the problem, which is to require people to renew their marriage license every five years, 'like dogs'. Except when children are involved, where you should also get a license to procreate. I'm not sure how many Hollywood marriages would last five years, but the license idea for parents isn't a bad one. Case in point: Should Denise Richards and Charlie Sheen ever have procreated together?
John Cleese and Kevin Spacey are shown outside the Ivy in London on 6/6/08. Credit: WENN