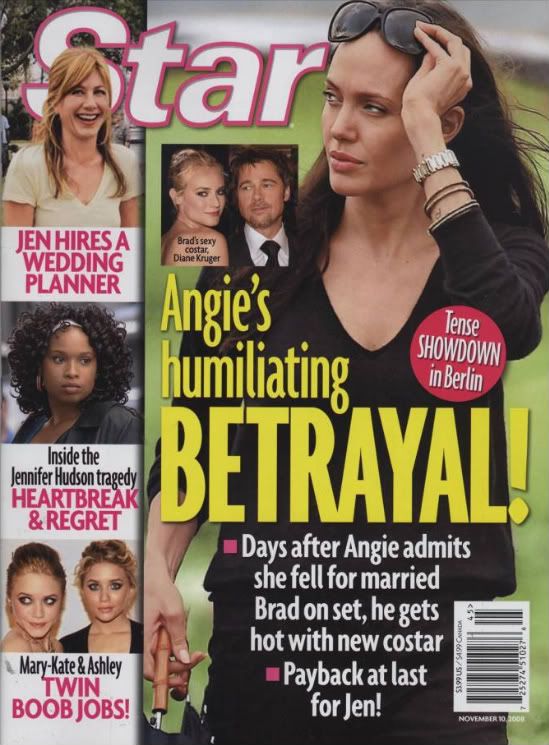 A few months ago, I made an error of judgment and posted a speculative article about whether Colin Farrell was Minnie Driver's secret baby daddy. The story was based on a paparazzi video of a protective Colin yelling at photographers taking pictures of his son while he was on the beach with heavily pregnant Minnie. It turned out that Colin was also at the beach with his girlfriend that day, an author named Emma Forrest who just happens to be one of Minnie's best friends. I issued a retraction a few hours after the story was published, but the damage was done – it got picked up by news outlets and became a rumor. A new writer on the site even submitted the story based on other gossip sources reporting it. (It's also of course possible that other outlets jumped to the same conclusion that I did based on that video, but I felt somewhat responsible.)
This kind of thing happens with the news constantly in this era of quick typing and publishing. In my case I like to justify that it was an honest mistake and was at least based on some slim amount of evidence. Maybe Star Magazine's writers and editors tell themselves the same thing when they run salacious cover stories every week, like the one about Angelina being jealous of Brad Pitt's supposed on-set flirtation with lovely German actress Diane Kruger, 32.
My husband has been reading in the German press that Pitt is rumored to be angering Jolie by getting unduly close to Kruger on the set of Inglourious Basterds, which is currently filming in Germany. The story originated in Star Magazine, though, and like a lot of the crap in that rag it seems like complete BS to me. Kruger has a longterm boyfriend, actor Joshua Jackson, with whom she seems very much in love. She has worked with Pitt before though, on the epic Troy, and to Star that means they're familiar with each other and barely resisting their urge to jump into bed together. This would be good gossip – if it were true:
What goes around comes around! Hot on the heels of Angelina Jolie's stunning admission that she fell in love with Brad Pitt on the set of Mr. & Mrs. Smith while he was still married to Jennifer Aniston, Star has learned that Angie is burning up with jealousy over Brad's pretty new co-star. And Brad hasn't exactly been acting like a father of six in a committed relationship while whooping it up in Berlin!

Angie, 33, is living, sources say, over Brad's recent freewheeling behavior with the happily single costars and director of his latest movie, Inglorourious Basterds. But what's really sending Angie over the edge is the blatant flirtation between him and his gorgeous leading lady, German actress Diane Kruger.

"Angie loves Brad and wants to trust him, but she also knows that their own love blossomed while working on a movie together," and insider tells Star. "Now she's convinced that Diane has a crush on Brad, and she's scared something could happen." And even though Diana and boyfriend Joshua Jackson are trying to make a long-distance relationship work, Joshua recently confessed to Star, "I don't know that we're getting married."

Angelina's instincts first kicked into high gear in September when Brad and divorcée Diane both attended an intimate cast dinner without her in Berlin. "They went through several bottles of wine," Mimmo Bianco, manager of Italian restaurant Al Contadino Sotto le Stelle tells Star. "It was obvious he was having a great time."

And that's exactly what makes Angelina so nervous. Brad shared a connection with beautiful blonde Diane when she played Helen in his 2004 epic, Troy. "I have lots of scenes with him," Diane gushed to a German newspaper about working together again. "Troy was my first international film, and I was still married back then. I'm excited to work with Brad."

Diane made sure Brad knew just how excited she was during their night out, says a source. "She kept putting her arm around Brad's neck to whisper something in his ear because it was so loud. He was clearly charmed by her, and Diane definitely looks smitten. She's thrilled to be around him again."
[From Star Magazine, print edition, November 11, 2008 – online version is slightly different]
There's not much more in that article to support any relationship between Pitt and Kruger and I would bet that the part about her whispering to him is either made up or based on her having to yell something in his ear when the party got too loud. That was a cast party where everyone got to know each other and is hardly enough to base a supposed flirtation on. That seems to be enough for Star, though. Unfortunately this story is now all over the German press and a lot of people are believing it.
Some of you have accurately pointed out that we run these salacious stories without questioning them when they're about Jennifer Aniston, but not when they're about Brad and Angelina. This is true, but we have different authors here with different opinions about the celebrities, and we all have different styles. There are going to be stories we don't all agree on, and that's is both a fun and frustrating aspect of having a blog with many writers. We're sure you'll let us know when you think we're not being fair, and we'll do our best to take it into account.
Here are photos of Diane Kruger and Joshua Jackson looking very much in love. They're all from earlier this year.
Credit: Fame Pictures