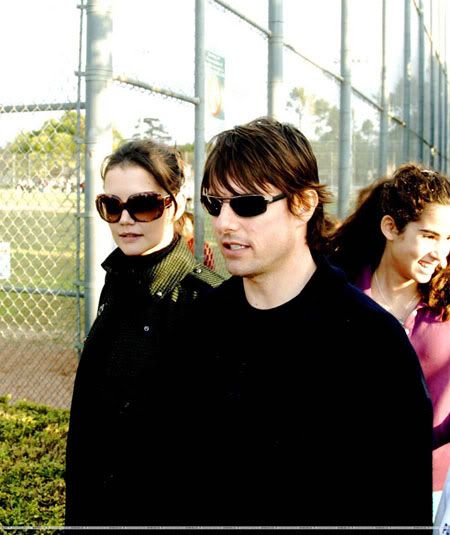 Tom and Katie are said to be tying the knot in November and perhaps in Italy. There was a rumor that they were going to use George Clooney's Lake Como villa for their wedding, but that was also rumored about Brad and Angelina's non-wedding. Clooney's representative has said that Tom and Katie are definitely not getting married at his estate.
Victoria Beckham looked at locations in Italy on October 7th, fueling rumors that she was helping Katie finalize wedding plans.
Georgio Armani is said to be the designer Katie Holmes has chosen to create her fantasy wedding dress. It was thought that Katie would choose a Chanel dress by Karl Lagerfeld after she was photographed with him at a Paris fashion week party, but Women's Wear Daily is reporting that Katie has gone with Armani instead.
All of this seems rather vague, and while Katie proclaimed "I have my dress!" and Tom and Katie's publicist has said that they'll be married within a few weeks, I'll believe it when I see it. These two enjoy the publicity, but need to follow through on their plans soon if people are ever going to start taking them seriously.
Meanwhile Tom Cruise parody site Scientomogy.info is standing it's ground against a threatened lawsuit by Scientology thugs. The cult regularly uses strongarm legal tactics to slience dissent and scare anyone that dares speak out against it. They sent a cease and desist letter to site owners over a year ago claiming that it infringes on their trademark, but they're just trying to censor negative press. YouTube has removed most of the videos linked by Scientomogy.info after undoubtedly being threatened by Scientology as well.
Here are Tom and Katie at Isabella's soccer game on 10/14. [via]