VH1 has two new video interviews with 17 year-old Courtney Stodden. In the first (above) she talks about her life with her 51 year-old husband Doug Hutchinson and how they're trying to expose each other to the sh*ttiest pop culture of their respective generations or something. It's not notable for what she says or the way she continues to act like she's a cat in heat. We'll already seen all that from her, although it's so extreme it's hard to look away from. It's notable because this video is on VH1's blog, which has some of the trashiest reality shows going and may be adding another one featuring a statutory rapist and his child bride. Courtney and Doug met with VH1 in late October about filming a reality show for them. We've heard for some time that they're shopping one, and this may mean that VH1 is testing the waters. Here's more, from VH1's FabLife blog:
It's taken a few months, America, but we may finally be accepting the fact that Courtney Stodden and Doug Hutchison are the real thing. I mean, why else would we see the 17-year-old aspiring starlet and her 51-year-old actor husband going to church and the mall together on Sunday? Not for the photo op, surely! Anyway, we here at TheFABlife had the chance to take a little peek into the everyday lives of this fascinating couple — not the Dr. Drew-style peek, either — when Courtney answered a few questions on camera.

First up, we wondered, with their age gap, do Courtney and Doug have the same taste in music, movies and TV shows? (Subtext: Is that, at least, like hanging out with someone's dad?)

But Courtney said they do like some of the same things and have been introducing each other to new ones. "There's fine lines in between what we share and what we teach each other," she said enthusiastically. "I've turned him on to Maroon 5, Train and all the new awesome bands. And he's turned me on to some of his music. We're batting that back and forth and exploring each world."

And like many a kid raised on Nick-at-Nite, Courtney knows her old-timey TV shows, like, erm, "I Love Lucy's."

"I love I Love Lucy's, The Honeymooners, Green Acres. We love that kind of stuff," she said. "But it's so cute: Doug calls Maroon 5 'Monsoon 5.' He's like, 'YEAH! Monsoon 5!' It's so embarrassing, but it's darling too."

And though the paps have caught glimpses of her walking to Starbucks and doing other mundane tasks, we asked her what a typical day in the life of Courtney Stodden is like.

"A typical day for me is crazy, let me tell you," she began. "I get up out of bed in the sexiest outfit you've ever seen. My hair is done, my makeup's done. I get up at around 12 p.m. I make my mocha. I don't care about anything else.

"Doug is wonderful," she added. "He picks up my coffee beans that I spill on the floor. He picks up my foundation. He picks up my feathers from my big robe that I wear. My high heels are all over. So I have a wonderful life, a wonderful husband. So, a typical day for me is, like, a princess."
[From The Fab Life]
So her husband picks up everything she drops on the floor and cleans up after her, which is why her life is so great. We've heard this from these clowns in the past. Courtney was asked in a previous interview why Doug was "inspiring to her" and she said "he's cooking for me, cleaning for me, he's like the wife around the house."
VH1 has yet another interview with Courtney (below), where she talks about her music career and how she wants to act. She was asked if she wants to emulate anyone's career and she said "I want to be original, unique. And I really want to bring back the classy beautiful edge of old Hollywood. But I want my own career… The career of Courtney Stodden! Yeah!" So she represents a "classy, beautiful" edge? I agree with CDAN that she must be on something. Also, I watched the video with the sound off like he suggested and it's true that she doesn't stop twitching. It's probably much more than all those mochas she's drinking. Here's a link to her new music, if you dare.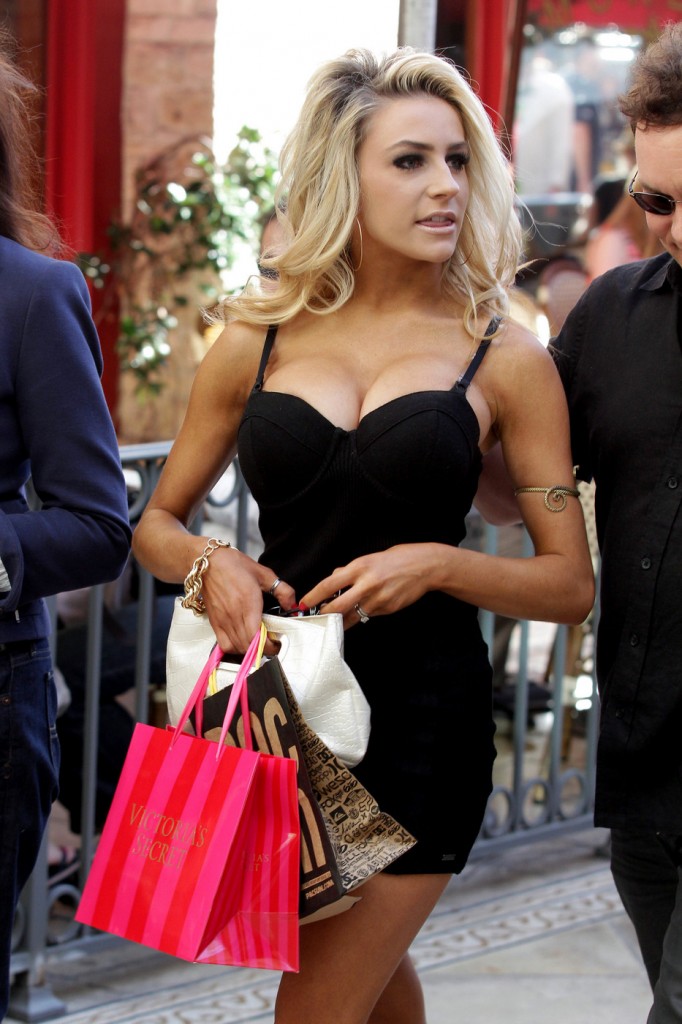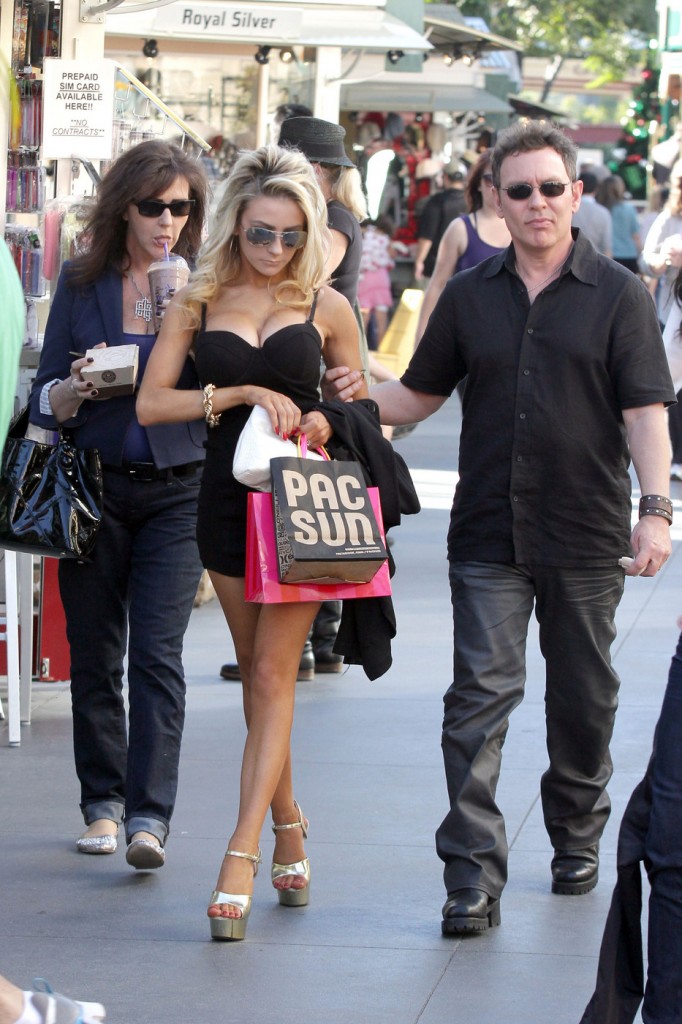 Photos are from 11-27-11. Credit: David Tonnessen/Pacific Coast News