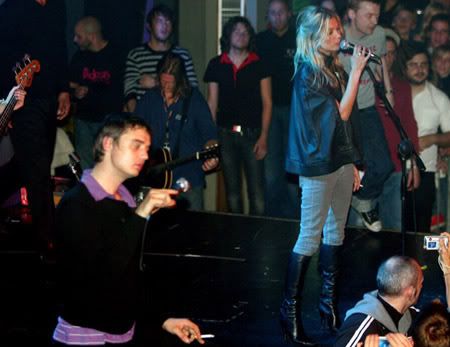 There's an unsubstantiated rumor that Kate Moss is pregnant with Pete Doherty's baby. Supposedly Pete's uncle told The Mirror that Kate is pregnant and he's happy for them. "Journalists" at The Mirror do not hesitate to make up quotes and attribute them to people, so this is probably not true yet. There were rumors all over the place that these two were about to get married, but that Pete's many drug busts and stints in rehab (the latest of which was supposedly successful, but probably not) thwarted their plans. They were also said to be trying for a baby, so this is not too surprising:
Doherty's uncle Phil Michels claims that the singer called him from Italy, where he is touring with Babyshambles, to share the news.
"I have spoken to Pete twice about the baby and he has confirmed that Kate is pregnant," Phil told the Sunday Mirror. "They are both delighted and Pete sounded really excited."
He added: "That is why they want to get married. Pete told me they want a baby together to cement their marriage. I am made up for them. I wish them every success. They're so happy, they love each other. I can't wait for the wedding – we are just waiting for a date."
Both Moss and Doherty have children from previous relationships. Kate has four-year-old Lila Grace from her romance with Jefferson Hack, while Doherty has three-year-old son Estile with ex-girlfriend Lisa Moorish.
Kate was said to have told Pete that he had to quit touring if he wanted to keep her affections, and to have given him a list of six rules to follow if he wanted to marry her.
Kate was also seen with a ring on her wedding finger, and what looked like blood dripping down her hand after a recent Babyshambles gig in Italy. On Thursday night Kate hit the stage with Babyshambles and was seen fleeing the concert afterwards with some red substance on her hand and down the front of her pants. Pete enjoys squirting syringes full of blood at people and making art with it, so it's most likely blood despite the fact that Kate's representative claims that it's wine.
It looks like at least one of Kate's commandments has been broken because Babyshambles are touring again despite a recent announcement that their tour was cancelled.
This is stupid on so many levels. These two are not known for their intelligence or sobriety to put it lightly, and they rather deserve each other. Now that I know what "chav" means in British vernacular, I can use the term for this trainwreck couple. Maybe they're a step beneath "chavs" though, because surely drug addicts are not as respectable as posers.
Here is Kate performing in Italy with Babyshambles on 10/19. She could be pregnant, but that's not stopping her from smoking. Pictures from DListed.