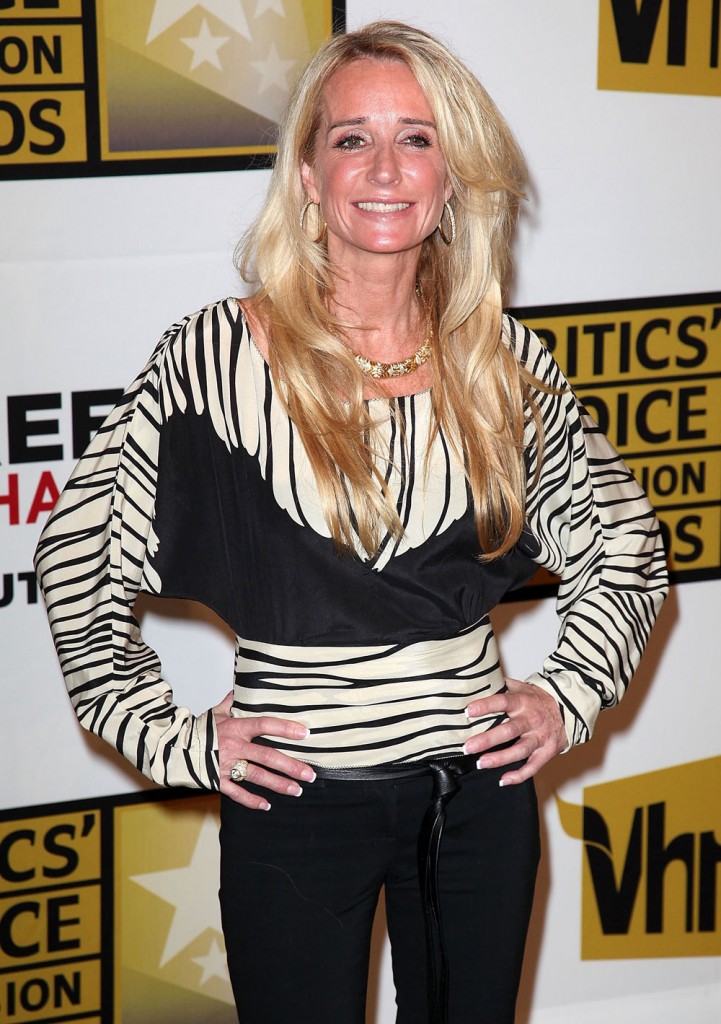 More information is coming out about Kim Richards of RHOBH's rehab stint, and it sounds worse than we've heard. Of course Kim's stint in rehab isn't just her second, and of course she didn't go on her own volition. Kim was basically ordered to go by Bravo execs, who told her that if she wanted to keep her job on the show she'd get treatment. They're a little gun shy after Russell Armstrong offed himself and are probably trying to avoid future lawsuits and image problems. Since Kim has no other income, and because she has no home after selling hers and moving in with that creepy enabler boyfriend she was hooking up with, she acquiesced. Details are vague about what happened between Kim and her boyfriend/neighbor, but she's not living with him at this point and has been staying with friends. Here's more:
"Kim has been to rehab more than once before," says the source, "but every time is a new time, and everyone just hopes this sticks and that she gets the help she needs. It's serious."

Richards has been "erratic. Everyone was really worried about her," says the source, who adds that Richards is not living with Ken, the boyfriend who was introduced as her love interest this season.

During a recent episode of the Bravo show, Richards says she's planning to move in with Ken, and cameras show her packing up her belongings.

"He's not in the picture. No one really knows what the deal was with them, but Kim doesn't live with Ken," the source says. "She's basically homeless, staying with various friends. She doesn't have a home base. It's not unusual for people to not hear from her for long stretches of time. It's been that way for years."

"Her family is relieved she's getting help," adds the source. "She has lots of issues. She needs help."
[From People]
And here's part of Radar's report about how Kim got pushed into going to rehab.
"Kim was told by the people at Bravo that she had to get help and that help meant going into rehab immediately," a source told RadarOnline.com. "The network people were worried about her and wanted her to try and fix her problems."

"After Russell Armstrong's suicide Bravo is trying to making sure that nothing bad happens to the people on their shows," the source said. "They don't want any more tragedies on their hands."
[From Radar]
I'm thinking that the Bravo people wanted to sound caring and concerned on one hand, but then made sure to let People Magazine know that Kim was a total erratic mess so that they could cover their asses on the other. It's obvious enough when you watch the show that Kim is an addict. It just makes you wonder why it took everyone so long to see it. They spent so much time covering for Kim and making excuses for her this season.
In related RHOBH news, the book cover for Taylor Armstrong's new memoir is out. Notice how she's covering her giant trout pout. Radar has the details of what will be in it, but we've heard it all before. I feel for this woman's child, I'll say that.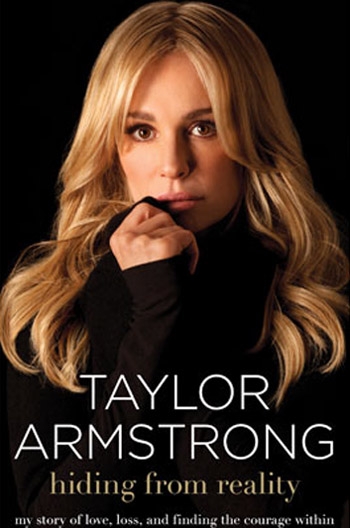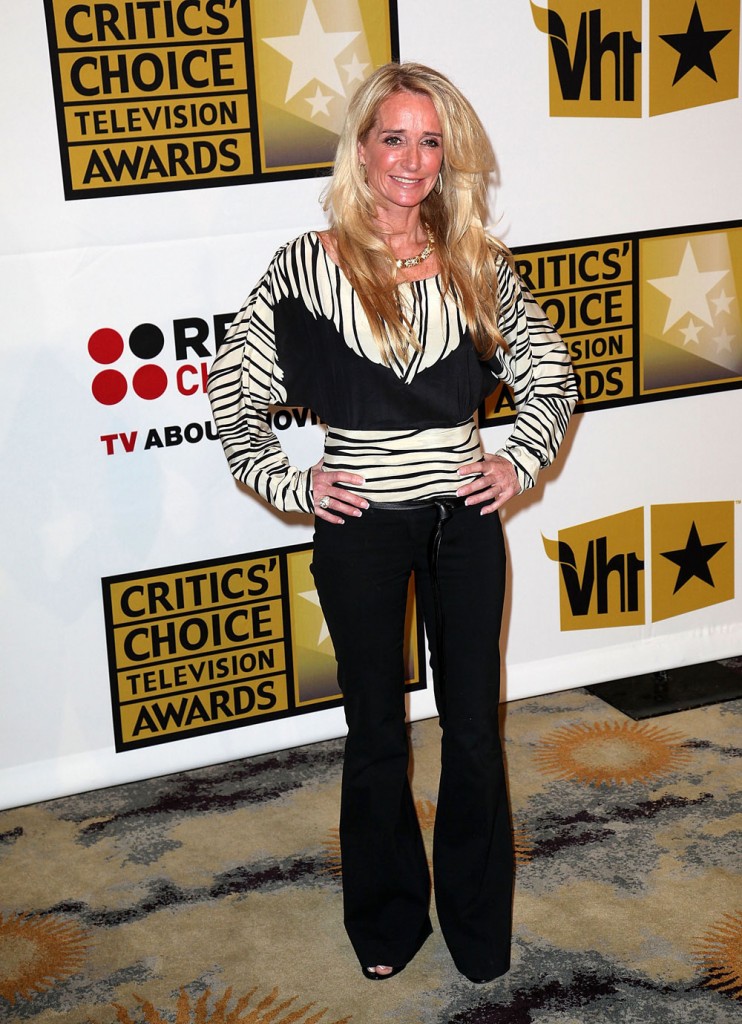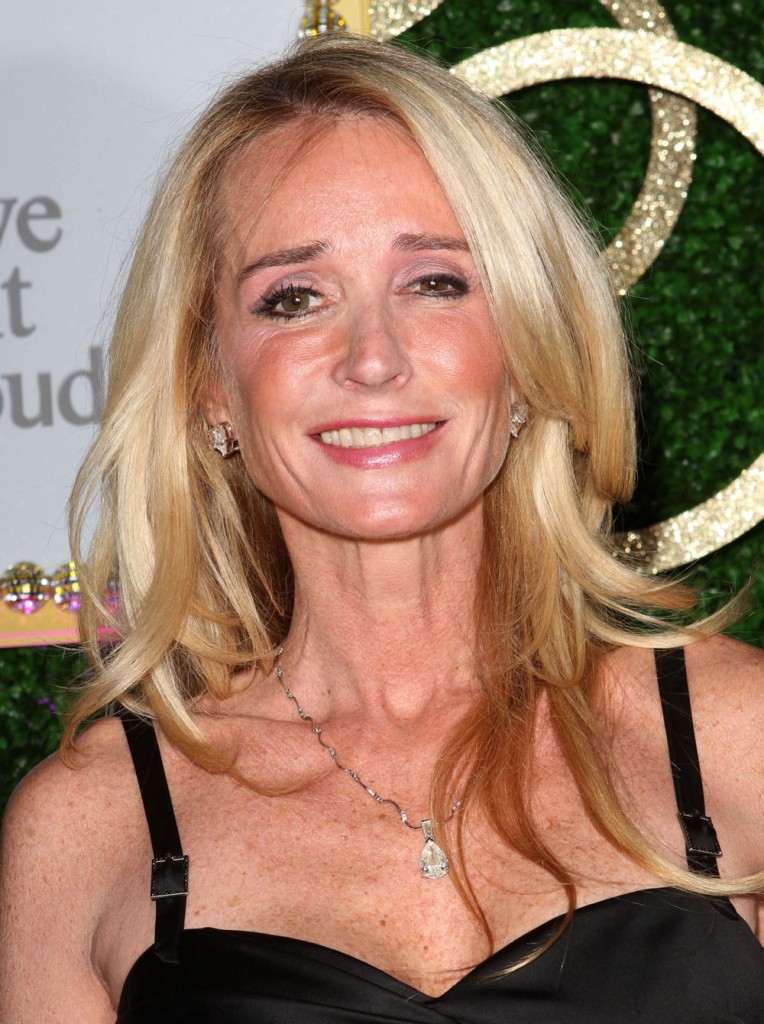 Kim is shown on 6/20 in that awful leopard shirt and on 5/17 looking drunk and Botox squinty. Credit: WENN