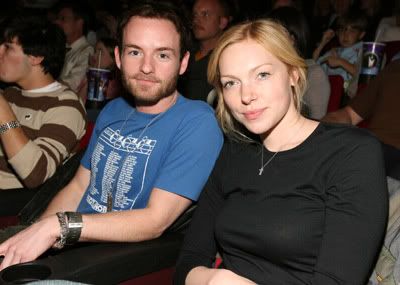 Christopher Masterson from Malcolm in the Middle, and Laura Prepon of That 70s Show have been a couple for over five years and live together in a house in LA. They don't get a lot of press since they seem to live a low-key lifestyle.
Prepon's series, That 70s Show, will air its last episode on May 18th:
After eight seasons, 200 episodes and finishing 85th in the latest Nielsens, the comedy about life in Point Place, Wis., at a time when polyester bell-bottoms and Led Zeppelin eight-tracks were cool, airs its last new episode on May 18 at 8 p.m.
This underrated sitcom, which revolved around the kids in the basement including Mila Kunis, Topher Grace, Ashton Kutcher, Laura Prepon and Wilmer Valderrama, brought aboard loads of guest stars. Bruce Willis, Lindsay Lohan, Jessica Simpson, Alice Cooper and Mary Tyler Moore dropped in.
"The reason the show was a hit is simple. It was groovy," said Tom Werner, executive producer.
That 70s Show may have worn out its welcome after Topher Grace and Ashton Kutcher left last season. Still, most people on the website Jump The Shark think that the show has yet to go downhill.
We knew that Chris Masterson's brother, Danny Masterson of That 70s Show is a Scientologist, and unfortunately a half-assed Google search confirmed that Laura and Chris are also involved in the pop-psychology cult. According to the website The Truth about Scientology, Laura has completed 7 of the cult's courses while Chris has completed 11, suggesting that he is more involved than Laura.
Let's hope this cute couple is keeping their distance from the evil cult, and that they each make the transition onto the big screen.
Masterson's new film, Intellectual Property, was screened at the Newport Beach Film Festival, where these pictures were taken. Prepon does not have another project lined up at the moment, according to IMDB.