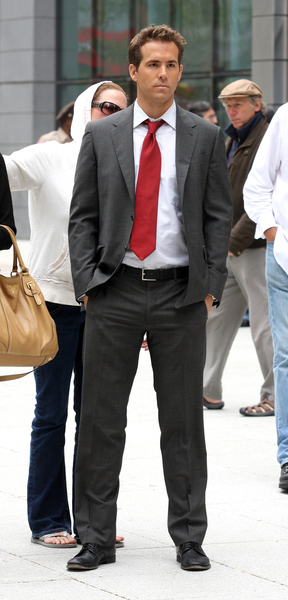 Hot actor Ryan Reynolds, 32, finished the NYC Marathon on Sunday in three hours and 50 minutes, which is faster than he was hoping for. Newlywed Reynolds raised over $80,000 in contributions for Parkinson's research through Team Fox, an organization founded by Micheal J. Fox. Reynolds described seeing Fox during the last leg of the race as an inspiration and the motivation he needed to keep running. Reynolds father also has Parkinsons, and he said he ran "On behalf of my Father, Jim Reynolds, who's spent the last 15 years in a life or death struggle with [the disease]."
Mission accomplished! Ryan Reynolds completed the ING New York City Marathon on Sunday – and lived to tell about it.

"I'm still standing. I'm very excited about that," he told reporters after crossing the finish line in 3 hours and 50 minutes, faster than he anticipated. "It was an incredible experience."

Reynolds says in the last leg of the race, he was motivated to keep going by one special spectator.

"When I saw Michael J. Fox on Fifth Avenue, I gained about 15 pounds in goose bumps," said Reynolds. "It kind of pushed me through the last six miles or so."

Reynolds ran for Team Fox in honor of his father, Jim Reynolds, who has suffered from Parkinson's Disease for the past 15 years.

"[During the race] I thought a lot about my father and Michael and the 500,000 other people afflicted with this awful disease in the United States alone. I ran for those who can't," Reynolds told PEOPLE.

Reynolds's mother Tammy and brother Terry greeted him with hugs at the finish line in Central Park.
[From People]
Reynold's wife of just over a month, actress Scarlett Johansson, 23, was not at the finish line to greet her husband. She was busily involved in her own cause and has been campaigning for Presidential candidate Barack Obama.
Congratulations to Reynolds on finishing the NY Marathon and helping raise so much money for Parkinson's research. That's a great accomplishment and no small feat.
Ryan Reynolds is shown filming The Proposal on 6/6/08 in NY with Sandra Bullock. Credit: PRPhotos