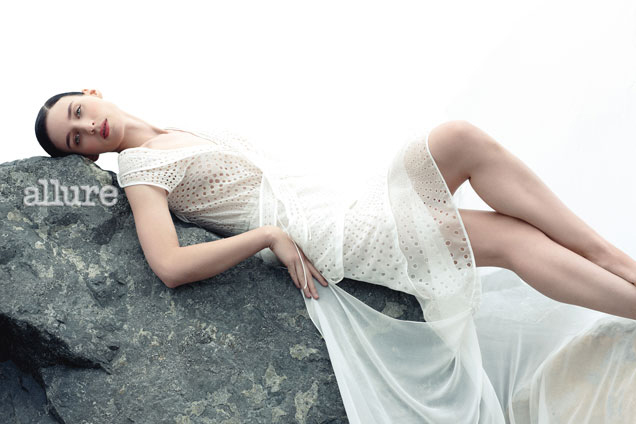 I mentioned this yesterday, when I talked about Rooney Mara being kind of boring and over-exposed (and try-hard). She just doesn't have much of a personality, so she's trying to seem like she's really hardcore and Lisbeth Salander-like in real life. Anyway, Rooney covers the new issue of Allure, and the excerpts they've released… well, this is A Portrait of The Artist As A Smug Bitch. She reminds me of Gwyneth Paltrow, truly. Not Gwyneth now, but Gwyneth back in the day, circa 1996 when she was The Miramax Princess and everyone thought she was the coolest, and Gwyneth KNEW she was the coolest. That's where Rooney thinks she is now. She thinks that because she scored the massive role, she can bad-mouth all of her early jobs. You should go to Allure's slideshow, where they show Rooney old photos of herself and she comments on them – she's kind of a snot. Here are some highlights from the interview:
Getting her nipple pierced: "I'm naked quite a lot in the movie, and I thought, she has it in the book, and she should have it [in the movie]…Because of all the tattoos and the makeup and the piercings, and the physical transformations my body has to go through, it would always feel sort of like I was in costume, even if I was naked. It just felt like a good one to get–a necessary one to get."

On the nudity: "Nudity is such a huge part of the character in the book, so I never thought twice about it. There was no time for hesitation. I didn't have time to second-guess anything or be scared; I just showed up and was comfortable."

Cutting her hair for the part: "People always ask, 'Were you crying when they cut your hair?' And it didn't freak me out at all. I was really happy to do it."

Her personal style: "I used to wear a lot of girlie, frilly things, now I buy things that are more comfortable, and more utilitarian, and sort of boyish."

She needed a stylist in 2009: "Now you kind of have to have a stylist, because it's somehow part of the job of being an actor to also model clothes that no one's seen before. And you can't really get those clothes unless you have someone getting them for you."

Her part in a 2006 episode of Law & Order: SVU: "It was so awful. So stupid. People are obsessed with that show. I don't get it. Me and my boyfriend—although I don't look old enough to have a boyfriend—went and beat up these fat people, and at the end of the show you find out that I used to be obese and I hate fat people. It's ridiculous. Who would ever do that? Who would beat someone up because they're fat? And as retribution, they sodomized her. I mean, I've been sodomized since the beginning of my career. I should have known then it would come full circle."

Her part in The Social Network: "Am I as cool as [Erica Albright] is? Maybe to an extent. Not cool; I would say I'm quite aloof. The story out there is that we did this scene 99 times. I don't know if that's entirely true or not, but we definitely did it a lot."

Looking at a photo of herself and David Fincher: "Oh, sweet little David. I look so small next to him. I don't smoke. I smoked for the film. I think I'm addicted in costume and in character. If I had to go to set right now and work, I would crave a cigarette. But otherwise, I don't."
Oh. NO. She. DIDN'T disrespect Law & Order: SVU. WTF? Why would you disrespect Law & Order: SVU, especially if you were on an episode circa 2006?!? Those were the golden years of SVU – it's gone downhill in the past few years, granted, but even then, good actors consistently show up for SVU. I guess Rooney Mara thinks she's too special to act opposite the likes of Mariska Hargitay and Christopher Meloni and Ice-T and Richard Badass Belzer. Bitch please.
As for the rest of the interview… meh. I'm glad she's not all "Woe is me, no one can understand the brilliance I brought to this." She worked hard to get the part and she worked hard once she got the part, and I'm glad she's not acting like a martyr about it.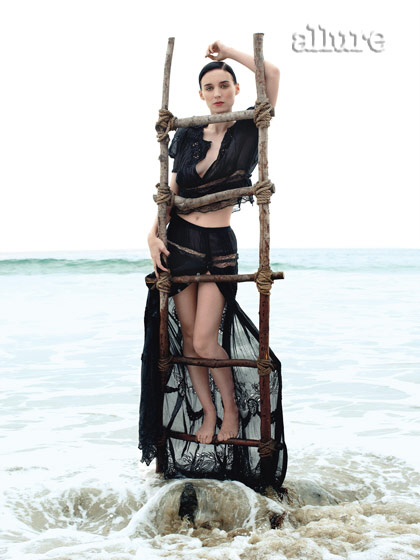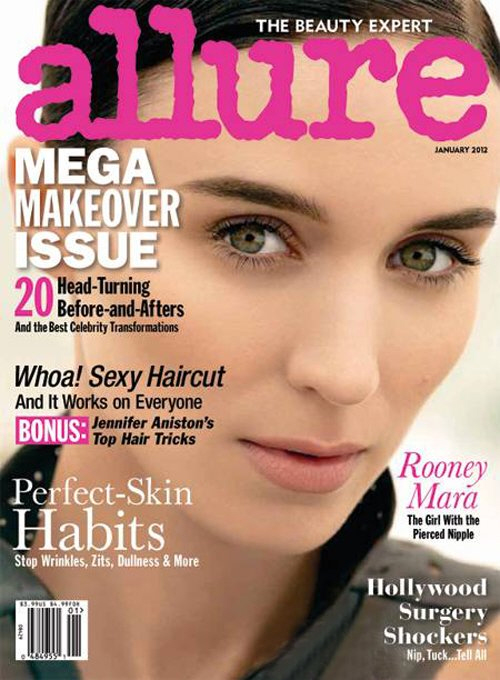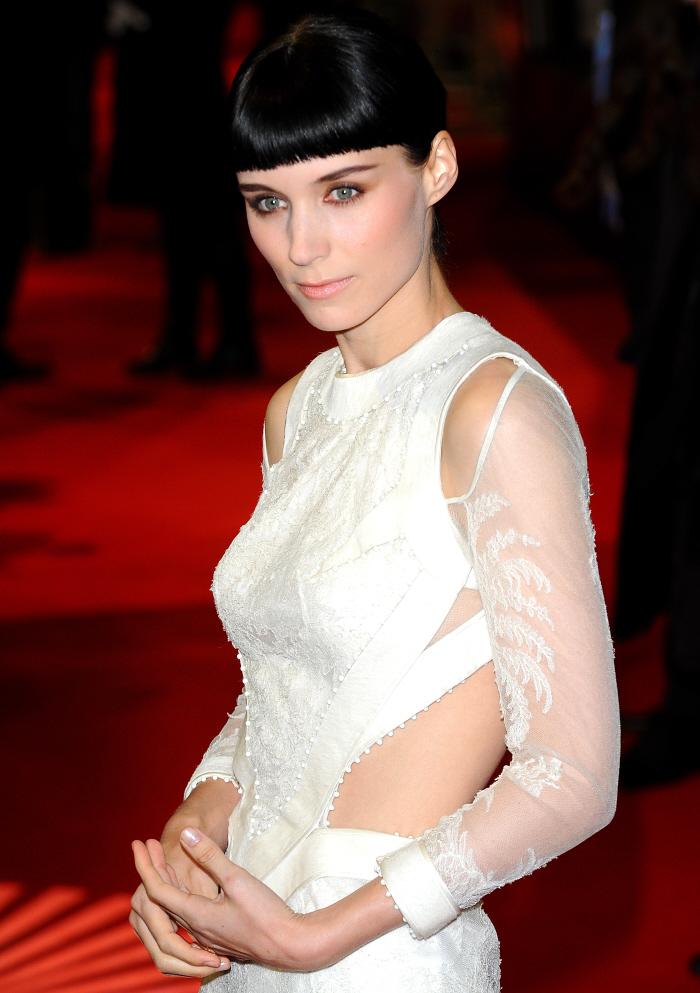 Photos courtesy of Allure and WENN.