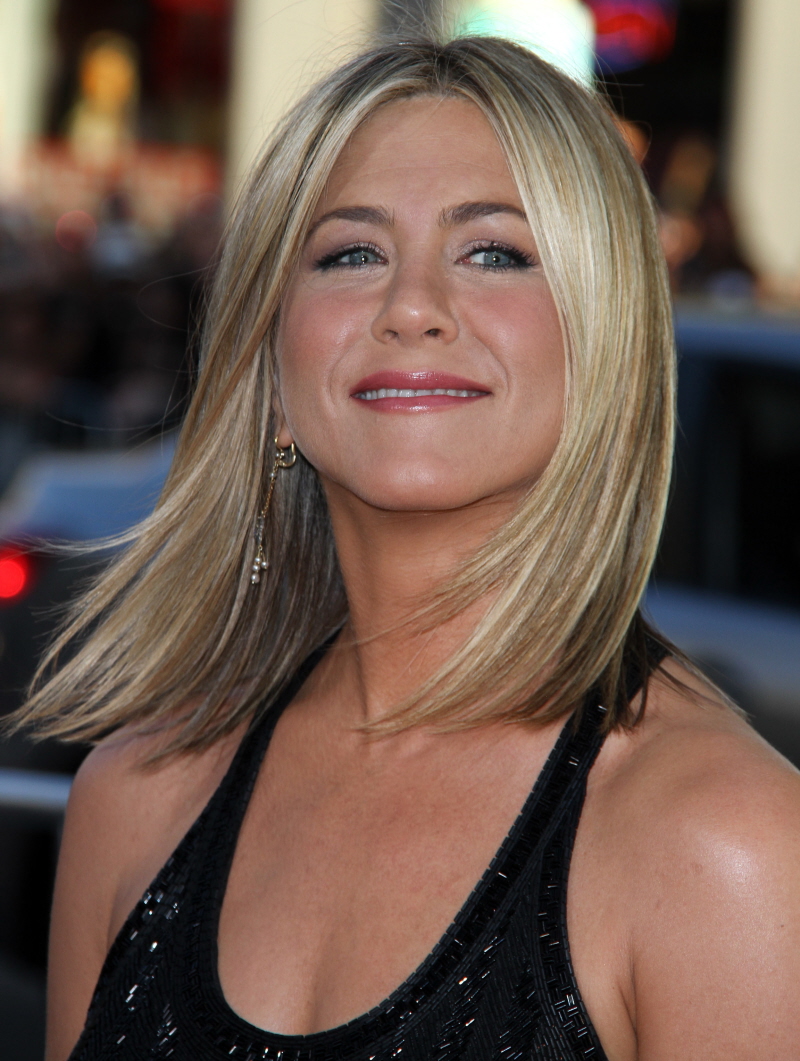 Over the Thanksgiving holiday, DirectTV gave me some free movie channels, and at one point in my orgy of turkey, ham and wine, I caught twenty minutes of Just Go With It. It was terrible – much worse than even I was expecting. It's like everybody in that film just agreed to go to Hawaii and get paid and they didn't even bother with a proper script or anything. Anyway, I watched a scene with Nicole Kidman and Jennifer Aniston, and it shocked me. Nicole's face was frozen and jacked, obviously, but she was trying to make some facial expressions, and it worked sometimes. The shocking part? Parts of Jennifer Aniston's face looked more frozen than Nicole's. During that film, Aniston had something weird going on with her mouth/cheeks/lower face. Like, Aniston could move her eyebrows but she was talking oddly, like she couldn't feel her upper lip or something.
So – do you really think Aniston gets injectables? I've figured her for a Restylane girl for several years now – they make a face look "fuller" and younger, and I always think Aniston has gotten some fresh injections when she looks particularly apple-cheeked. In the new issue of InStyle, Aniston comes close to admitting it:
Jennifer Aniston thanks her Greek genes for her cool California glow, but the actress admits she's starting to see a few negative effects from her years of sun worshiping.

"I've started getting those little sun spots," she tells InStyle. "Things are beginning to pop out. Even the texture [of my skin] is changing. So I've recently started zapping the spots and getting spray tans whenever I can. And I've graduated to using SPF 60 sunblock when I'm on the beach."

She quickly dispels any rumors of cosmetic enhancements, however. "People think that I do a lot of injections, but I don't," she states. "I'm not saying that I haven't tried it … but I see how it's a slippery slope." Still, she plans to stay away for the time being. "All that cosmetic stuff looks ridiculous on me," she shares.

Revealing that she tints her eyelashes every three weeks ("I hate wearing mascara," she says) and that she used to keep scissors in her car's glove compartment to trim split ends ("It was a weird tic," she admits), the star says she wasn't always confident about her looks.

"I was a dumpy teenager," she shares. "My mom was a model and was all about looks, so I rebelled by going goth. It took me years of peeling back the onion to finally stop using makeup as a mask and feel comfortable in my skin."

But these days, the "Sexiest Woman of All Time" takes comments on her looks in stride.

"I quit smoking a few months ago and I put on a couple of pounds," she says. "Normally I'd be like, 'Oh my god, I gained weight! Everyone is going to think I'm pregnant!'" Not anymore. "Now," she says, "I just don't care."
[From People]
Tinted eyelashes? I've never done that. Is it a quick process? Why does it have to be done every three weeks? So many questions. As for her skin care – well, yes, of course. She's been an unapologetic sunbather for years and years. She loves to roast herself under the hot Mexican sun. Of course there's going to be long-term skin damage, and fake-baking isn't really going to help, either. That will just turn the skin damage a nice shade of orange!
But let's talk about: "I'm not saying that I haven't tried it … but I see how it's a slippery slope." Meaning what? That she has tried it and she found the maintenance of monthly injections exhausting? Oh, and I also think she's been fooling around with collagen lip injections too – at least she was when she was promoting Horrible Bosses.
PS… Do you think Aniston (and Theroux) will make it to the Golden Globes now that Brad and Angelina have gotten their nominations? I say… no. I think she'll make it to the Oscars, though. Maybe she and Theroux will present together (ha). If she managed to get John Mayer into a tux for Oscar night, OF COURSE she'll show up to the Kodak with Theroux.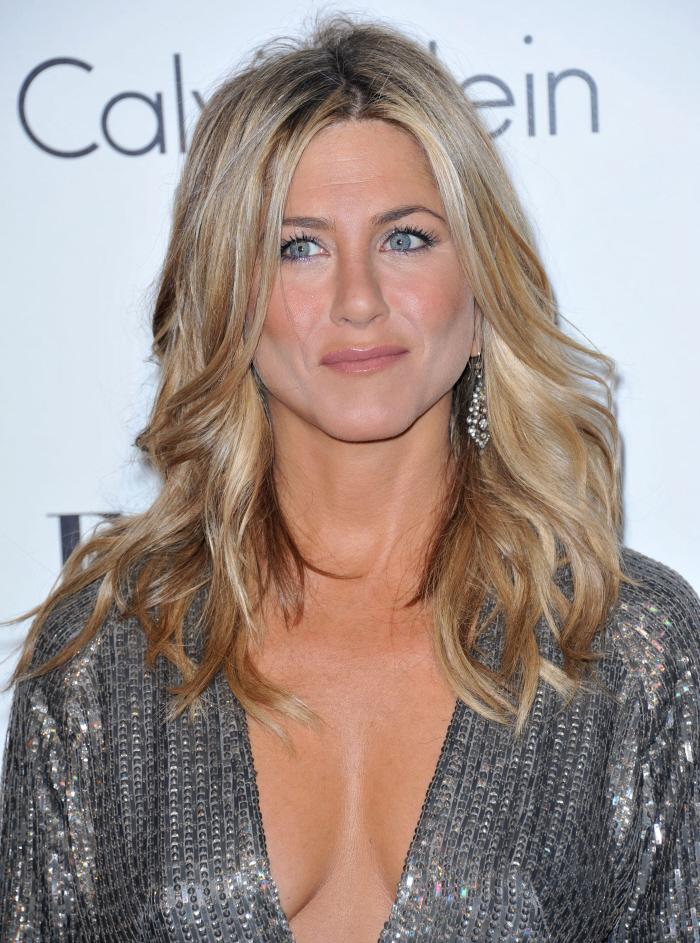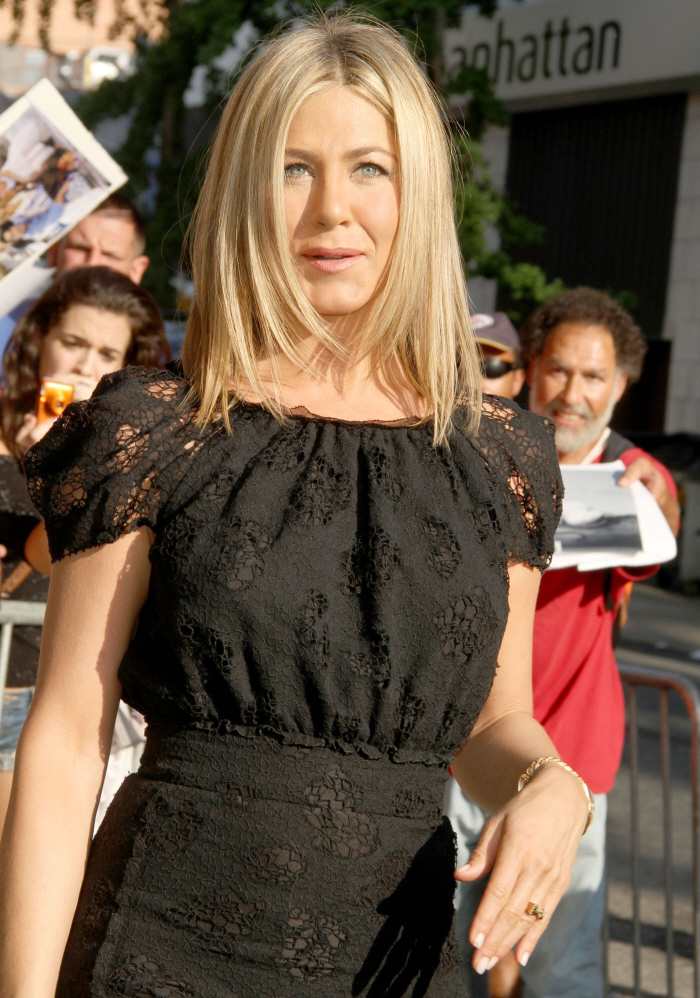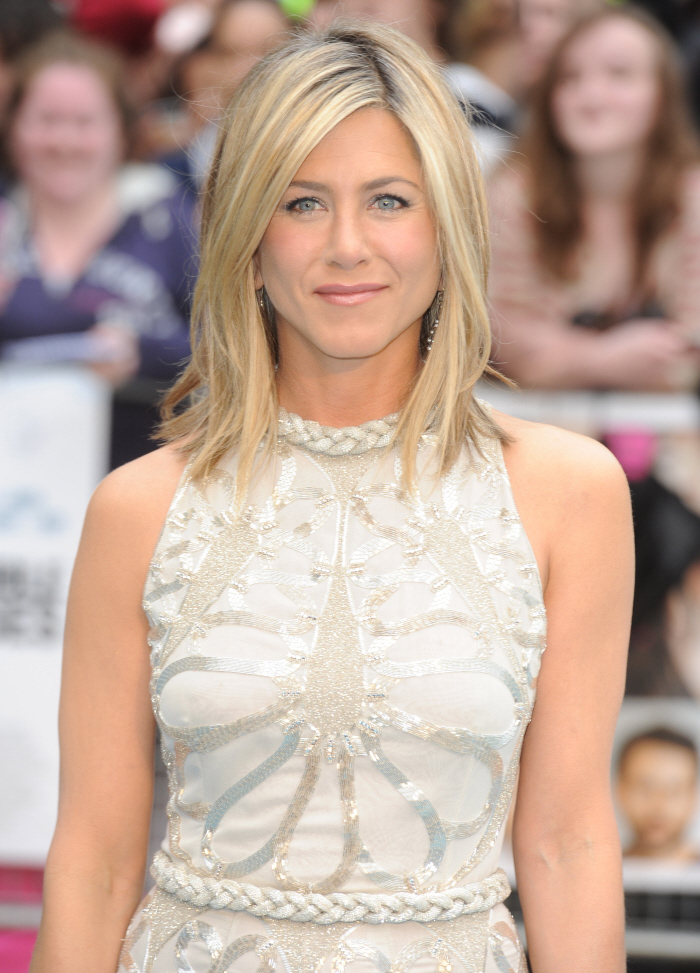 Photos courtesy of Fame & WENN.