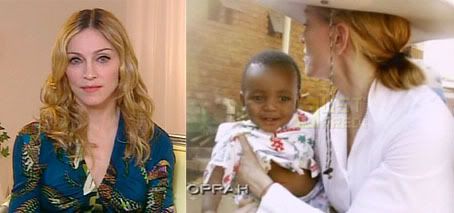 You've undoubtedly heard already that Madonna went on Oprah yesterday to defend her controversial adoption. She never bothers to defend the other controversial things she does, but now that an infant is involved she must realize that her earning status is threatened by this PR fiasco.
I have not seen clips from the show yet, and am waiting until they hit YouTube, but she makes somewhat of a point by saying that the press is putting words in the half-orphan's father's mouth, and that he's being manipulated into saying he didn't understand the adoption. He did clarify that he doesn't want Davie to come back, but that he didn't really understand that adoption means legally signing his child away. That makes sense to me, and I think he's just explaining that it was fast-tracked and that he wasn't told the full truth.
In Madonna's statements on Oprah yesterday, she said that David was suffering from pneumonia when she picked him up and that she whisked him off to a clinic to get him an antibiotic shot and treatment. She mentioned that she had David and several other orphans tested for HIV and other medical conditions. Does this mean that she only gave the go-ahead for the adoption after she learned his HIV status?
She brought a pediatrician to test all of the children's health for their overall well being, and later learned that David tested negative for tuberculosis, malaria, HIV and other common illnesses striking African orphans.
Why did she test all of the children unless she was going to select one based on their medical status? If she just wanted Davie and fell in love with him after seeing his picture as she claims, wouldn't she have only had him tested? Did she give medical treatment to any of the other orphans based on the pediatrician's findings, or does she think that a glass of Kabbalah water will cure them?
She also said that none of David's extended family had visited him at the orphanage during his entire stay there. At first this sounds like it contradicts Yohane Banda's statements that he regularly biked the 25 mile round trip to see his son and play with him. Notice she used the word "extended," though, and that David's father is immediate, not extended, family. She is trying to justify snatching David by saying that no one else visited him apart from his father.
Madonna is justifying her usual outlandish behavior, and said that there were no laws that she flouted by taking the child out of the country. There were definitely laws that she was required to stay in Malawi for 18 months in order to adopt a child, and at the very least she is bending the truth by claiming there weren't.
She said she couldn't understand why people are outraged at her adoption and that she didn't want to discourage other people from trying to adopt. She also admitted that she doesn't read newspapers or watch television. That's ridiculous, and shows how proud she is of her haughty ignorance. She routinely bashes Bush and Christianity. I guess her opinions are based on how she feels about things, and not facts or current information. (I hate Bush too, and he also admits to never reading a newspaper, but Madonna is just as bad if she attempts to influence the public but can't be bothered to try and keep up with current events.)
Madonna tried to do damage control on Oprah yesterday, and it was partially successful. Audience members note that she seemed upset and tried to maintain composure. Her statements seem snotty and defensive to me, though, and by admitting that she doesn't understand the controversy and that there were no laws barring her behavior, she makes it clear how she could flout adoption regulations and snag an infant with a father without batting an eye.
Pictures from Oprah.com and Just Jared.