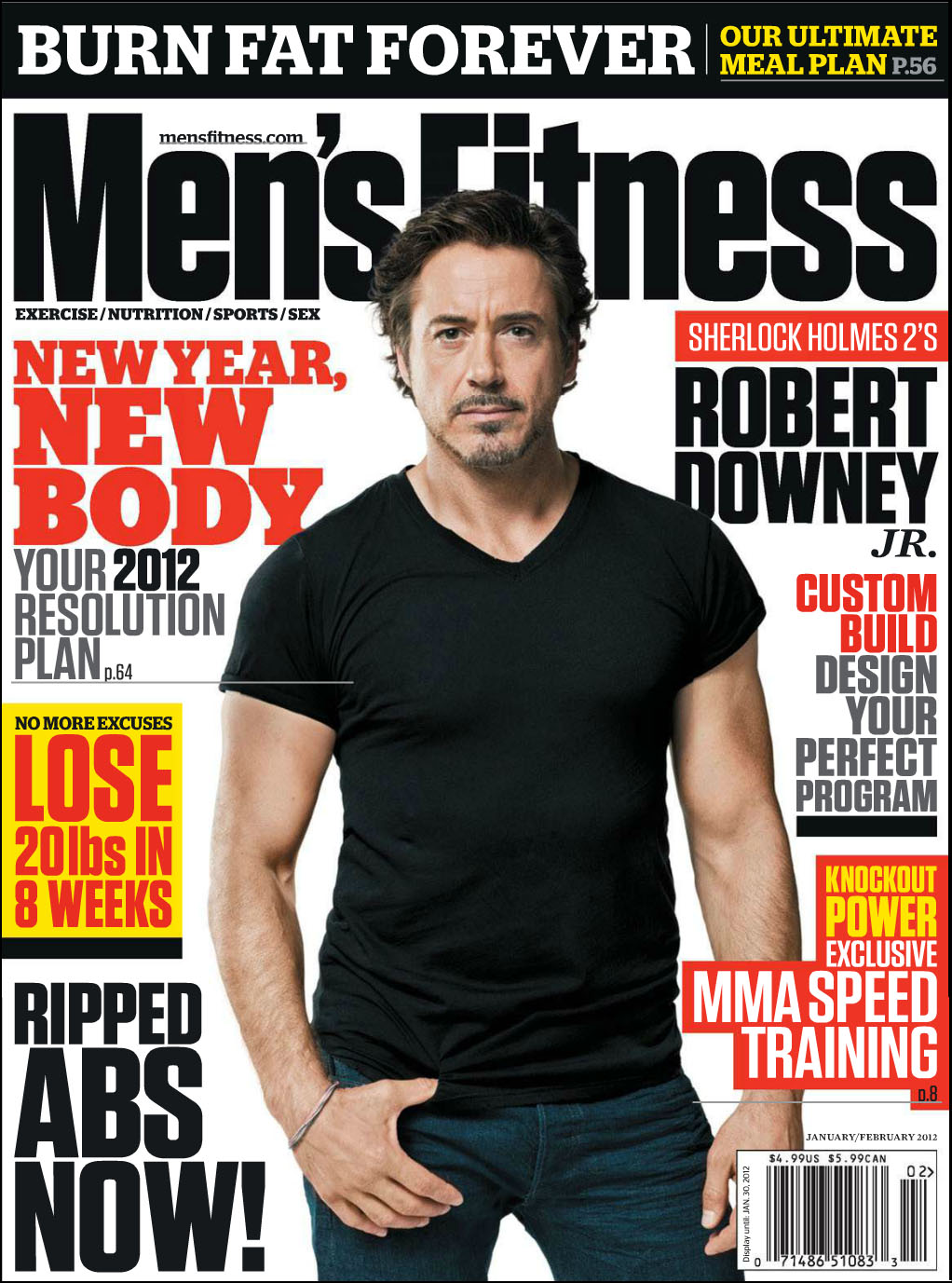 Here are some shots from Robert Downey Jr.'s January/February cover of Men's Fitness (the American version). RDJ is promoting Sherlock Holmes: A Game of Shadows, which I saw over the holidays. I liked it, but I didn't love it. I LOVED the first Sherlock, and I appreciated that they did a lot of Jude Law-RDJ/Watson-Holmes bromance in the sequel, and I also liked Noomi Rapace's Gypsy character a lot. There's a ton of action, and there are some really cool sequences and stuff (I loved the part with Watson and the cannon), but it was like they were trying to jam so much cool stuff in there that some of the story got lost. Holmes spent too much time being an action hero and not enough time ruminating on all of his plots. Still, it's worth a viewing. I just prefer the first one.
Anyway, here are some excerpts from RDJ's cover story – I particularly like the story about his rescue kittens. I actually squealed a little.
About playing Tony Stark in Iron Man: "I guess I had some notion about [being an action hero]. I think I wanted to be able to look good and defend myself and all that stuff. I've always really enjoyed that genre, but I mean, it's pretty outlandish. I'm not particularly tall or strong or fast or aggressive. Yet, I'm not faking it. To me, it's a cosmic chuckle."

On his wife Susan: "What can I even say about her? I'm crazy about her. Everybody's opinion isn't right all the time, but as far as averages go, if she wants to, she could hit to the same seat in the bleachers over and over and over again. That sort of consistency is awe-inspiring. We give each other the freedom to explore who and what we really are, which is great, because we're always changing. I know I've changed a fair amount over the last decade, but she's changed 10 times more than I have."

On rescuing two kittens, Montgomery and Dartanian (Monty & Dart): "To understand the way cats play and fight is to understand the secrets of the universe. It's to understand Wing Chun, to understand the palace tradition, to understand yoga. I would kill for these young, sweet little feline souls, these two boys. I would protect them with my life. Eighteen months ago, I'm saying, 'I don't want any rescue pets within 100 yards of either of my residences, I'm sorry. I don't want some, like, tripod, abused animal.' I was adamantly opposed to the whole idea. And now I couldn't imagine living without them. I've become one of those people where the Missus is like, 'They don't want to see iPhone pictures of our kittens right now. Stop it.' And I can't watch those commercials [for animal cruelty prevention] anymore. They kill me."
[From Just Jared & the print edition]
It makes sense that RDJ is a cat person. He's got the personality of a cat person, and I'm getting a little bit choked up, imagining him with two little kittens on his lap, his new happy place. I wish more men could admit that they love cats. Nothing makes me weaker in the knees (and other body parts) than a man with a cat. Maybe it's just that I really want a cat these days… but Monty & Dart sound like they won the daddy lottery, right? Oh, then imagine RDJ and Susan's newborn baby with the kittens. SQUEAL.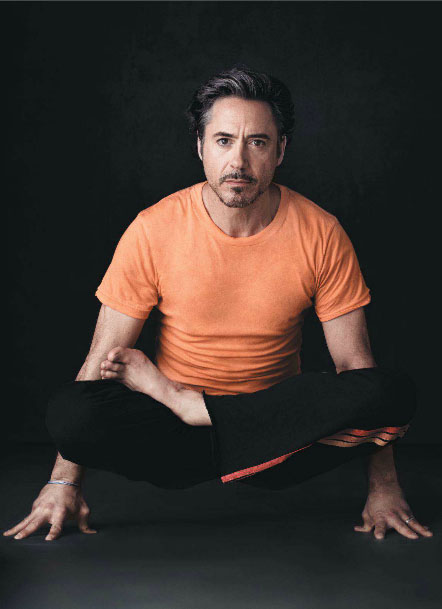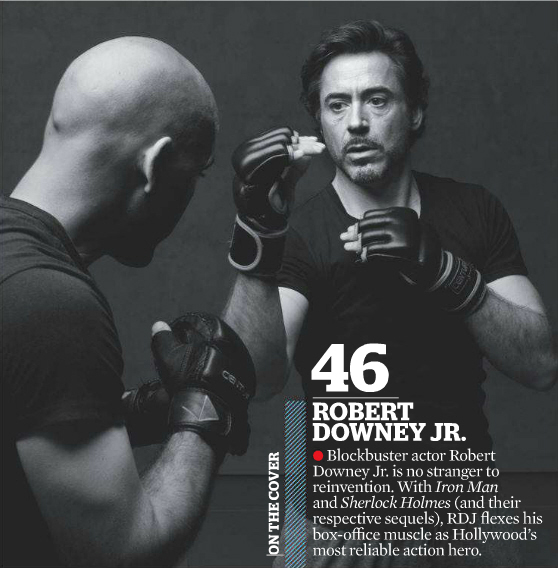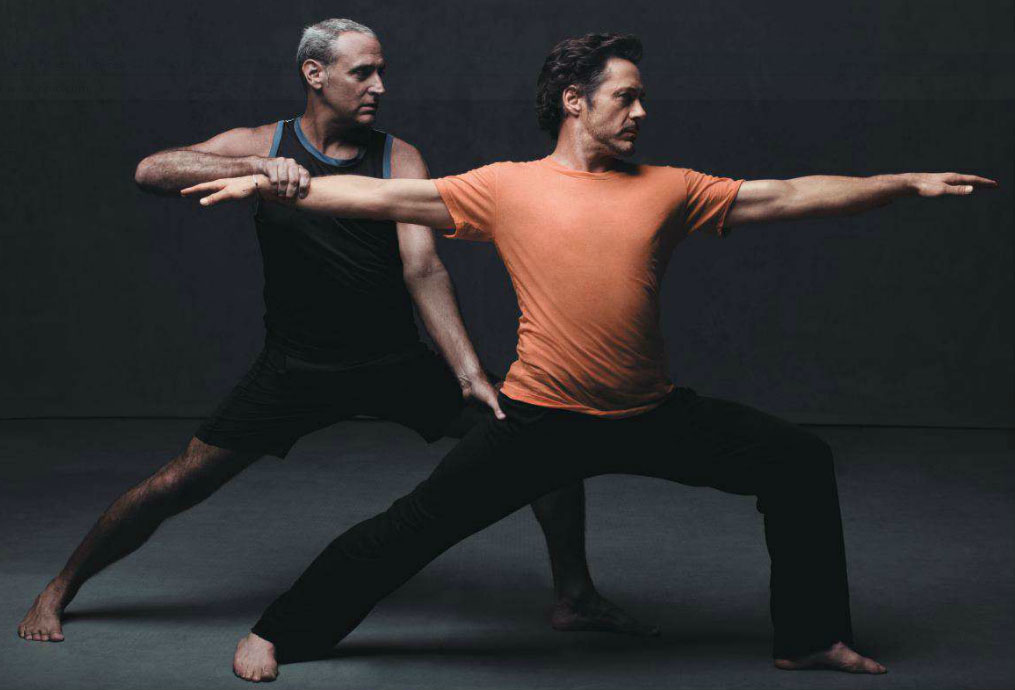 Photos courtesy of Men's Fitness.