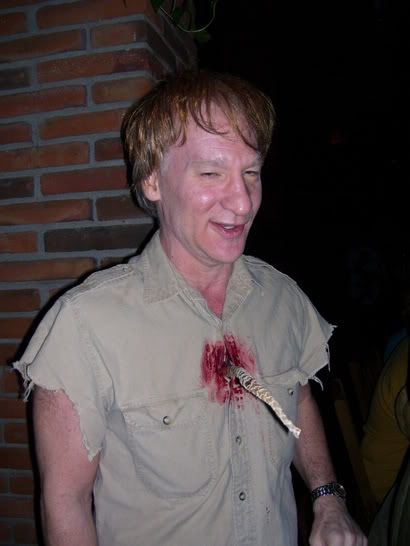 Is Steve Irwin fair dinkum game now that he's been dead over a month? Controversial liberal talkshow host Bill Maher and the creators of South Park think so. Maher donned a tasteless Halloween costume featuring a red wig and sleevless khaki shirt with a stingray's tail sticking out of his chest complete with fake blood. It's a clever idea for a costume but it seems like a cruel stunt for a famous person to pull so soon after Irwin's death.
Meanwhile South Park has parodied Irwin's accidental death by showing the daredevil crocodile hunter as a Halloween party guest with a stingray's barb sticking out of his chest. Irwin's widow Terri is said to be devastated by the episode and hopes her young children never see it:
Terri, 42, is said to be worried that Irwin's children BINDI, eight, and BOB, two, will see the show, which portrays the late star with a stingray sticking out of his chest less than two months after he died. Last night (27OCT06), Australian TV channel SBS said it is planning to air the episode in Australia next year (07) or in 2008. It has already been shown in the US. A friend of Irwin's widow says, "Terri is devastated Steve is being mocked in such a cruel way. Her worry is that Bindi and Bob will see it and break down. "Steve had as big a sense of humour as anyone, but this goes too far too soon." British TV naturalist MARK AMEY, 44, who worked alongside Irwin, backed the sentiments, saying, "My message to people is don't watch the show. It's distasteful s**t. Let's hope none of Steve's fans who keep poisonous animals happen to find the addresses of those behind the show and leave them a nice surprise."
[via Fark]
Irwin is shown in South Park as a guy at Satan's Halloween party who is mistaken for someone wearing a costume. In this clip, which I'm pretty sure is the one that's referred to in the story, Irwin is chastized by Satan for daring to mock the accident so soon after it happened. He then says he's the real Steve Irwin and Satan kicks him out for not having a costume. That's obnoxious, but that's how South Park is and they're basically admitting that it's tasteless.
Irwin was parodied in South Park while he was alive (link leads to video on YouTube) in an episode that aired in the second season.