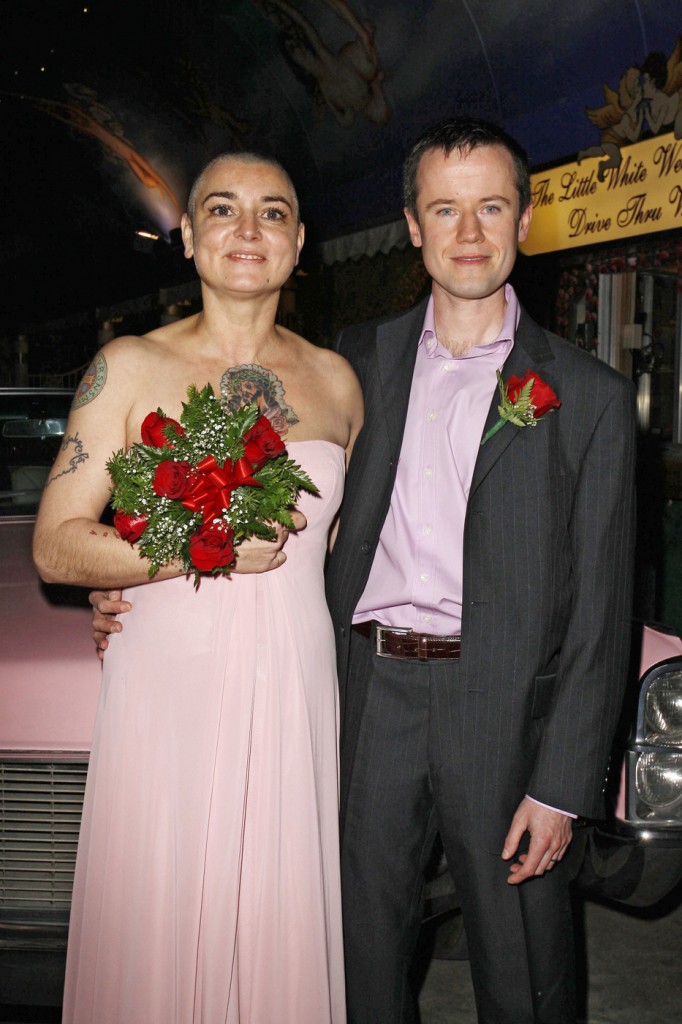 Maybe that title is misleading. Maybe Sinead almost bought crack on her wedding night, the one where she married her fourth husband, an addiction counselor. Maybe she really just wanted some decent mary jane and ended up with crack in her hand and gave it back to the dealer, who couldn't understand her accent. It's hard to tell from the confusing way this story is worded, but either way it's a no-brainer. The chick trolled for drugs right after marrying a guy who is so sober he helps other people be sober. (Supposedly.) So the last we heard from Sinead, she announced that her marriage was over after 16 days. (Which is ironic, right?) Sinead, 45, married 38 year-old Barry Herridge on December 8th after meeting him online and knowing him less than two months. Their marriage was even shorter than that. Sinead's statement on her quickie divorce alluded to vague forces in her estranged husband's life that were keeping them apart. She also swore that would be her last statement on the matter, but it wasn't. To British rag The Sun, Sinead admitted that when she went looking for pot on her wedding night (which she previously admitted to), she ended up with crack and her new husband was spooked. She also compared her short marriage to being in a coffin.
The singer, 45, insisted that she still loved drugs counsellor Barry Herridge, 38.

But she admitted their marriage got off to a turbulent start when she nearly bought CRACK on a wild hunt for drugs on their wedding night.

The Nothing Compares 2 U singer — who wed in Las Vegas on December 8 — said she dumped Herridge on Christmas Eve because of the pain HE was in.

Sinead said: "It felt like I was living in a coffin. It was going to be a coffin for both of us and I saw him crushed.

"The whole reason I ended it was out of respect and love for the man."

The mum of four claimed the marriage was sabotaged early on by the "interference of certain people".

But she admitted Herridge had been left "frightened" by her mad search for cannabis on the night they got married.

She said: "We ended up in a cab in some place that was quite dangerous.

"I wasn't scared — but he's a drugs counsellor. What was I thinking?

"Then I was handed a load of crack. Barry was very frightened — that kind of messed everything up a bit really."

Sinead insisted she will never marry again and added: "I don't think I will even date anyone."
[From The Sun]
Looking at these two, I'm really surprised to hear that they weren't completely high when they got married. Look at those crazy eyes on the pair of them. Sinead was desperate for pot because she's gone off her bipolar meds and needs something to mellow her out. She rushed into marriage impulsively and then she rushed out of it impulsively.