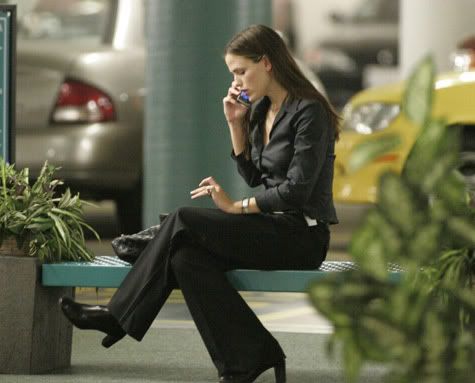 Ben Affleck and Jennifer Garner are expected to make an appearance together this Saturday at a political event for California's Defenders of Wildlife, which hopes to oust 13 year incumbent Republican Richard Pombo from his Congressional seat.
Affleck is an outspoken Democrat and campaigned for Gore in the 2004 election. He has most recently lent his support to Illinois Senator Barak Obama for proposition 87, a California ballot measure which places a tax on oil to fund alternative energy projects. Julia Roberts has also spoken out in support of the measure.
Affleck won Supporting Actor of the Year at the recent Hollywood Awards for his role as beleaguered Superman actor George Reeves. He quipped that he was "going home to make love to the babysitter," his lovely wife Jennifer Garner.
Garner looks fabulous and seems to have lost her meager baby weight the healthy way through sensible exercise and diet.
Garner is seen at an office in Beverly Hills looking fierce on 10/25 and out with Ben and their eleven month-old, Violet, on 10/26. I love the picture of Ben's hand on her butt. Pictures from lime-light.org.